Lata Mangeshkar, the Nightingale of India, passed away at 92 earlier today. Mid-Day.com spoke to her millennial fans about what the inimitable singer and her music means to them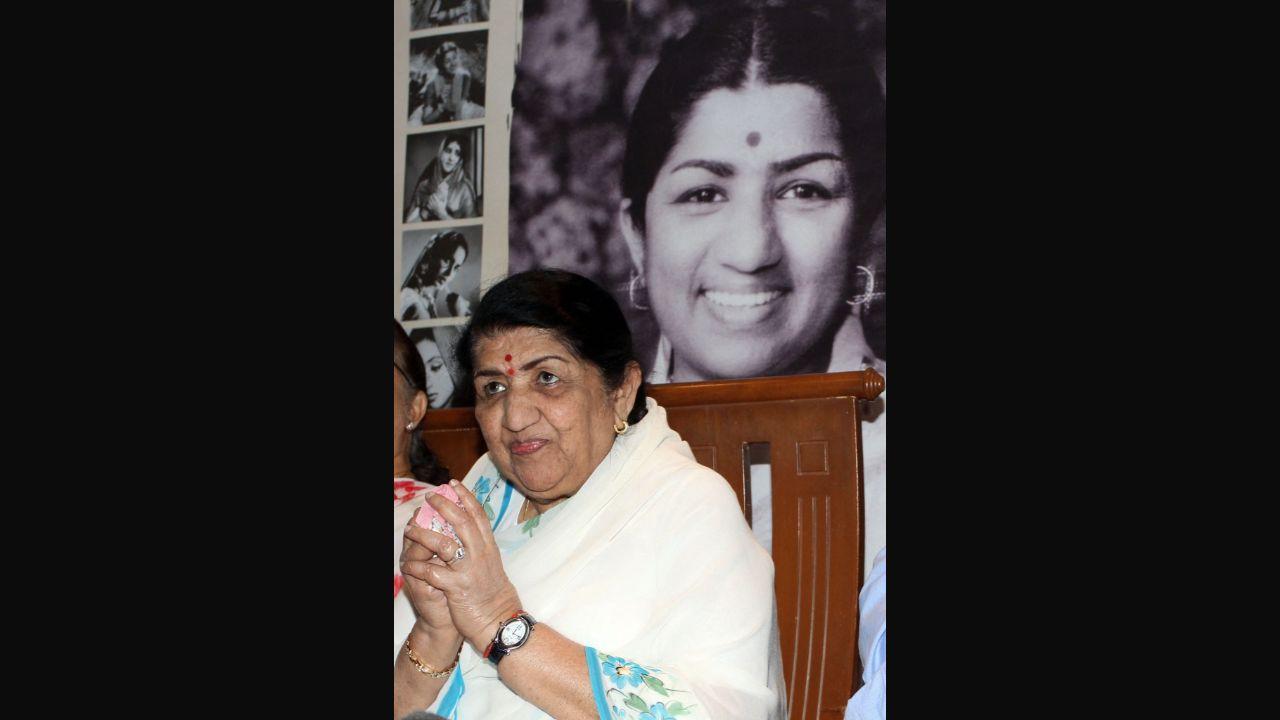 Legendary singer Lata Mangeshkar passed away at 92 in Mumbai on February 6. Photo courtesy: AFP
Legendary singer Lata Mangeshkar passed away in Mumbai earlier today. She captured the hearts of millions over her decades-long illustrious career. 'Aayega Aanewala' from 'Mahal' (1949) was among her first hits, and she continued to enchant audiences with gems like 'Lukka Chuppi' from 'Rang De Basanti' (2006).
Mangeshkar inspired a generation of singers, and her music meant varied things to people—young and old. While some grew up listening to her, others discovered her earlier songs via streaming applications as her songs vocalised the sea of emotions we all felt, but couldn't express. Her demise feels like a personal loss to fans across the globe, which is a testament to how deeply loved she was. The simple truth is there aren't many words that can do justice to the phenomenon that Lata Mangeshkar was.
Tributes have been pouring in all day, as people who knew the singer and fans share their favourite memories of her. Mid-day.com spoke to millennials, who share their fondness of her music, and the impact it has left on them.
Apurva Pendharkar, 28
Singer
Mumbai-resident Apurva Pendharkar, a professional singer for over a decade, grew up listening to Lata Mangeshkar since she was a child. She says, "We would start our day with her songs from the album 'Dnyaneshwari'. As a little girl, I remember listening to the 'Dilwale Dulhania Le Jaayenge' album and falling in love with the song 'Mere Khwabon Mein Jo Aaye'. That was the exact moment when I knew with all certainty that music was for me and that I wanted to be like her."
She adds, "There has not been a single day when I have not heard her songs, or a single gig where I haven't sung one of her songs. As a musician, there is something new I get to learn each time I listen to her songs, be it her pitch-perfect notes, the smoothness in her 'laya' or the expression in her voice."
Ahona Chanda, 22
Content creator for Humans of Cinema
An ardent fan of cinema and music, Ahona Chanda is a writer based in Kolkata. Her fondness of the late singer is steeped in nostalgia and tied with memories of her grandfather. "At around age seven, my Grandpa and I started an adorable ritual of our own. He would play a 70s' Hindi cinema cassette on his beloved player after dinner. This was my introduction to the singers of his era, singers who preceded my generation by a few decades."
Chanda paints a vivid picture of the memories in her head: "Lata Mangeshkar, Kishore Kumar---my grandfather on the chair by the window, my little hands on the sides of his mammoth easy chair. Words floating in the air – 'tum agar jaao kabhi, jaao kahin, waqt se kehna zara, woh theher jaayein wahi'. I barely understood the gravity of the words, but there was a yearning in that voice, a heartbreaking beauty that not even a seven-year-old would miss. Years passed, and the ritual was lost to time. On the day that I heard that Lata Mangeshkar has been hospitalised, I felt a compelling nostalgia. The singer formed such an important part of my childhood, the time and space that I shared with my grandfather, a man I love more than what I thought was possible. If I speak of what her voice means to me, it is a memory I treasure. A voice so remarkably powerful, that every time I listen to it, I am taken back to the memory of my little hands on the easy chair. With little hands, I hold on to that time."                                                              
Abhay Arora, 22
Founder of @thatmusicproject
Abhay Arora is a passionate music lover and runs 'That Music Project', an Instagram page exploring narratives surrounding Bollywood and indie music. "Heaven is surely a very musical and melodious place now. The one true nightingale of Bollywood, Lata Mangeshkar, will remain immortal in our hearts just like her song 'Mera Saaya Saath Hoga'," says the 22-year-old.
"I heard her for the first time back in 2006 when 'Lukka Chuppi' from 'Rang De Basanti' came out. That song made me feel like listening to more of her music, which eventually led me to discover a whole new world of old Hindi music. I've been listening to her for over a decade now. I remember how her song 'Baahon Mein Chale Aao' made my cheeks turn pink, 'Ek Pyaar ka Nagma Hai" made me realise what life is actually about, and 'Lag Jaa Gale' felt like falling in love. It's truly an end of an era, and I do not believe the void left by her can be filled," says  Arora.
Rishabh Pandit, 24
Founder of @brown_verses
Rishabh Pandit is the admin-curator-translator behind @brown_verses, a platform which translates poetry from various South Asian languages into English. "Lata ji's is one of the first names anyone remembers when talking about music in Indian cinema, regardless of which generation you belong to. She was the only singer from the Golden Era of Bollywood whose singing millennials had the privilege of experiencing in movie theatres, be it the memorable songs of 'Veer-Zara' or the iconic gem 'Lukka Chuppi' from 'Rang De Basanti'.
"Being raised in a family of music and poetry lovers allowed me to love and cherish her earlier songs throughout my growing up years. Having experienced the loss of loved ones more than once in my life, I have a special relationship with her song 'Tu Jahan Jahan Chalega', and I can't listen to it without tearing up. Her songs became an important part of our collective cultural existence and it won't be an understatement to say that the loss felt is not limited to any one generation of Indians," says Pandit.
Vijeta Singh, 31
Marketing professional
Pune-based Vijeta Singh grew up listening and dancing to Lata Mangeshkar's music. "Her music is a vivid memory of the most joyful time from my childhood. Most 90s' kids have grown up with their mothers listening to timeless songs like 'Ajeeb Dastan Hai Yeh' while getting ready for school. Her music takes me back to the most stress-free period of my life.
Describing her music as a sort of a personal time capsule, Singh adds, "Now that most of us have left our homes, living a more individual life in different parts of the world, Lata ji's music takes you back in time and reminds you of your roots. It's not just music; it's an evergreen emotion."
Speaking about the escapism of a tune that resonates, she shares, "Lata ji's songs are also the epitome of romance. In the frivolous times that we live in, where everything is almost temporary, it's important to be reminded of the crazy, deep-sunken love. 'Mere khwabon mein jo aaye' will get any 90s' girl remember wanting to be that naïve Simran waiting for the love of her life. Her music has a way of penetrating into you, which isn't common anymore. We can dance all night to EDM, but it is Lata Mangeshkar's music that will make us sit back and appreciate life and people around us."
Also Read: Meri Awaaz Hi Pehchan Hai: Hindi songs that defined Lata Mangeshkar