Grabbing a tasty snack that is also healthy can be a Catch-22. What if munchies came with a dash of zing and balanced nutrition? Bridging this gap are Mumbai-based moms on a mission to stir up traditional Indian snacking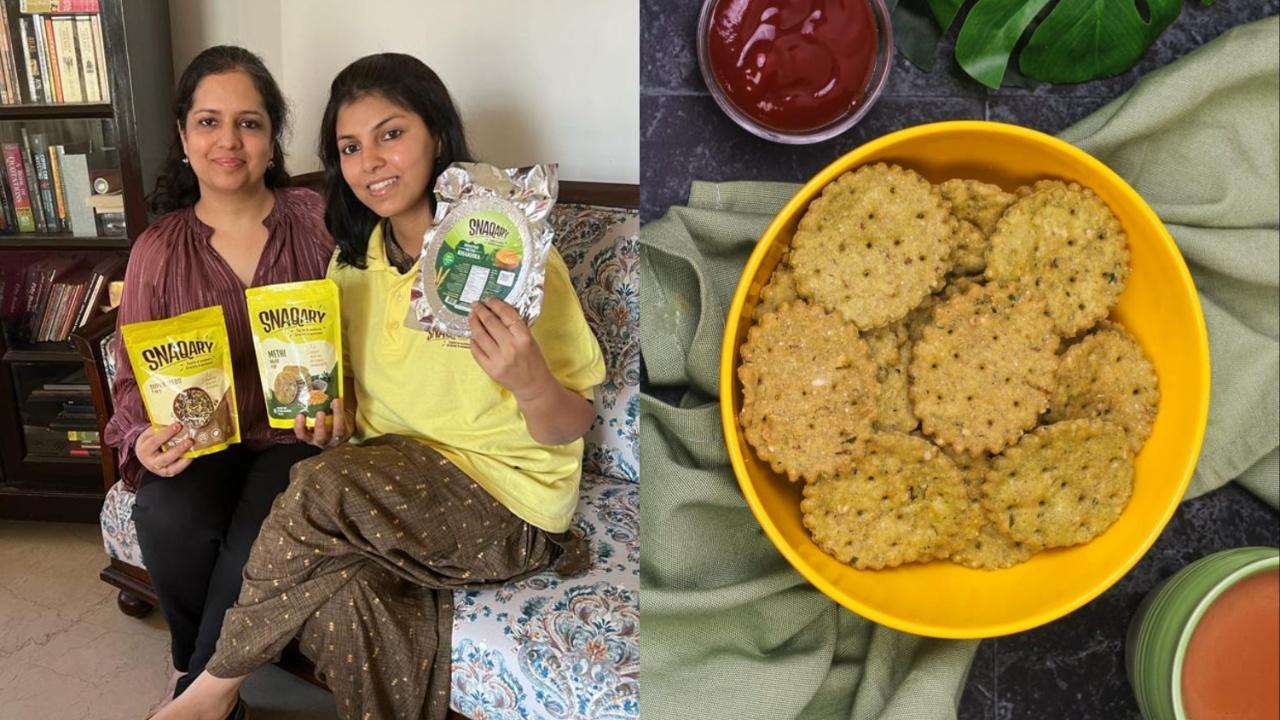 Anchal Abrol and Priya Puri, founders of Snaqary. Photo Courtesy: Anchal Abrol
World over, Indians are famous for snacking. Nothing asserts this better than the roaring success of U.S.-based Patel stores. We Indians like our munchies with a dash of zest. Be it Chaklis, Puris, Sev, or Khakras, Indian households remain stocked with the choicest snacks around the seasons. With a variety of snacks to serve us a mouthful, nutritional standards often go for a hike.
However, mothers are a resilient breed. Gauging a nutritive gap in the Indian snack market, Mumbai-based Anchal Abrol and Priya Puri stepped in to revamp the inherent value of traditional snacks. Mothers and second-time entrepreneurs, the duo conceived Snaqary, a multigrain snack chain, to bridge the nutritional gap found in widely binged Indian snacks.
ADVERTISEMENT
With the goodness of grains and toothsome flavours, Snaqary is offering diverse options which include peri-peri khakhra and mathri, multigrain sev, soya-coated peanuts, bajra puri, biscotti, and more. Recalling her inspiration, Abrol reveals that the idea for Snaqary sprouted from her grandmother's kitchen secrets. "She taught us how to twist munchies like samosas and kachoris with healthier substitutes of grains and greens."
Traditional snacks dominating Indian stores are primarily made out of besan, maida, and corn. Apart from their subservient nutritional value, these crops undergo an increased pressure of production causing an imbalance in the crop ecosystem. Filling up these dual deficits of lack of variety and inferior nutrition, the mother duo began to prepare lip-smacking snacks with millet, gram, and maize.
Millets have been traditionally consumed by our forefathers and are farmer-friendly as they adapt to a range of climate conditions. Now while besan is of paramount importance to Indian kitchens, replacing it with healthier alternatives like millet not only enhances the nutritional standards but also supplements a touch of variety to the available snacks on the Indian counters.
After getting struck with the idea, Abrol and Puri did not wait for too long. "We got into curating recipes and experimented with new ingredients in our kitchens. Then, we got our friends, family, and neighbours to taste the snacks and share feedback for us to work on."
Take their multigrain sev, for example. Instead of sticking to just chickpea flour, they mixed in grains like ragi, Bengal gram, lentils, and corn to create a snack that's high in taste and packed with nutrition. They also experimented with a beloved snack bhakarwadi and gave it a healthier twist by using whole wheat flour and baking instead of frying.
The duo didn't stop there. They also came up with a tasty and healthier version of the traditional snack, Puri. Made with bajra flour and a variety of spices and greens, with just a hint of maida for binding, their ready-to-eat Bajra Puris come in four tasty flavours: methi, palak, peri peri, and cream and onion.
The duo started identifying vendors who shared the same value system when it came to healthful snacking. "We found vendors who were ready to support us and help us build a brand that revolutionised the multigrain snack industry" shared Abrol. These vendors became instrumental in commercialising healthy recipes and expanding their reach to a wider audience.
They worked with industry experts to develop a variety of options, including organic and plant-based options as well as traditional snacks like baked goods, roasted treats, sauces and dips, puris, sev, sticks, and seeds. The process of creating a commercial recipe for different snacks took almost a year which went through several checks before getting finalised.
The snacks produced were preservative-free, trans-fat-free, colour-free, and made using traditional grains and natural flavours. When it comes to a food venture that is mindful of the ingredients, quality checks gain primary importance. Snaqary's first employee was a food technologist hired on priority to conduct quality testing and consistency in terms of taste, texture, and nutrition.
This belief in the power of traditional and natural ingredients to transform snacks is the driving force behind Snaqary. With a wide variety of over 35+ products, the mother duo is dishing zingy, tasty, and nutritious snacks to over 50,000 customers across the country. From their humble beginnings in Mumbai, they have now spread their healthful treats to patrons in Pune, Delhi, Hyderabad, and Kolkata.
Also Read: Mother's Day: Meet the mother who placed India's first gay matrimonial ad
"Exciting news! Mid-day is now on WhatsApp Channels

Subscribe today by clicking the link and stay updated with the latest news!"
Click here!