The Tanzania-born British author, who will be in India for the Jaipur Literature Festival happening between January 19 – January 23, talks to Mid-day Online about his work, winning the Nobel Prize for Literature in 2021, and how the publishing industry needs to be more accepting of non-English words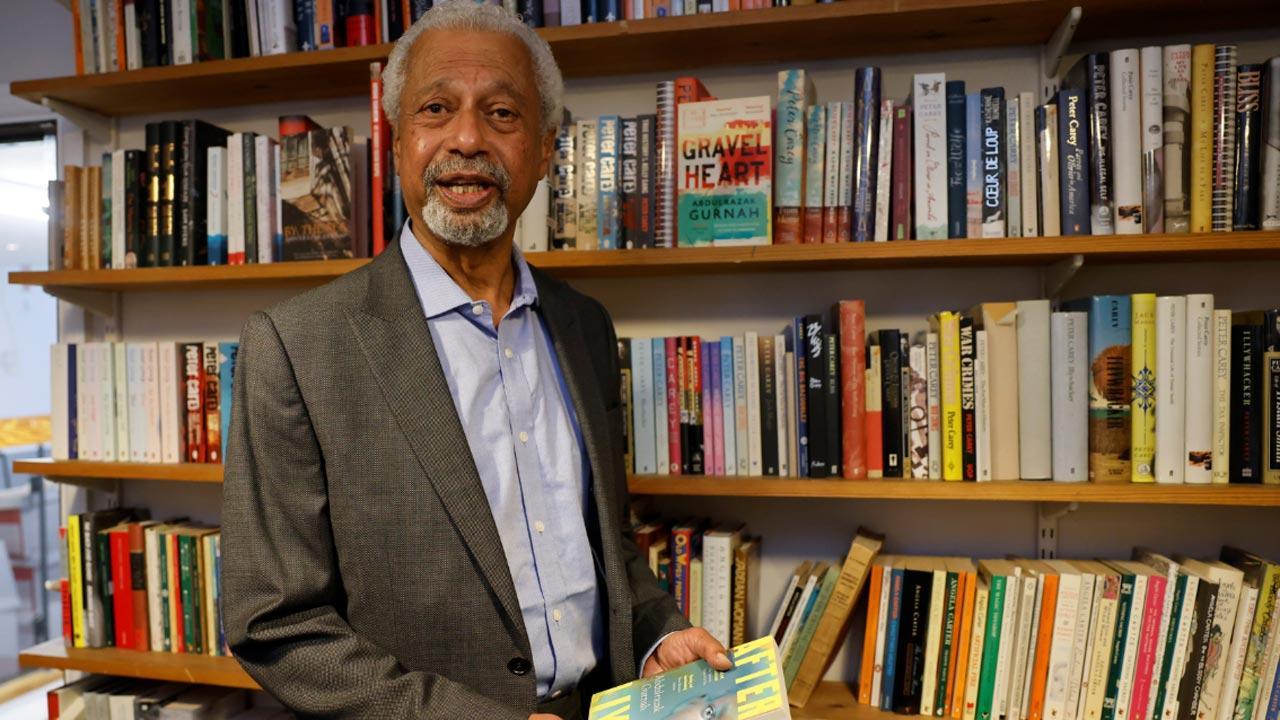 Zanzibar-born British author Abdulrazak Gurnah will be at the Jaipur Literature Festival 2023. Photo Courtesy: AFP
When Abdulrazak Gurnah comes to the Jaipur Literature Festival 2023 this January, he will be coming from a major recognition and rightly so because the Tanzanian-born British author won the 2021 Nobel Prize in Literature. It is one among many that he has won in close to four decades that he has been an author. With the award, he became the first Black writer to win it after American novelist Toni Morrison in 1993. Gurnah also became the first African novelist to win the award after South African writer and political activist Nadine Gordimer in 1991.  
The award was given "for his uncompromising and compassionate penetration of the effects of colonialism and the fates of the refugee in the gulf between cultures and continents". What makes the global recognition even more special is that it is extremely personal. He also admits that it has made life busier than usual in a different way for him, and understandably so. According to a 2021 New York Times report, it was hard to find Gurnah's books for various reasons after his win, but that has now changed. "Some books were available here, and other books there but now they have new editions, and they are available more. Some books need translation. That is the most gratifying thing about this recognition," he shares.
While Gurnah's most recent work in 2020 is 'Afterlives', he has published 10 novels, short stories and essays over the last 35 years. It started with his debut novel 'Memories of Departure' being published in 1987, followed by others including 'Paradise' in 1994 and 'By The Sea' in 2001, which were shortlisted for the Booker Prize, among other accolades.
Lives of refugees and literature
Notably, the most recent award comes at a time when the refugee crisis around the world is at its peak and one that was completely different from when he left the Sultanate of Zanzibar. After the Zanzibar Revolution in 1964, he arrived in the United Kingdom as an 18-year-old refugee. Ask him if the award will inspire many other refugee authors to write about their experiences and he is skeptical. "I hope it will be interesting for those who are compelled by this very important subject but whether it would be harder or easier for others to voice their opinions, I really can't tell," he shares.
At the same time, Gurnah doesn't fail to acknowledge how the refugee crisis has seen a huge change over the years and definitely not for the better. "I think it has become harder than easier," he shares, continuing, "There seems to be a kind of panic in Europe and America about this idea of refugees. Whereas, I think in earlier years, there were measures that restricted refugees. It wasn't this kind of criminalising narrative about it nor was there state panic allowing people to perish in the seas or detaining them rather than helping them. They have been detained in such awful conditions that are fatal in some cases." However, he sees progress in the fact that more people are more aware about the crisis because of others who are speaking up, protesting and saying it is not just human to treat people like we are seeing in the world today.
Writing in English and its challenges
Incidentally, when Gurnah started writing about how people cope with displacement, trauma and hopelessness, in different forms, he did not intend to inform or change a reader's mind, a question we felt curious to ask him about. The author, who is also currently an academician as professor emeritus of English and Postcolonial Literatures at the University of Kent in the UK, writings were simply about what he saw in front of him. "I don't think a writer begins the process by saying that I am going to change your mind through this book. I write about what I know and what I see and when I write, I don't think that people are going to do things as a result of what they read. It really depends on where the reader is in their own life and what they bring to that process and that is unpredictable," he shares.  
For this very process, Gurnah writes in English, even though his first language is Swahili, as he says it is a choice that came naturally to him because he had received an education in English in Tanzania and was doing a lot of reading and writing in the language after he moved to the UK. He may have chosen English but that didn't stop him from incorporating non-English words from Swahili, Arabic and German into his writing. However, the 74-year-old author remains unhappy about the treatment of text through the italicising of words, a practice in the publishing industry for non-English words. He explains, "Italicising simply suggests exoticising words. This is an odd word, an odd idea and something you don't know. But by not italicising it, you are allowing different ways of speaking or writing or thinking to enter naturally and organically into how we think in English, so it becomes familiar. Don't make it strange by drawing attention to it." However, he believes it isn't an urgent problem and one that will change as people become more familiar with and accepting of other words describing other kinds of states of mind or culture.

Also Read: Chitra Banerjee Divakaruni: Feisty women seem to arouse controversy, and Draupadi is certainly that