Ozo Kitchen has its own website: ozokitchen.com, where you can check out their kitchen designs and then find out how much your chosen design is going to cost you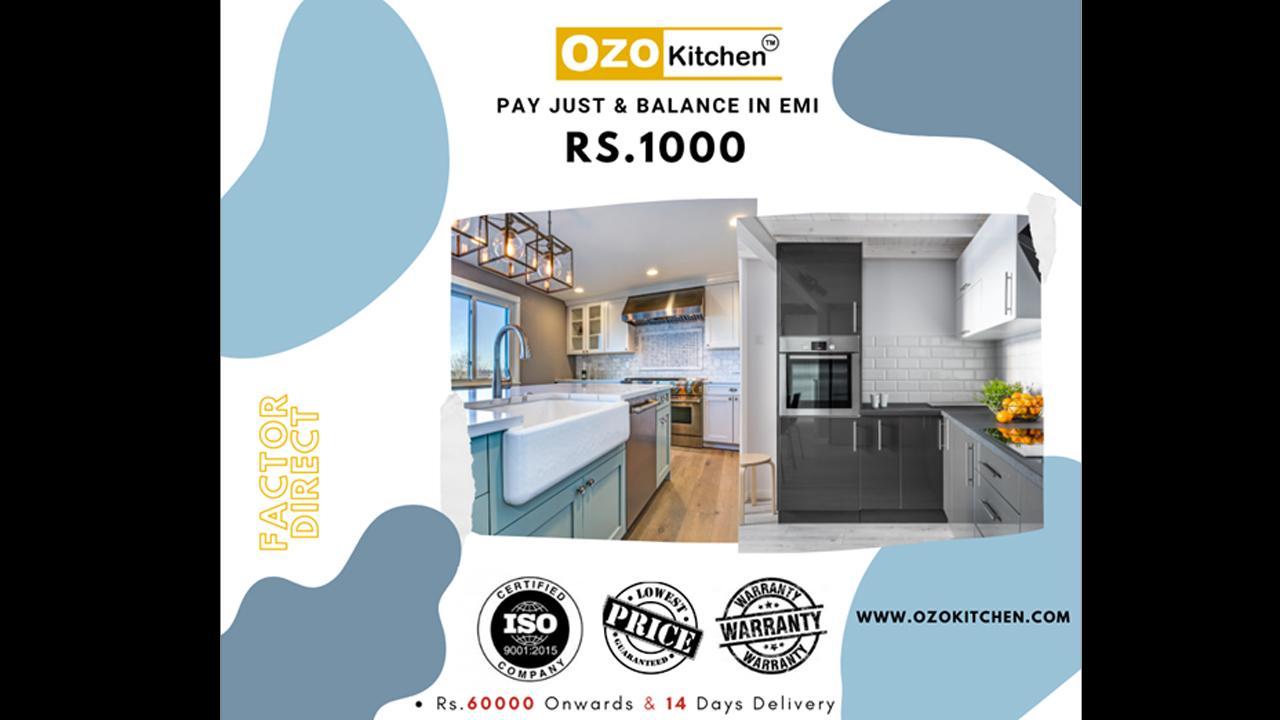 Ozo Kitchen is ready to expand into a few more cities in the Southern part of India
Ozo Kitchen is making modular kitchen affordable. Nothing brings people together like Good food and if your good food is being cooked in Ozo kitchen it becomes joyable and stress free.
An organized kitchen means an organized home, which, in turn, means an organized life. A kitchen fuels the entire family and that is why it is the most sacred space. Now this space has undergone a sea-change in the past years, with modular kitchens being the norm these days. Apart from looking stylish, modular kitchens are a lot more convenient than traditional kitchens. A brand that has a great role to play in spreading the joy of owning a modular kitchen among Indians is Ozo Kitchen.
Launched by Mr. Radhakrishnan, its Founder-CEO, Ozo Kitchen makes your kitchen affordable. The modular kitchens that they build are not only affordable but also a delight to work in. The goal of the company is to make modular kitchen affordable to all section of the income group by also taking care of the hygiene in your kitchen.
Talking about the popularity of modular kitchens in the Indian context, Mr. Radhakrishnan says, "On an average, a modular kitchen's budget accounts for, at least, 35 to 45% of the total money spent on doing the interiors of a home. Therefore, a modern, easy-to-handle kitchen is no less than a big-ticket purchase for an Indian family, whether joint or nuclear." However, getting a modular kitchen is easier said than done!
In the Indian context, every kitchen is different, with difference in wall size, shape, plumbing, gas and electrical connection, etc. That puts the home owner in conundrum regarding how to get the uncertainty out of the way and execute the design of his dreams. In case an owner falls into the trap of inexperienced designers or carpenters, either the budget goes through the roof or the final product is not up to the mark. Add to that the amount of stress and time that the client invests into building a modular kitchen, and you would agree that it is a better idea to contact the professionals like Ozo Kitchen.
This online platform is miles away from the usual, disorganized, inefficient modular kitchen setups that have flooded the market over the years. They do their work in a professional manner, with the help of trained technicians and carpenters, who take care of everything from design and manufacturing to installation. Their hallmark is the "guaranteed, timely and cost-effective delivery of modular kitchens to consumers."
With everything from furniture to electrical fittings being sold online, it was a matter of time before the Modular Kitchen business also stepped into the thick of things. Ozo Kitchen has its own website: ozokitchen.com, where you can check out their kitchen designs and then find out how much your chosen design is going to cost you. On this platform, you get to know the price of the design, you can visualize your design in full detail and then decide whether to go ahead or not. In order to make luxury modular kitchens affordable to the country's middle class, Ozo Kitchen has decided to make your purchase easier by just paying initial Rs.1000 while the rest can be paid in easy monthly installments and to your surprise, it can be delivered in just 14 days. The kitchen prices start from a humble Rs. 60,000. Do check from their website for more details. 
Currently based in Bengaluru, Ozo Kitchen is ready to expand into a few more cities in the Southern part of India in the coming year.
So, if you are also looking for a Modular Kitchen, you know where to look for it, at Ozo Kitchen dot com!
This story has been sourced from a third party syndicated feed, agencies. Mid-day accepts no responsibility or liability for its dependability, trustworthiness, reliability and data of the text. Mid-day management/mid-day.com reserves the sole right to alter, delete or remove (without notice) the content in its absolute discretion for any reason whatsoever