The Bengaluru musician, who recently performed at the Mahindra Roots Festival, speaks to Mid-day Online about his love for Mumbai, his latest album, 'Orchestra Mysuru', his upcoming album 'Shakkar' and how it saved him during the Covid-19 pandemic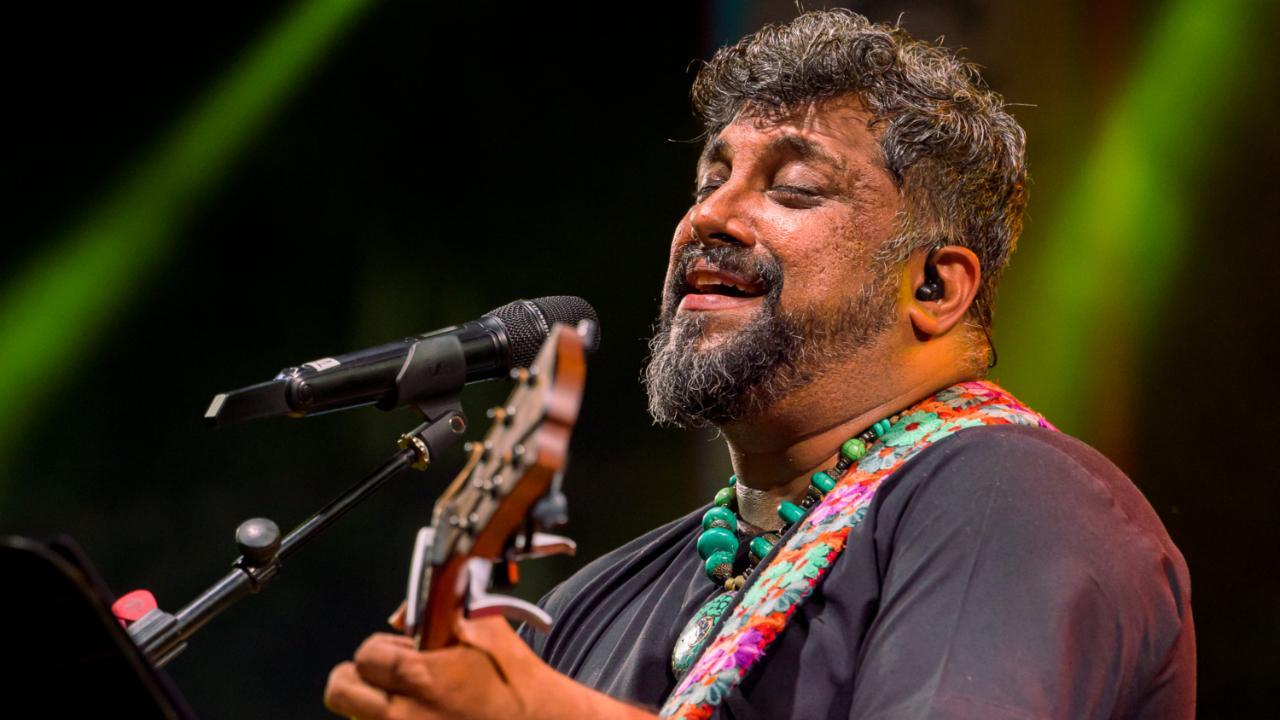 Raghu Dixit performed songs including 'Shakkar Pari' from his soon-to-be-released album 'Shakkar' with the Raghu Dixit Project at the Mahindra Roots Festival. Photo Courtesy: Mahindra Roots Festival
When Indian folk musician and singer Raghu Dixit took to the stage at Bandra Fort Amphitheatre, he was engulfed with feelings of euphoria and nostalgia. It is simply because almost 15 years ago, it was here that his first album was launched by singer-composer duo Vishal-Shekhar. It is also the reason why Mumbai as a city is very special for him. "Bandra has a very nostalgic memory for me because my first album was launched at the Bandra Fort Amphitheatre by Vishal-Shekhar," he shares.     
Ever since then, Bengaluru-based Dixit has only gone onwards and upwards producing many hits over the years in both independence and film music. Having performed at so many festivals over the years for folk music, he explains, "I've seen how the crowds have only grown larger and bigger and better actually, and more and more discerning audiences are coming to such festivals for the music unlike other music festivals where people come in because they want to be 'seen'." The singer-songwriter who performed at the Mahindra Roots Festival last weekend with the Raghu Dixit Project was also joined by vocalist Shilpa Mudbi and musician Raju Das Baul, both of whom added a different kind of energy to the stage. 
ADVERTISEMENT
Working on new music and 'Orchestra Mysuru' 
The kind of energy that made the crowd electric as they danced to his tune in unison. With the stage set, Dixit gave the audience a sneak peek into songs from his upcoming album, 'Shakkar'. He sang a melodious yet catchy 'Shakkar Pari', which is the story of a girl who steals sugar from the market to give it to people who have never tasted sweetness -- one of two others from the album. Even as he is working on his yet-to-be released album, the singer-composer, who is known for hits like 'Hey Bhagwan' and 'Mysore Se Aayi' from his first album to many others over the years, released 'Orchestra Mysuru' for a film by the same name in January. Celebrating the city's music culture, it is a topic he says is very close to his heart.   
He shares, "It was a dream come true because this particular movie also made me explore retro music and go back to the 80s and 90s era of Carnatic music, where people perform on streets during the Ganpati and Dasara music festivals. The best orchestras are brought to perform during Ganpati festival and it is a great celebration and a free-for-all concert. It is the youngest memory of me growing up in Mysuru." Dixit reveals that these orchestras were also his first exposure to live performances and that is what makes it even more special. So, that is why he hopes it not only crosses the boundaries of the Kannada speaking audience and online streaming platforms. "It's a typical underdog wins against all odds kind of a story, and full of music and it's probably my best film work," he says. 
Taking folk music to the masses 
If you have followed Dixit long enough, you know he is no stranger to film and independent music and with every tune he makes, he has been experimenting with a variety of sounds that are now universal. It is also the reason why he believes that he can use it as a platform to introduce people to new music. He explains, "Film music is mass music and basically the primary source of music consumption in India. The next one surprisingly is devotional music. So, if you dabble, you're reaching a maximum audience. So, for me, my intention was to somehow make people listen to my film music and therefore also nudge them towards listening to my independent music." A lesson he takes from his initial days when his first album, 'Antaragni' launched in 2008, six months before the soundtrack for 'Psycho' (2008), the first film he worked on launched, but the latter got really popular and with that came fame and people discovering his older work in Kannada music.  
Understandably there are more people listening to music in different languages including Kannada, and Dixit says, that can be attributed to various shows such as Coke Studio and MTV Unplugged as well as the likes of Indian Ocean, Avial and Papon that have managed to create a vibrant niche audience for the music. "There has been a flurry of bands from all over India singing very proudly in their native language and carrying their mother language with pride on their sleeve," adds the Bengaluru musician, hailing Abhanga Repost among the newer ones. "For someone who is listening to folk music for the first time, they might get completely mind-blown and say, "Oh, my God, I was probably hiding under the rock of Justin Bieber or Korean pop" and then they come out and realise, "there's so much beauty here, right here in my home". 
Covid-19 pandemic and working on 'Shakkar' 
Dixit has always loved playing at music festivals and creating new music but like many other artists the Covid-19 pandemic had quite an effect on him. He shares, "The first part of the pandemic was great for me, and the first lockdown was great because that's when I wrote most of the songs, but it was also a very dark phase of my life when I was not very good in my mental health. I actually didn't want to live. This album really saved my life that way because I wrote music with another incredibly talented musician friend, John Paul from Kolkata, whom I befriended on Instagram, and then WhatsApp." Dixit says Paul used to be after him to listen to his demo, which used to land up in the latter's inbox every day for feedback. 
Seems like the Bengaluru musician met the Kolkata musician at just the right time in his life because they met and went on to write 28 melodies in 12-13 days. "They were all scratch ideas and it was only during the pandemic that I got a hold of Neeraj who wrote all my songs for the album." The album 'Shakkar', which means sugar, says Dixit, has songs about staying alive when you don't want to. While it may sound dark, the singer of many upbeat songs doesn't go out of character as he says it will inspire anybody to give a second shot to life. "The album is intended to put faith and hope back into the hearts of people who are probably giving up on life and that was my state of mind. Somehow, thanks to John, we ended up doing this album and the creative juices started flowing and I wrote the concepts and Neeraj wrote the lyrics for it," he adds. 
Staying true to his origins and love for folk music, Dixit also got the songs written in four different languages - Kannada, Hindi, Tamil and Telugu. It also has a few songs which resemble the beat of Marathi and Bengali music and so he has also got them written in both the languages too. With so many languages, it is clear that Dixit wants to reach a wider audience and at the same time give them hope and say life will be okay. 
Love for Mumbai and upcoming releases 
With the release of his first album happening in Mumbai, it is no doubt that the coastal city has a special place in Dixit's life and he, in fact, says it has been a metaphor for 'Mother' for him, that will accept anybody as her child. Many may not know but he has expressed his love for the city in his first album, which has a song 'I am in Mumbai, waiting for a miracle', the last line is 'Har Kisi Ko Apnaaye Jaisi Meri Maiya'. He shares, "Mumbai has been that for me because that is where I also met Vishal-Shekhar, who put me on the map of music in India and the rest of the world. I will always tell this story at every concert I get an opportunity and I will never be grateful enough to Vishal-Shekhar and Mumbai for helping me to be who I am today." An opportunity he took at the Mahindra Roots Festival to remind people of his roots. 
While Dixit did play three songs from his upcoming album, he and the band are still to decide on the number of songs in the album which is roughly between eight to 10 songs, but there is enough material to make it into another album, he shares. Interestingly, performing at the Mahindra Kabira Festival held in Varanasi late last year also led them to create eight new songs about Kabira, and that is still to be recorded. But that is not all for Dixit and his band. "There is a love album that I am writing based on poetry written by Da Ra Bendre from Karnataka. These are songs about conversations between him and his wife and him and his children across 65 years of his married life – right from the day he went to see her for the first time to the day she died, and he has written a lot. To me, that is the epitome of love," he says, as he prepares to release singles next month before his UK tour in July.  

Also Read: How Mumbai's Abhanga Repost is promoting Maharashtra folk music one abhang at a time