The city-based folk fusion band, who will be performing at the first Mahindra Roots Festival at Bandra Fort Amphitheatre this weekend, spoke to Mid-day Online about making it to the big stage, changing the conventional approach to Marathi music through concerts and celebrating abhangs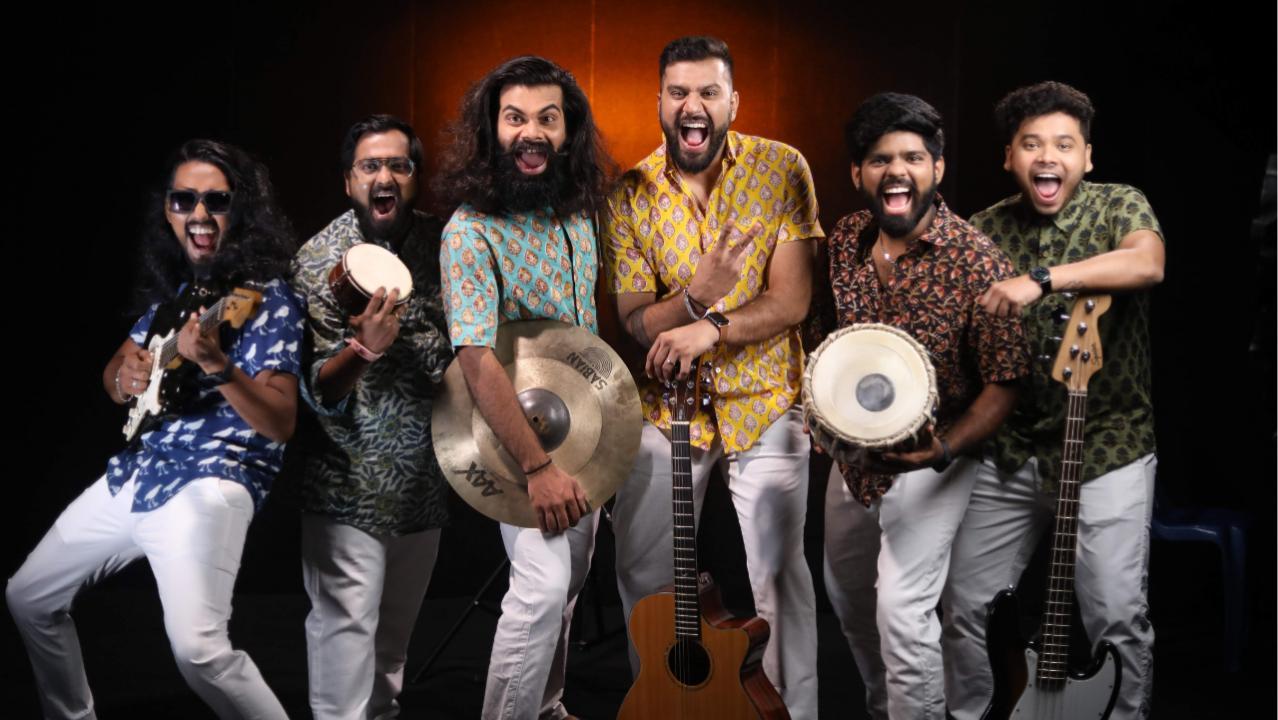 Abhang Repost will be performing at the Bandra Fort Amphitheatre for the Mahindra Roots Festival today. Photo Courtesy: Mahindra Roots Festival
For a college band that started out of Mumbai's Kishinchand Chellaram (KC) College as an idea in 2014 and was formed a year later, Abhanga Repost has certainly come a long way. Now that the city band have finally arrived on the bigger stages, they are making the most of it and taking Marathi music through abhangs (devotional poetry) to the masses. Being no stranger to the stage and loving every minute of it, they celebrate the works of Sant Tukaram and Sant Tukdoji in their first album 'Vaari' that was released only in 2022. They are also hugely inspired by Sant Kabir and Sant Rohidas, whose poetry they hope to include in their upcoming album that they will release later this year.  
Deorukhkar explains, "It has been eight years for us, so you see how long it has taken us to reach a stage like this. We once got a chance to open for Raghu Dixit but there were five other bands. This time, we got the chance to solely perform. Now, people know us, and we have that credibility of being Abhanga Repost." Apart from Deorukhkar on drums, the six-member band has Tushar Totre on harmonium, Ajay Vavhal on electric guitar, Pratish Mhaske on lead vocals, Viraj Acharya on tabla and percussion and Swapnil Tarphe on bass guitar.        
ADVERTISEMENT
The vernacular folk fusion band will be performing this weekend at the inaugural Mahindra Roots Festival, that aims to celebrate India's rich culture and music. They will be joined by the likes of The Aahvaan Project, Alif, Arko Mukhaerjee, Jasleen Aulakh, Tajdar Junaid, Shabnam Virmani and Raghu Dixit, who will celebrate rich folk music.  
Ahead of their performance at the Bandra Fort Amphitheatre, Mid-day Online spoke to Abhanga Repost's Dushyant Deorukhkar, Pratish Mhaske and Viraj Acharya, one half of the band that met us minutes after their rehearsals for the festival. They delve into what performing on a stage like this means for them, fighting conventional ideas of palatable music while celebrating culture through music, and working on their upcoming album.   
What inspired you to reimagine abhangs in a modern avatar and especially Marathi music?
Dushyant Deorukhkar: All of us in the band have been listening to folk music since our childhood at festivals and different functions, festivals and events, so we are all connected that way. Everyone has their own style of exploring music also and that is how we got into this about eight years ago. We used to perform at college festivals – me, Swapnil and Viraj were from the same college – KC College. Since then, we used to do drama and music together and then we found this love for music and performing folk music. We used to listen to music from different states and different regions in India. Then we were faced with the question of where do we find independent Marathi music. At the time, there was only one band and we found that there were very few bands who sang folk music. We didn't know of a band that did independent Marathi music and took Marathi culture to the masses. We realised this was our chance and decided to do it. 
Do you believe India has a lot to boast about with its multiple cultures and is it being celebrated enough in music through your band? Ever since you started in 2015, how have you seen the perception of Marathi folk music change?
Viraj Acharya: The music done by bands of such poetry of saints definitely shows the diversity of India. The best part is that all the saints from India are saying the same thing but in different languages. So, what we do is take the same thought and convey it to people in the Marathi language.  
Dushyant Deorukhkar: It has been eight years for us, so you see how long it has taken us to reach a stage like this. We once got a chance to open for Raghu Dixit but there were five other bands. This time, we got the chance to solely perform. Now, people know us, and we have that credibility of being Abhanga Repost. Earlier, people used to not know why they should watch us perform. However, when festivals like these happen, irrespective of their language, that is good.
Your songs are inspired by saints including Sant Tukaram and Sant Tukdoji in your recent album. Are there any others that we should know of and those that you are inspired by?
Viraj Acharya: We are definitely inspired by Sant Kabir. Then, there is also Saint Rohidas, who has written some great poetry and there is also Sant Eknath and Sant Chokamela too. 
How did your families react to you making music about abhangas? 
Viraj Acharya: Initially, it was like how many people have faced it -- a lot of opposition from them. Like, they used to ask, "What are you going to do?" and "How are you going to survive?" while we were doing college. However, nowadays, they share it with their friends saying, "Oh, my son is going to perform here, please go and watch". So, it is a total journey for not only us but also our families. They have supported us and are now proud of us knowing that we are the only band performing Maharashtra folk music. If we don't do this poetry, then who will do it and who will pass it on to the next generation?
Dushyant Deorukhkar: Earlier, it was also like, "Why don't you do Hindi?" and they were hoping for it. It is not like we don't want to do Hindi music, but we just don't want to force ourselves to do it just because the public wants it. We are all very clear that this is our path. 
Your music is hypnotic but one aspect that I note is the use of the harmonium and tabla. Considering a traditional setup of guitars and drums, how did the inclusion of that sound come about and do you plan on using others? 
Viraj Acharya: I used to play tabla since the beginning, so the band had no choice (laughs). It also keeps the original contemporary sound of the music. We don't think of the audio of the song, we think of how we are going to perform and convey it to people? The first five-six years, we only focused on how we were going to perform it and how it would look and only then did we work on our first album.
Pratish Mhaske: It gives the band a very traditional sound along with our instruments. We keep adding instruments and our guitarist also plays the mandolin, so we keep experimenting with every song. So, for every new song we are making sure that there is something new and till that song is not ready and we are not happy with the song, we don't release it. 
The band was trying to compose this song called 'Pasaydaan', which is a very famous poetry and prayer for a long time. Since the last six years, we weren't happy about how we were doing it but one day we just decided we had to do it and it just happened and it was released.  
Dushyant Deorukhkar: The instruments are also what keeps our originality.  
Are you working on a new album? When can fans expect it?
Pratish Mhaske: We are working on our second album which will have seven abhangs. There will also be another single that will be released soon. The album will come out in 2023.
Read More: Radio City Freedom Awards to launch its 7th edition on February 28