On the renowned British writer's birthday, we handpick the most interesting shows, movies, books, and podcasts that every Sherlock fan must check out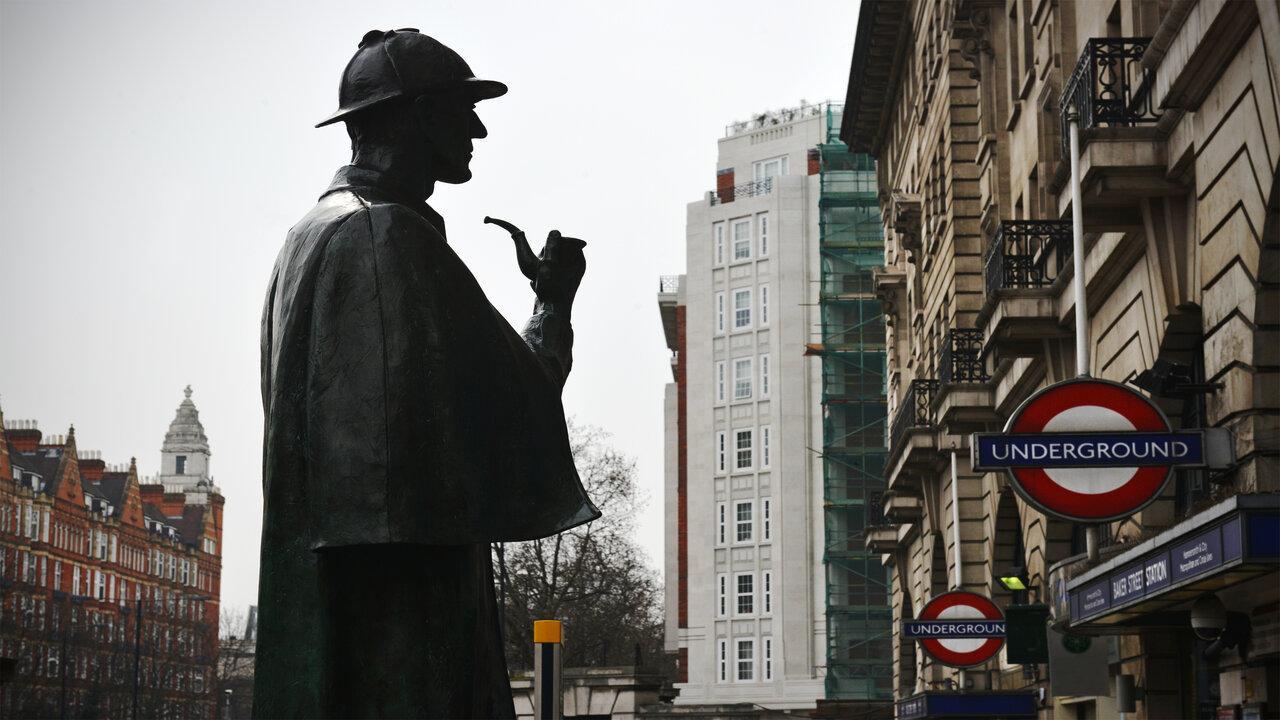 Representative image. Pic/iStock
Sherlock Holmes Day: An essential guide to Arthur Conan Doyle's world of Sherlock

On the renowned British writer's birthday, we handpick the most interesting shows, movies, books, and podcasts that every Sherlock fan must check out

Every year fans around the world celebrate May 22, which is Sir Arthur Conan Doyle's birthday, as Sherlock Holmes Day. Creator of arguably the most famous detective on the planet, Doyle originally wrote four novels and 56 short stories about the adventures of Sherlock Holmes and Dr. Watson which have continued to captivate audiences across the world. We have compiled an essential viewing, reading, and listening list for fans to indulge in this Sherlock Holmes Day. 
Read
A Study in Scarlet 

Featuring the first appearance of Sherlock Holmes and Dr. Watson, 'A Study in Scarlet' is an origin story of sorts for the iconic duo. This is the book for anyone who has never read Sherlock Holmes before and also for fans who love to explore the foundation of the key partnership.
 The Philosophy of Sherlock Holmes
Great literature endures because of its sustained relevance in contemporary times. In 'The Philosophy of Sherlock Holmes', scholars touch upon philosophical debates raised by fans. The essays explore a range of existential questions through the lens of the beloved lead character and make for an engaging read.

Watch

Sherlock (2010)

Starring Benedict Cumberbatch, 'Sherlock' is the most popular adaptation in recent times and is absolutely essential viewing. Set in the present times, the crime drama show has earned global accolades for acting as well as writing through its 13-episode run.   

Elementary (2012)

Another contemporary adaptation, 'Elementary' is a fresh updated take on the classic with its new premise. The show is set in New York City and the character of Dr. Watson is played by Lucy Liu. The serialised show has been widely praised for maintaining the essence of the characters and gripping writing through its 154-episode run.  


Sherlock Holmes (2009)
Starring Robert Downey Jr., 'Sherlock Holmes' is among the most ambitious silver screen adaptations. Jude Law's Dr. Watson perfectly complimented Downey's eccentric Sherlock as they took viewers on action-packed adventure.  The success of the film was followed by a sequel, 'Sherlock Holmes: A Game of Shadows' with a third instalment due for release in 2021. 
The Private Life of Sherlock Homes (1970)
A fan favourite, 'The Private Life of Sherlock Holmes' has been dubbed as one of the best Sherlock movies ever made. Starring Billy Wilder, the movie offers a close-up look at the detective while maintaining the balance between plot-driven and character-study narratives.  Fans can expect intrigue and laughter from this classic.


Listen
Sherlock Holmes: Trifles

The 'Sherlock Holmes Trifles' delves into Sherlock's greatest cases with a magnifying glass. Hosts Scott Monty and Burt Wolder are fans who dissect and discuss every little obscurity, clarify muddy plot lines, and help listeners acquaint themselves with period terminology. Each episode is roughly 20 to 30 minutes long.
Sherlock Holmes is Real

If you are someone who likes to obsess over conspiracy theories or alternate historical narratives, this podcast will serve you beautifully. Presented by Baker Street Digressions, 'Sherlock Holmes is Real' is a fictional docudrama centred around a century-long conspiracy to turn Sherlock into a literary figure from a historical one. Each episode varies in length, from 12 to 90 minutes.