Discover one of India's seminal theatre personalities through an exhibition that showcases 50 years of his special life and times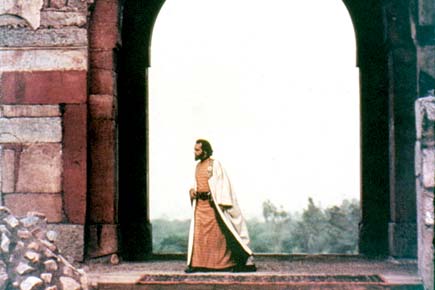 It was 1963. The world was grip-ped by the Cold War, and India was reeling from a war lost to China. At that time, 37-year-old Ebrahim Alkazi, who had arrived in Delhi as the head of National School of Drama (NSD), decided to stage renowned playwright Dharamvir Bharati's Andha Yug. Based on the last day of the Mahabharata war, the anti-war play became a landmark production in Indian theatre, and one of the finest examples of off-site theatre, as it was staged amidst the ruins of Ferozshah Kotla fort, and later, at Purana Qila.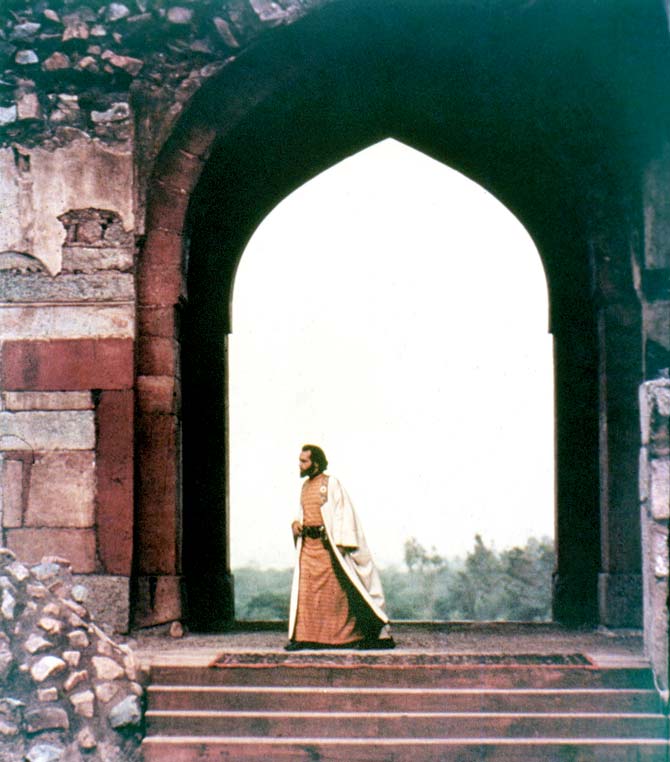 Manohar Singh played the pivotal role in Girish Karnad's Tughlaq, directed by Alkazi, staged at Purana Qila in 1974. Pic courtesy/Alkazi Foundation for the Arts 
ADVERTISEMENT
Post September 9, if you drop by National Gallery of Modern Art (NGMA) in Fort, you can relive the play's magic through a black-and-white photograph mounted as part of a retrospective exhibit titled, The Theatre Of E Alkazi. Curated by noted theatre personality and Alkazi's daughter, Amal Allana, and designed by her husband and theatre designer, Nissar, the six-week exhibit comes to Mumbai after its first viewing at Delhi early this year. "In Delhi, we used three floors of Lalit Kala Akademi to showcase all the exhibits. We're finding it difficult to fit in the gallery here," laughs 69-year-old Amal, who has been working on the project for over a decade.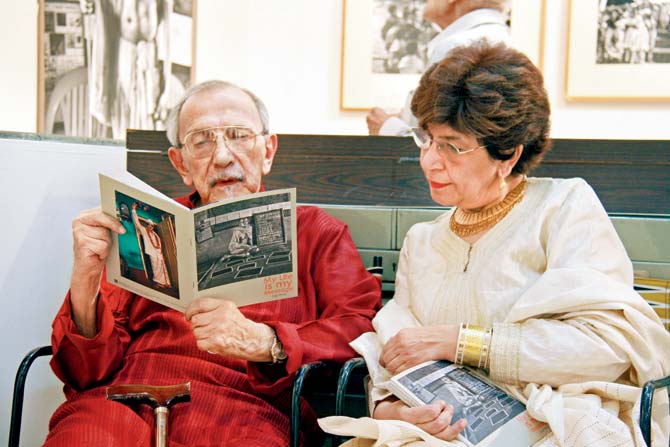 Ebrahim Alkazi with Amal Allana
The life and times of Alkazi
Featuring multiple rooms of rare photographs, archival documents, texts and quotations, video footage, a large number of objects including props used in plays, installations and models of recreated stage sets, the exhibition showcases the 90-year-old theatre doyen's work spanning 50 years, from 1940s to the 80s, where he directed over 50 plays, including adaptations of several Shakespearean works, Samuel Beckett's Waiting For Godot, Mohan Rakesh's Ashadh Ka Ek Din and Girish Karnad's Tughlaq. "He is a seminal figure in the history of Indian theatre. He was one of the first to focus on actor training, and the importance of visual impact of theatre production through set design, music and costume. People often described his plays as moving paintings. I wanted to showcase it while he is still with us. My effort was also to create a theatre archive, which doesn't exist in our country, and something that would be of interest to lay man too," says Allana.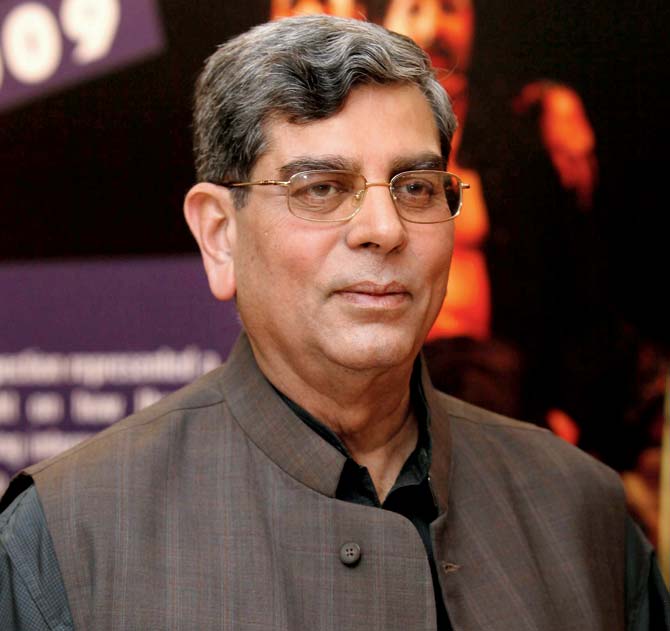 Nissar Allana
Born into an Arab family in Pune in 1925, Alkazi came to Mumbai to study at the St Xavier's College, where he met Sultan 'Bobby' Padamsee (Alyque Padamsee's elder brother) and joined his English-language Theatre Group. Then, he went to study theatre at the Royal Academy of Dramatic Art (RADA) in England before returning to Mumbai to initiate Theatre Unit in the 50s. "The exhibition is Bombay-centric since most of my father's formative years were spent here. He started the school at Bhulabhai Desai Road, which was an important cultural hub then," informs Amal.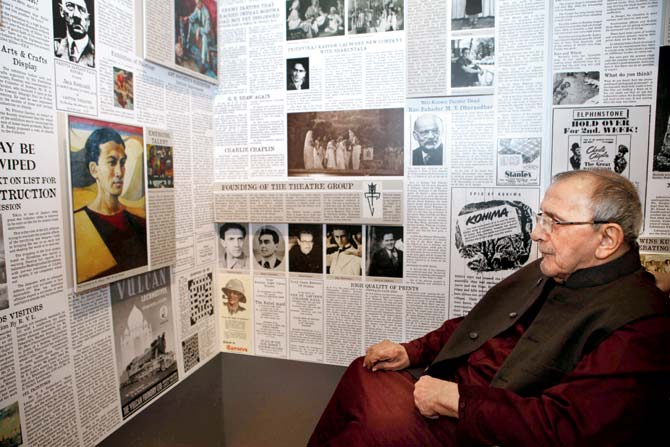 The theatre doyen looks closely at The Alkazi Times
Panels and models
Divided into different sections, highlighting various stages and facets of Alkazi, the exhibition also includes a seven-feet high and 60-feet long newspaper installation called The Alkazi Times. "I didn't just want to present a chronology of events in Mr Alkazi's life but contextualise it with the art, theatre and political movements between 1940 and 1962, so we created the newspaper with different panels," says Nissar. The designer also roped in a professional model-maker to recreate stage models of various plays that Alkazi directed and designed, including King Lear, Medea by Euripedes and Miss Julie. "It was a challenge to make them to scale from photographs," he adds.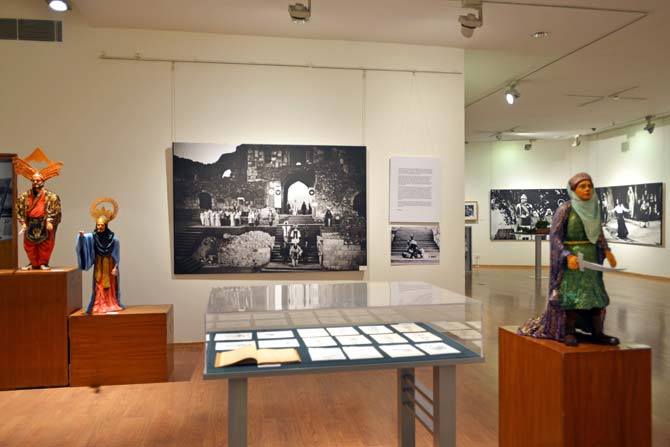 An installation at The Theatre of E Alkazi exhibition presented by Art Heritage and the Alkazi Foundation for the Arts held in New Delhi in early 2016An installation at The Theatre of E Alkazi exhibition presented by Art Heritage and the Alkazi Foundation for the Arts held in New Delhi in early 2016
Guests can also check out a recreated model of Meghdoot Theatre, an open-air theatre that Alkazi started on the terrace of his building at Cumbala Hill. "This was just before he was invited to head NSD. Our building didn't have a lift and guests would actually climb six floors to see plays every weekend. The rehearsals would happen in our home. I would help with posters and costumes. Fortunately, my father kept a good record through photographs, which are preserved under the Alkazi Collection of Photography," recalls Amal, who has also sourced material from RADA and NSD, where Alkazi trained actors like Om Shivpuri, Pankaj Kapur, Naseeruddin Shah, Rohini Hattangadi and Om Puri, during his 15-year tenure. While Vijaya Mehta, one of his students in Mumbai, will inaugurate the exhibition with Alyque Padamsee ("Padamsees are related to us. We are a big theatre family and when you put us all together, it is quite noisy"), Hattangadi will be part of a seminar discussing the status of actor training in today's times.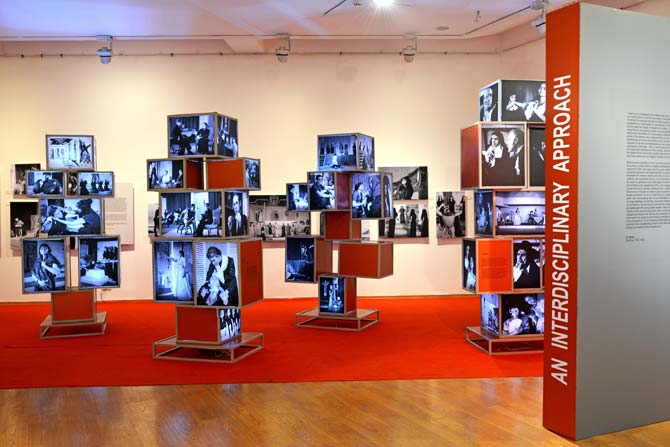 A black-and-white photograph of Andha Yug by Dharamvir Bharati, directed by E. Alkazi,National School of Drama, New Delhi, 1974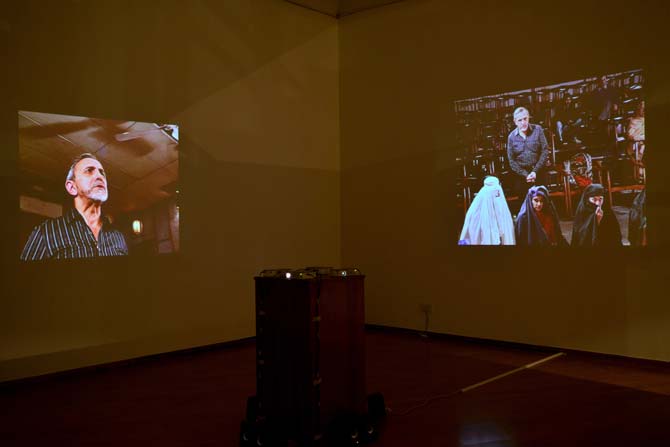 A video room with rehearsal footage of E Alkazi
From: September 9 to October 18, 11 am to 6 pm (Mondays closed)
At: National Gallery of Modern Art, Sir Cowasji Jehangir Hall, Fort.
Call: 22881969
"Exciting news! Mid-day is now on WhatsApp Channels

Subscribe today by clicking the link and stay updated with the latest news!"
Click here!