The trio's band, The Police, played their only Indian rock concert in Bombay (as it was then called), in 1980. Melwyn Dominics, 61, an avid rock fan from Kalina, was at Rang Bhavan 41 years ago to witness the magic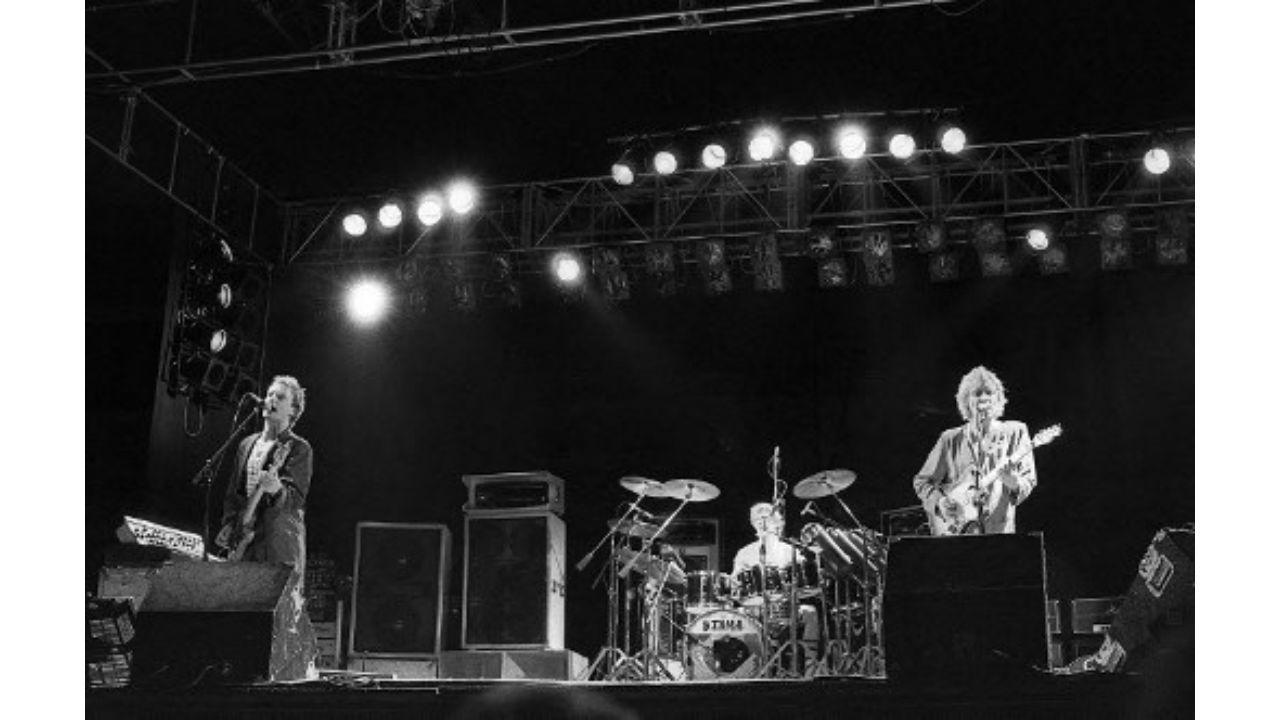 File photo of the British band "The Police" performing during a concert, 10 August 1980, in Le Touquet. (from L), singer Sting, drummer Stewart Copeland, and guitarist Andy Summers. Photo: AFP/Nicolas Fieves
Last Friday, American musician Stewart Copeland shared a throwback photo of himself with his former The Police bandmates Sting and Andy Summers, playing at a fundraiser in Mumbai (then Bombay) in 1980, at the iconic Rang Bhavan, with the hashtag #onthisday. 
The tweet reads: "#Onthisday Our only India concert was in 1980, hosted by the ladies of the Time and Talent Club at the Rang Bhavan, Bombay (aka Mumbai) And the folks sang "YO!" just like in Milwaukee." Copeland was the drummer of the three-member British band, with Sting as lead vocalist and bass guitarist, and Andy Summers as guitarist. 
ADVERTISEMENT
#Onthisday Our only India concert was in 1980, hosted by the ladies of the Time and Talent Club at the Rang Bhavan, Bombay (aka Mumbai) 🇮🇳
And the folks sang "YO!" just like in Milwaukee. pic.twitter.com/6qxrgqqCeM

— Stewart Copeland (@copelandmusic) March 26, 2021
Melwyn Dominics, a hardcore rock fan from Kalina, vividly remembers the concert. "It was a huge crowd, but almost 60 per cent of them were musicians who either played in the Bombay bands or at weddings; the city wasn't much exposed to rock music then. I remember 'maskaofying' mummy and daddy because the tickets were for Rs 25 and Rs 50, and we used to get only Rs 10 as pocket money –so I made an 'adjustment' with the next month's pocket money to be able to buy the tickets. So, only the people who could afford them were able to go," says the 61-year-old, who was studying for his BA in Economics from KC College at the time.  
Melwyn Dominics
"I clearly remember a small detail – the poster said 'The Police are coming', but had a picture of a Mumbai policeman in their blue uniform, and it was so funny," says Dominics.   
While 63-year-old city-based musician Ashley Quinney did not attend the Sting-Copeland-Summers concert, he remembers meeting The Police trio at Rhythm House (which, like Rang Bhavan, helped shape Mumbai's music scene, but has also now shut down) during their visit. "I used to work nearby, at Commerce House then, and had heard that The Police were nearby. Even though I wasn't a fan, I wanted to see them for myself, so I stopped by and saw a lot of fans who getting autographs from them on their cassettes. It was a good experience," Quinney says. 
The Police rock concert took place on March 26 in 1980, but it was unlike any other concert the city had witnessed, simply because of how it came to be. It was organised by the The Time & Talents Club. The club was founded by Gool Shavaksha in 1934 and predominantly comprised Parsi women, according to a Scroll report. It was these women who decided to host a fundraiser and, since they had heard of the popularity of the British rock band, decided that they would reach out to The Police to play at this concert. The club got in touch with a well-known Mumbai agency, which in turn got in touch with Sting's agent, according to a Homegrown report. 
It did not take long for the news of the British rock band playing in India, and at Mumbai's Rang Bhavan, to spread like wildfire. Soon enough, people from all over the country and the world wanted to attend. Ticket sales even crossed the 5,000-strong capacity of the open-air amphitheatre as people wanted to be there at what was being billed as Mumbai's first foreign rock concert, according to the Homegrown report. 
The band raised £5,000 for sick children through the event, during which they played 'Next To You', 'So Lonely', 'Walking On The Moon' and 'Message In A Bottle', among other songs, according to a piece by Jon Blake for The London Evening News, which featured on sting.com. 
All those who wanted tickets to the concert but could not get a hold of them decided to 'attend' from the neighbouring Elphinstone Technical School, the rear of which faced Rang Bhavan. According to what seems to be a first-person account of the concert on the YouTube video, user Nix Nack, commented, "Holy crap! This was at the Rang Bhavan. The first live concert I ever saw, a couple of weeks before my 17th birthday. I reached there early afternoon, hoping to get a ticket, but no such luck. Finally, talking to a few others, who were also desperate for tickets, figured we might be able to see them from the Elphinstone Technical School, the back of which faces Rang Bhavan. There, on the 1st floor, going from classroom to classroom, finally found a room which was facing the cafeteria. Looked out the window, and noticed a drainage pipe. Promptly proceeded to climb down the pipe, and I was in Rang Bhavan... straight into the hands of a havaldaar. The constable tried to pull me off to a side, hoping to extract some money. With a straight face, I told him, 'Are you nuts? If I had money, you think I would come in this way?' That bewildered him long enough for me to just run and lose myself in the crowd. Even though I missed about 15-20 minutes, what a concert!!!"
In another experience, Reddit user JediKnut, in a thread called 'The Police – Live In Bombay – 1980', said his dad managed to bump into the members of the British band and took photographs of them. Later, he met them at The Oberoi Hotel, where they were staying, in Nariman Point, to show them the photos, which their manager loved and took along with them. 
JediKnut says: "Loved them so much, in fact, that he asked dad to ride with the band on a ghoda-gaadi and then accompany them for the gig. He got to stand in the wings and take a few photos of the band. Unfortunately, the photos during the horse-ride I never got to see. He had told me the manager insisted on taking the originals. Can't imagine why Dad didn't keep copies for himself. Of the concert itself, I have 3-4 photos scanned. Unfortunately, he passed away a few years ago and he never saw this video on YouTube; if he had maybe he'd have been able to point himself out to me. I keep wondering if he's one of the guys there with the camera!" 
Here are some of the other reactions to the #Onthisday post by Stewart Copeland 


Sigh. Rang Bhavan, I miss you. Some fab musical memories. Was away at boarding school when this show happened alas. https://t.co/SW2L1gbsba

— Hari Menon (@runbikehurry) March 27, 2021
There's a great shot of this same tour from Japan. Summers (the short man in the middle) goes against a sumo who picks him up by belt with one hand and twirls him about. After bout Sting asks how it went.
Summers: "I held my own. No, actually he held my own." https://t.co/9JkPDRkFVX

— Aakar Patel (@Aakar__Patel) March 27, 2021
A video of the performance