Sculptor Bandana Jain, a sustainability design expert, discusses how she draws inspiration from the waste materials called "kachra", in an interview with Mid-day Online. She also focuses on how her most recent series of artworks, "Consumerism," is a novelty that features brilliant colours on scrap rather as her usual preference for colourless works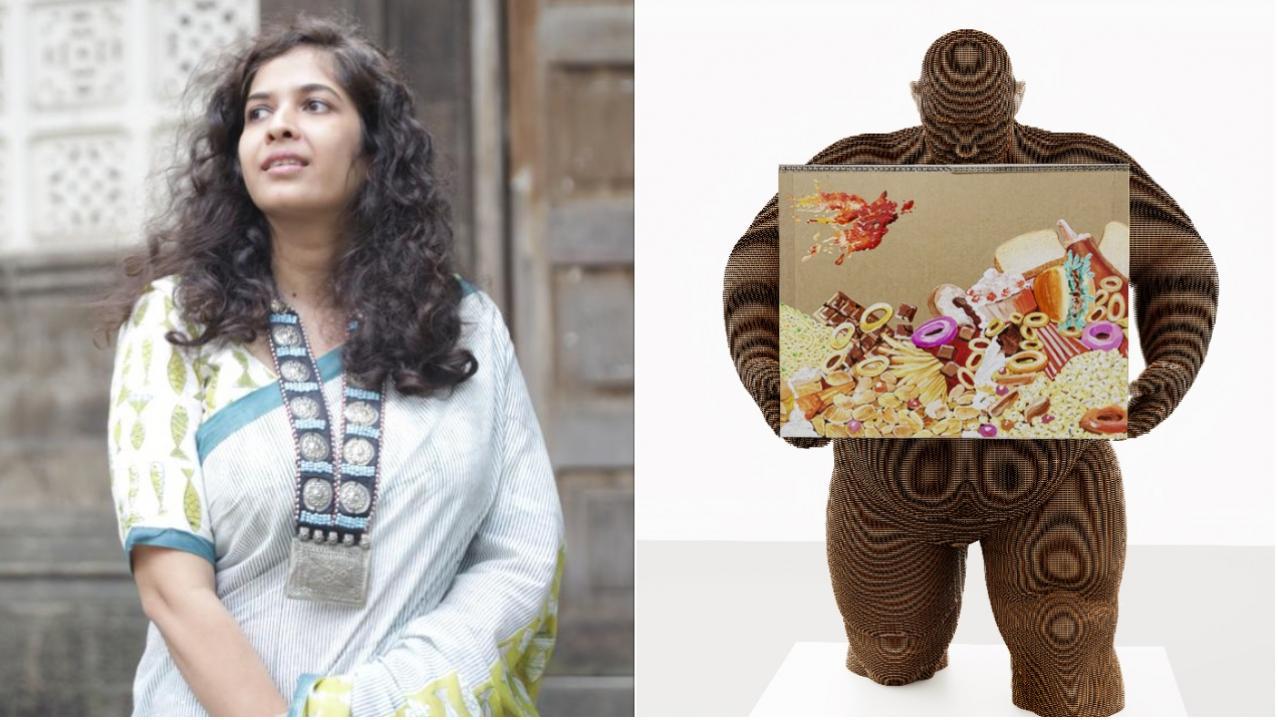 In her latest series of artworks titled 'Consumerism', Mumbai artist Bandana Jain uses cardboard as her medium to focus on consumerism. Photo Courtesy: Bandana Jain
Bandana Jain is a contemporary artist from Mumbai who is interested in sustainability and how it affects the environment and our daily lives as consumers. She also draws inspiration from it when using unconventional materials to create her artwork. She claims that these items, which other people would typically refer to as "kachra," are those that she discovers in the scrapyard. 
Jain has taken this very fascination to create her latest series of artworks called 'Consumerism' with the help of discarded cardboard. She explains, "I collect old cartons that are commonly used for packaging materials. After opening the packaging, I carefully source and cut the four flaps and the top and bottom sections of the carton. I then patch these pieces together to create sheets that serve as the foundation for my work." 
ADVERTISEMENT
The artist recently showcased these new artworks at a CRISP seminar. Now, it is also available for people to engage with on her Instagram account. While this isn't the first time that she has embarked on a journey to depict subjects related to the environment, it is the first time that she has used the recycled materials as her canvas. 
As the people around the world celebrate Environment Day on June 5, Mid-day Online spoke to Jain to understand more about her latest artworks and the inspiration behind them. The artist dwelled on why she keeps coming back to consumerism in her art, her fascination for different discarded materials, adding colour to her artworks for the first time. 
What is the inspiration behind your recent series of artworks 'Consumerism'? 
The inspiration behind my recent series of artworks titled 'Consumerism' stems from the realities of urban life. The constant hustle and bustle, the relentless competition, the overwhelming stress and anxiety, the insatiable greed and envy - all these elements have struck a chord with me. I found myself questioning whether I was inadvertently succumbing to this herd mentality. 
Your work focuses on sustainability and using recycled materials. How is 'Consumerism' different from all your other artworks till today? 
Consumerism stands out among my previous artworks in several ways. It marks a step forward from my usual raw and colourless style as I introduce vibrant colours for the first time. My raw material is old cartons but when you see my previous work, you won't find a hint of plain cartons in my work. 
For the first time I expose them in my artworks as canvases, to convey a compelling narrative through visual storytelling. Unlike my abstract works, 'Consumerism' adopts a figurative approach, exploring the complexities of consumer culture. This series represents a significant shift in both my artistic technique and subject matter. 
What are the mediums and materials that you have used for these artworks? 
I have primarily used recycled cardboard as my medium. I collect old cartons that are commonly used for packaging materials. After opening the packaging, I carefully source and cut the four flaps and the top and bottom sections of the carton. I then patch these pieces together to create sheets that serve as the foundation for my work. This process allows me to give new life to discarded materials and incorporate sustainability into my artistic practice. 
What are the different kinds of materials you like to experiment with while depicting subjects related to the environment? 
When it comes to depicting subjects related to the environment, I have a deep fascination with using unconventional materials, particularly scrap or "kachra." Roaming around in scrapyards is like a favorite pastime, as I find immense inspiration in discarded items. I have a genuine passion for repurposing these materials. If given the opportunity, I would love to experiment with various types of scrap, such as old fabric, metal wire, laser cut panel scraps, unique molds, colorful electric wires, and even fragments of glass. There's always something interesting and unusual to discover amidst the discarded. I am well acquainted with different sources to acquire these diverse types of scrap and I am eager to give them a second lease of life, helping alleviate some of the burden on the earth's resources. 
When did you start working on these artworks and did you face any challenges while creating them? 
I embarked on creating these artworks in installations two years ago and I must admit, I encountered numerous challenges along the way. The primary hurdle was ensuring structural integrity and achieving a sense of balance. As the pieces are composed of stacked cardboard sheets, I faced difficulties in keeping the figures standing properly and securely holding the boxes in place. It required multiple iterations and unexpected adjustments, which were not initially part of my plan. 
However, my determination drove me to persist and find innovative solutions. I am pleased to say that the outcome was both stunning and worthwhile. 
Today, people consume a lot more than they need with no end. What do you think is the role of art in raising awareness about the environment? 
Art has the power to move you. It has the ability to emotionally engage and provoke thoughts, encouraging people to reflect on their behaviors and the impact on the planet. By evoking emotions and fostering empathy, art can inspire individuals to act and make positive changes for the environment. 
The Covid-19 pandemic took a huge toll on everybody. How did you spend your time, and did it influence your art in any way? 
The Covid-19 pandemic was undoubtedly a challenging time for everyone. It forced us to pause and reflect on our lives. Personally, it provided me with an opportunity to delve deeper into my passions and aspirations. During the time, I developed a stronger connection with Indian culture, history, and our roots. I now hold a greater appreciation for my country and its potential and I no longer feel the need to chase Western influences. Instead, I am focused on exploring the richness of Vedic age and incorporating it into my artwork. Through my creations, I aspire to instill confidence and a sense of national pride, working with a determined attitude to contribute to the growth and development of our nation. 
A lot of people also had online exhibitions during that time. Now that physical exhibitions are back, there are hybrid exhibitions too. Which one do you prefer and why? 
While both online and physical exhibitions have their merits, I personally prefer hybrid exhibitions. The digital world holds immense power and allows for broader reach and accessibility. However, for my work, it is crucial to experience it physically. The impact and depth of my artwork are best felt when seen in person. 
With sustainability and the environment becoming more and more important, do you believe a lot more people are aware about the effect of their consumption on the environment? 
The Covid-19 pandemic has indeed played a significant role in raising awareness about our relationship with the environment. It served as a wake-up call, prompting many people to recognize the impact of their consumption on the planet. However, I believe this is just the beginning of a larger movement. It is crucial to continue creating awareness and fostering a shift in consumption patterns. At the same time inculcating a habit to work on our consumption pattern is also very important. 
Where and when are you showcasing your work 'Consumerism'? 
I recently showcased my artwork at the CRISP seminar on June 2. As for future showcases, I have plans to exhibit my series at a high-end mall in the city. Generally, my work takes me to places on its own. Also, some of my works on Consumerism are on my Instagram account www.instagram.com/bandanajain_ or can be viewed on www.bandanajain.com, 

Also Read: World Environment Day 2023: How sustainable fashion and upcycled clothing can help protect the environment
"Exciting news! Mid-day is now on WhatsApp Channels

Subscribe today by clicking the link and stay updated with the latest news!"
Click here!