French hairstylist, Mike takes us through Emily's hairstyles and how he draws references from the 60s to depict the evolution of her character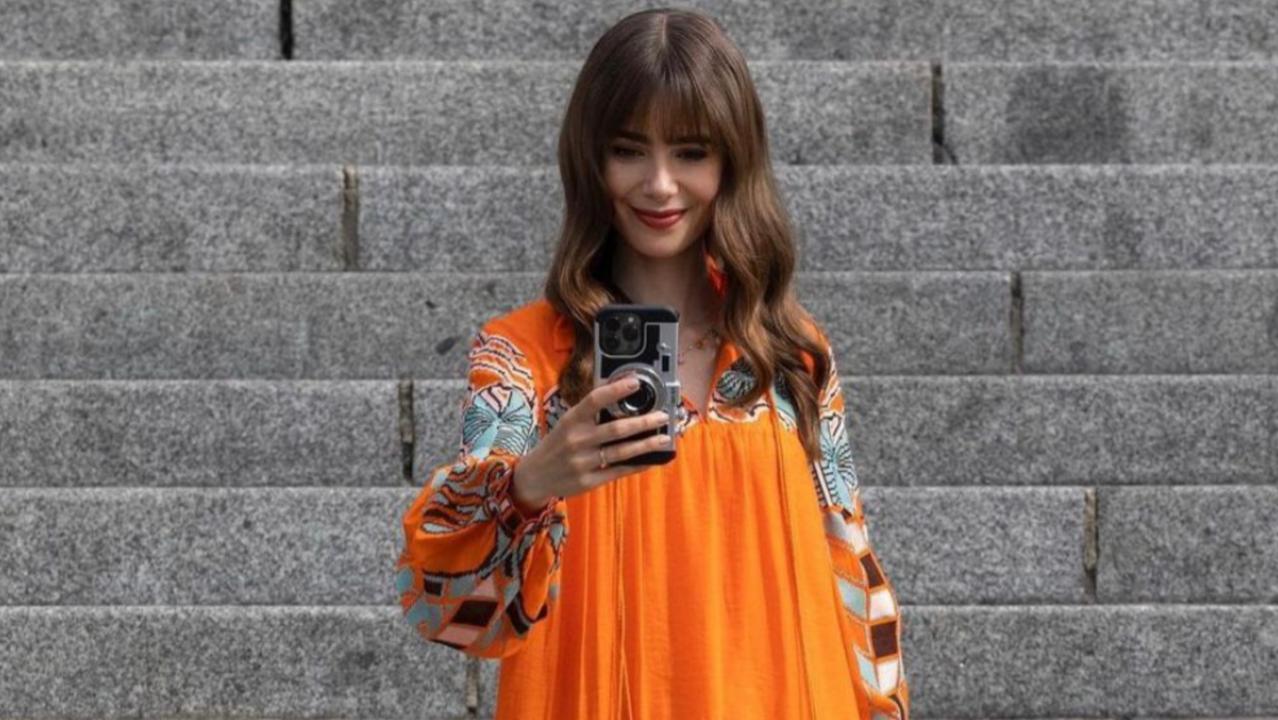 Emily in mullet bangs. Photo courtesy: Official Instagram account for 'Emily in Paris'
If you have seen the latest season of Netflix's Emily in Paris, you would have noticed the appearance of soft bangs donned by Emily. The shift in her character is visible as the ex-Chicago marketing executive takes long strides in work and personal relationships.
Mid-day.com reached out to the French hair stylist Mike on how he plays with Emily's hair to bring out the essence of her persona. Mike has been serving looks to the global audience for the past 12 years.
ADVERTISEMENT
Did Lily Collins go under a hair makeover for season 3 of Emily in Paris? What was it like?
At the end of each season, we sit across the table, Lily included and we look back at all the looks we have created. This allows us to deliberate on how we could make her character evolve but still look very true to her. In season two of Emily in Paris, Lily donned nine different hairstyles and several variations. We had to ensure that the hair complimented each look perfectly without looking too over the top. We discussed the bangs in reference to French icons like Jane Birkin and it seemed to be a good fit. The current season, season three had Lily's character, donning over 18 different hairstyles. We have to constantly up the ante with every look. Much like her wardrobe, we have to portray how her style has also evolved a lot.
There is definitely a change in her style, you can almost see how her style would have evolved living in Paris with the exposure to the people, the culture, and her lifestyle. We focused on big voluminous hair, unusual colour, and a lot of hats in previous seasons. It lends credence to the notion that she is still discovering herself. Season three was when we wanted to put our own spin on references from the 1950s and 1960s. The clothes are closer to the body, with beautiful silhouettes, and the shoes are more basic. In the series, we find relevant pieces of couture clothing for big events and ensure that all the elements make sense.
Describe the role her hair plays in bringing out her persona.
The most noticeable change in season three is the addition of bangs, which marks the beginning of her hair transformation. The goal here is to depict the changes that can occur when there is a change in a relationship, work life, or internal evolution, and how you can translate them through her appearance. We enjoy experimenting with different looks, whether it's a haircut, a colour change, or bangs; the goal is to keep the character interesting and relatable. There has been an evolution over the episodes, with softer waves in the day with definition and texture.
Emily comes across as a character with diverse moods. How do you play with her hair to establish her bold self, her shyness, or her confused state?
Personally, I believe that a hairstyle is similar to an accessory; depending on the event, the character's state of mind, or the intensity of a scene, we can determine whether we want to go for a strong look or keep it natural and soft. We understand the wardrobe and scene and base our hairstyle decisions on that. Emily always wears her signature loose wavy hairstyle to work, and her more sophisticated hairstyles are used in scenes depicting the latter half of the day. I usually leave a few strands of hair to soften the face and add an element of romance.
Share three iconic hairstyles from season 3 that are meant to dominate the upcoming hairstyle trends in 2023.
1. A strong statement would undoubtedly be the fringe, which many people do not know how to style; the series is dedicated to the fringe. When we think of styling a fringe, we often assume that it must be straight, which is not always the case. You can experiment with different buns, side bangs, 60s bangs, 90s bangs, 30s bangs, wavy bangs, and textured bangs.
2. Accessories are set to make a big comeback, we've already seen embellished hair elements make a comeback on social media, and I feel that this will continue, and hairbands will also undoubtedly be super trendy.
3. Buns, half ties, soft and textured wavy hair is an easy breezy lazy girl hack to look put together without much effort for a classic night out on the town.
Share a few DIY steps to achieve Emily's hairstyles from season 3
I'll go over the 60s high ponytail look I created for Lily for an important dinner. She wore a 'Iris Apfel' couture top with a 'Giuseppe Di Morabito' dress inside, which was very 60s. I had to free up Emily's beautiful neck with a long wavy ponytail and give her a little volume on top of her head to complete the look. I left her fringe loose to add some freshness to the hairstyle, along with a couple of loose strands of hair to strike a balance with the provincial atmosphere of the South of France.
To achieve this look, I first consider where my ponytail will sit; because it is a high ponytail, I will divide the hair into two halves. I would crimp the top half with a wide tooth comb and then join it to the ponytail by closing it with a second elastic. I then use ponytail hair sections to create waves with a medium iron to add volume. To achieve that voluminous gourmand effect, I'll also use a texturizing spray. For a 60s touch, I finish the look with a satin ribbon.
Read More: Here's how men can wear Pantone Colour of the Year 2023: Viva Magenta