Want to enjoy sweets but conscious about your health? Mumbai chefs share easy recipes to make unique variations of your favourite sweets this festive season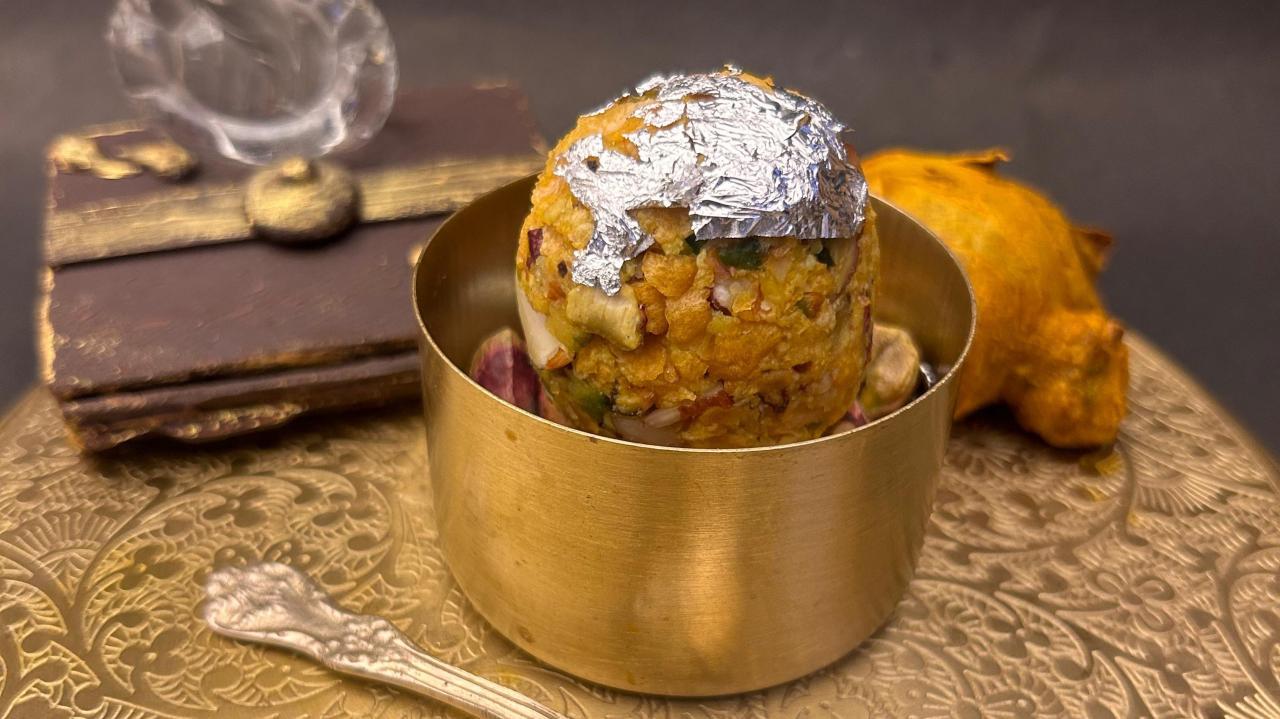 Raw haldi laddoo
Listen to this article
From oats nachani modak to avocado kheer: Make the unique healthy sweets this Ganeshotsav
x
It's that time of the year when all you want to do is gorge on delicious food for Ganeshotsav. However, over the the years, many people have become very health conscious about the way they consume sweets. While others may wonder what all the fuss is about, even city chefs say health matters and have been adding healthy twists to traditional sweets. 
They not only make unique varities of modaks with oats and nachani but also make laddoos with raw turmeric, dry nuts and wheat; last but not the least, they even make kheer out of avocado. 
ADVERTISEMENT
Here are some recipes to keep you busy during this time of the year: 
Oats and Nachani modak 
Have you always loved modaks but want to eat healthy? Chef Ashutosh Balodhi from The Dukes Retreat in Lonavala says you can easily do that this Ganeshotsav by making a modak with oats, nachani, coconut and jaggery. He explains, "During festivals, the joy of food knows no bounds, but it is essential to strike a balance. As a chef, I believe in celebrating the flavours of tradition while also embracing the gift of good health. Let us savour the sweetness of life, but remember to keep our sugar intake in check with this version of the modak, ensuring that every bite remains a delightful and wholesome experience." 
Ingredients:
Preparation time: 25-30 minutes
Cooking time: 15-20 minutes
Serves 4
Oats 125 gm
Nachani atta 30 gm
Grated coconut 200 gm
Jaggery 100 gm
Cardamom powder a pinch
Ghee 40 gm
Dry fruits 25 gm
Method:
1. First roast the oats in slow flame for 2-3 minutes or until it turns slightly golden brown. Remove from flame let it cool completely and make a powder.
2. For filling in same pan heat 20gm ghee, roast dry fruits, add the grated coconut, cardamom powder and jaggery, cook until golden brown and let the mixture cool.
3. Now make a tight dough with the powdered oats and nachani atta using warm water.
4. Grease a modak mould with ghee, make small balls of the dough and press it into the mould then add the filling in the center and shape.
5. Steam the modak for about 8 to 10 minutes.
6. Serve hot with melted ghee on top.
Avocado Kheer
You may have eaten all kinds of kheer over the years with all their richness, but it's often difficult to imagine one that is healthy. Chef Binod Kumar at Four Points By Sheraton in Navi Mumbai's Vashi suggests making a healthy avocado kheer during this time of the year to honour the festival while dishing out alternatives. 
Ingredients: 
Avocado pulp 50 gm
Grated coconut 60 gm
Raw rice powder 60 gm
Jaggery 40 gm
1/4 cup boiled milk 120 ml
Water 80 ml
Ghee 20 ml
Cardamom powder 5 gm
Whole cashew nuts, broken 10gm
Raisins 10 gm
Garnish with gold or silver work 
Method:
1. Soak jaggery in warm water (till immersing level) crush it well.
2. Then heat it up until it is slightly thick (no string consistency needs to be checked).Strain and keep aside.
3. Rinse rice well and soak in water for at least 30 minutes and set aside.
4. In a mixer, grind rice and coconut together with little water to a coarse paste.
5. Boil water, keep in low flame and add the coconut rice paste and let it cook in medium flame for 10 minutes.
6. Once the rice gets cooked soft and the mixture is in porridge consistency, add jaggery syrup.
7. Stir well and cook for 3 minutes, add well ripped avocado pulp and cardamom powder, and stir well.
8. Meanwhile in a tadka pan with ghee fry cashews and raisins.
9. First, add cashews once it starts to brown add raisins, let it bubble up then switch off.
10. Switch and let the payasam cool down for 10 minutes.
11. Then add milk and stir well.
12. Add ghee fried cashews and raisins, give a quick stir.
Raw Turmeric, Dry nuts and Wheat laddoo
If you don't want to make kheer from avocado, then Kumar says you can opt to make some laddoos from raw turmeric, dry nuts and wheat. 
Ingredients:
Fresh Raw turmeric 100 gm
Wheat flour 250 gm
Ghee 160 ml                  
Almonds 20 gm
Cashew nuts 20 gm
Walnuts 20 gm                               
Pistachios 20 gm
Melon seeds 50 gm
Jaggery 120 gm
Water 20 gm
Raisins 20 gm
Desiccated coconut 20 gm
Black pepper powder 10 gm
Cashew nuts for garnish 80 gm
Method:
1. Heat ghee in a pan and add grated raw turmeric. Cook until it reduces to 1/4th and the raw smell of turmeric goes off.
2. Heat a pan and dry roast the wheat flour, stair until golden colour then mix with turmeric paste 
3. Heat ghee in another pan and fry almonds, cashew nuts, walnuts, pistachios, and one by one set aside.
4. Dry roast melon seeds.
In a pan, melt jaggery in 1 tbsp water to make jaggery syrup.
5. Grind the roasted dry fruits into a coarse powder.
6. Grind the fox nuts separately and mix them into the dry fruit mixture.
7. Add the powder and raisins to the jaggery syrup and mix properly.
8. Add cooked raw turmeric mixture and mix well. Once the mixture cools slightly, add desiccated coconut, roasted melon seeds, black pepper powder and mix well.
9. Make round smooth laddoo and garnish with cashew nuts. 
"Exciting news! Mid-day is now on WhatsApp Channels

Subscribe today by clicking the link and stay updated with the latest news!"
Click here!