As dining-in became a norm during lockdown, Mumbai's popular eateries had to re-strategize to keep the kitchen running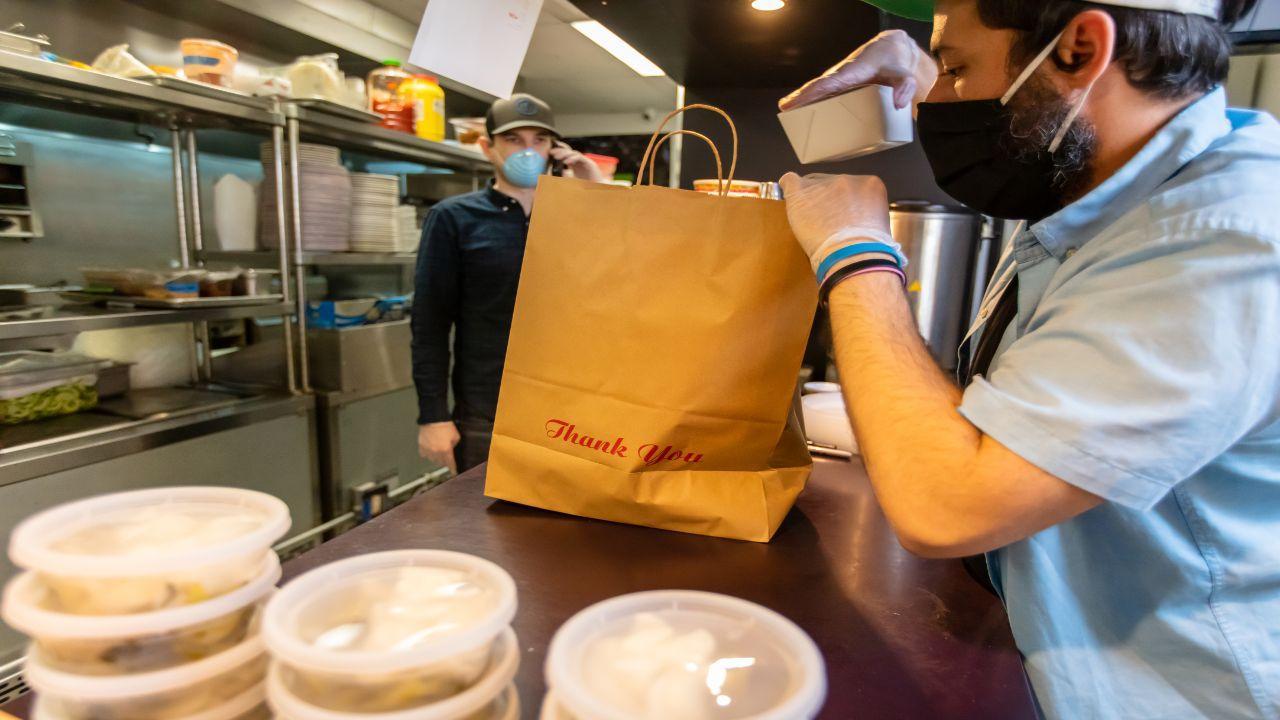 The photo is for representational purpose only
A perfectly ironed table cloth, neatly laid out cutlery and a bunch of extremely alert servers – that was how fine dining looked in Mumbai – pre-pandemic of course. While the pandemic is far from over; restaurants and eateries are opening up. However, the safety protocol and the government mandate still restrict them to welcome patrons in full capacity.
As we complete one year of lockdown, the F&B sector, among others, were badly affected during the pandemic. People were skeptical to order food and some restaurants had to shut down as well. Now, slowly as everyone has started to navigate their way through the 'new normal', even restaurateurs and city hotels found a safe and hygienic way to serve food to their customers.
ADVERTISEMENT
Delivering delicacies.
As dining-in became the new norm, restaurants which didn't have a home delivery option ventured into it. Ka Hospitality, which runs fine dining restaurants such as Nara, CinCin, Hakkasan and Yauatcha, also took the food delivery route. Karyna Bajaj, Executive Director at Ka Hospitality shares, "In 2019, when we opened Nara, Colaba and started deliveries from there, we realised that there is a huge untapped market for deliveries, especially for brands like us. Through Scootsy, we established that there is a delivery market for premium and fine dining restaurants and since then we always had plans to start deliveries for Hakkasan and Yauatcha." This plan got fastened as pandemic hit and they started delivery for the latter restaurants as well.
Karyna Bajaj
Similarly, Slink & Bardot was launched in 2017 and Souffle S'il Vous Plait which was launched in December 2019 did not have delivery options available. For Nick Harrison, the co-founder of both restaurants, prior to the lockdown, tapping into delivery was a backburner conversation. They had plans to start it eventually but he says, "As the lockdown continued to get extended, we understood it was to become our primary revenue stream.  Beyond this, it was also a means to sustain our connection with our loyal clientele. The support we received especially when we first started was truly touching."
Nick Harrison
It wasn't just these upscale eating places that started delivering, even well-known hotels like The St. Regis, Lower Parel decided to opt for it. Nicholas Dumbell, General Manager, The St. Regis elucidates, "The lockdown situation created a need for F&B where our dining venues became very quiet and there was no banqueting so we decided to create an avenue to make revenue.  We had the team on property, we had the skills, we had the space and we had our guests who told us how much they missed dining with us, how much they missed our cuisine.  So it was an obvious solution to take our cuisine to them."
Nicholas Dumbell
Putting on the planning hat
Starting delivery isn't easy. Even though these were established places, it did take a fair amount of planning for restaurateurs and hotels to ace the delivery vertical. A lot of thought was put in to make menus which were easy to delivery. Chef Rahul Akerkar had to restructure the menu for his almost year-old Lower Parel property Qualia. Akerkar says, "We had to simplify our food. We had to make food that could travel and could be easily re-heated. The focus was on comfort foods. We included burgers, sandwiches – things which were easily appreciated and were simple, hearty comfort food."
Rahul Akerkar
For Bajaj and her team, it took about a month to do their R&D. They too had to work with an altered menu because of the difficulty in getting the supplies. "We used that time to source for basic packaging, re-look our supply chain and just ensure that we're able to put our best foot forward with the limitations that we had. We also worked on newer products like our DIY pasta kits, frozen pizzas, Yauactha sauces, just to ensure that our guests can stock their fridge and have easy access to our food and experiences," she says.
Explaining the Lower Parel hotel's extensive attention to the delivery process, Dumbell says, "We did extensive R&D, the chef prepared the food, it was packaged hygienically and put it in a car and driven for a kilometer and then brought back for us to do a tasting. As a result of this extensive research through trial and error, we knew exactly what worked and what to put on the menu and our menu was tweaked and curated accordingly." A lot of thought was also put into packaging to ensure hygiene and food quality.
Apart from working with limited ingredient supplies, entrepreneurs had to ensure that their staff members were safe as well. "With local travel restrictions we provided the team accommodation at the site with practices of social distancing from outsiders, viz. suppliers, delivery boys et al. We also ensured all practices of prevention were in place, i.e. temperature checks and packaging," says Prashant Issar, co-founder, Ishaara. Even Akerkar got a handful of his staff to move to Qualia and provided them accommodation there. "They camped there for about six to eight months and were tested regularly. They formed a safe Covid-free bubble which was instrumental in keeping deliveries uninterrupted."
Prashant Issar
Looking back and going forward
The year 2020 has been a learning experience for many. From no set delivery process to setting up one in just a month or so, entrepreneurs have really worked their way through to keep things moving and serving their loyal patrons at the comfort of their homes. Even though people now are a bit more comfortable stepping out and going to a restaurant, it is nothing like what it used to be before lockdown. The restaurants and hotels understand that things may not be the same and a lot of them not just want to continue the delivery vertical, they have plans to make additions to it.
Bajaj says, "Yes, delivery is now an important vertical in our business today. In fact, we've even launched our own delivery website and in the coming financial year, we plan to market it and populate it. We've even started At Home Experiences for smaller groups and will now make a foray into the Outdoor Catering business." Even Dumbell concurs that delivery and take-away proved to be a huge opportunity for them, which they had not put much emphasis earlier. He says, "We must never rule out any avenue as revenue generating opportunity and an opportunity to connect with our guests during a time when we did not have the ability to connect with our guests in the ways that we normally do."
Similarly, Akerkar agrees that even though it took a while for people to get familiarised with the delivery menu but the response was great. "We have now changed the dine-in menu also and it is same as the delivery menu. We changed the focus of our food and made it more accessible and familiar with great flavours and super ingredients," says Akerkar.
With fresh spike in Covid-19 cases in Maharashtra, it seems unlikely that dining-out will make a comeback anytime soon and delivery menus might become 'THE' way forward for most eateries in the city.
"Exciting news! Mid-day is now on WhatsApp Channels

Subscribe today by clicking the link and stay updated with the latest news!"
Click here!