The summer season can be quite challenging when it comes to maintaining healthy hair. It takes the right kind of hair care routine to ensure healthy hair while dealing with the heat, humidity and sweat. Mid-day Online spoke to experts to share simple tips that you can easily follow to keep it healthy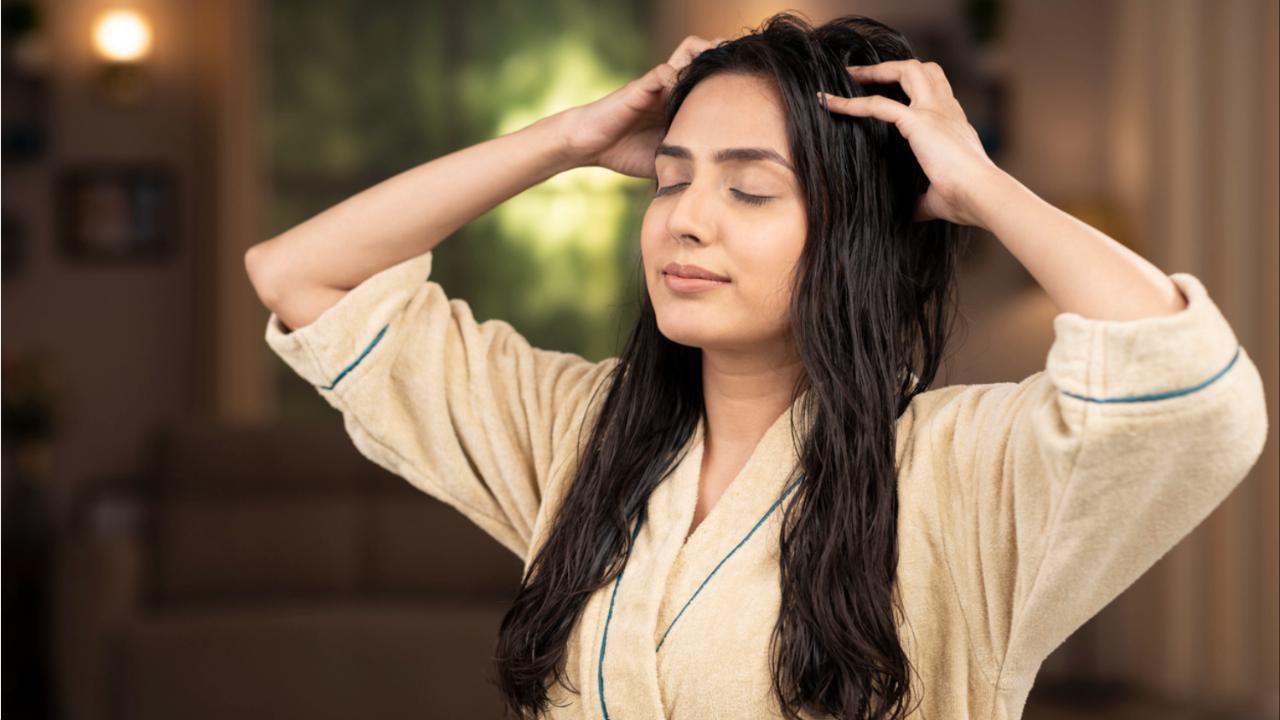 Oiling helps increase blood circulation to the scalp. It also acts as a moisturiser for both hair and the scalp. Photo Courtesy: iStock
Self-care during the summer season is not just restricted to adopting a skincare routine or making use of summer essential accessories. It also involves taking care of one's hair with equal dedication. Just as the sun's UV rays are harsh on the skin, they also damage the hair. Besides, the humid weather of Mumbai results in reduced water content in the body. Along with skin, our hair too loses water making it dry and frizzy. This makes it more prone to breakage and ultimately leads to overall hair damage.
Some common hair complaints that people are likely to have in the summer season include dryness, brittleness and hair loss. People with long thick hair, often complain of sweating scalp that causes itching and redness. Complaints about bacterial infections like folliculitis and fungal infections like dandruff are also common in this season.
ADVERTISEMENT
While traditional methods of hair care are undoubtedly quintessential, it is important to incorporate a few other easy tips into our daily lifestyle to ensure the complete protection of our hair during this heat.
Dr Shefali Trasi, MD - dermatologist, consultant dermatologist at Dr Trasi Clinic and La Piel skin clinic shares some hassle-free and pocket-friendly hair care tips for summer.
Oiling
Oiling hair often during summer is essential to keep it strong and lustrous. You must oil your hair whenever possible or at least twice a week. Besides coconut oil, you can also use Moroccan or Argan oil. Oiling helps increase blood circulation to the scalp. It also acts as a moisturiser for both hair and the scalp.
Washing
Washing your hair twice a week with a sulphate-free shampoo can help. Conditioning your hair after a wash is essential to lock in the moisture and keep dryness at bay. The use of good quality hair conditioners also helps repair and maintain sulphate bonds in the hair structure adding a layer of protection to the hair cuticle. For better results, you can also leave conditioners on for a longer period to soften and support the hair cuticle.
Use haircare lotions
Make sure to use hair-care lotions containing Capixyl, Procapil or Redensyl (compounds promoting hair growth) to avoid hair fall.
Drink a lot of water
The importance of water cannot be stressed enough every single day. Interestingly, Trasi says regular consumption not only helps the body stay hydrated but also keeps the hair and scalp hydrated.
Cover your hair
When stepping out in the sun, make sure you cover your hair with a scarf, cap or umbrella to protect it from the harmful rays of the sun.
Visit the salon
A visit to the salon can also help with added benefits that can enhance the look and health of your hair. Besides adopting the basic haircare routine, Dr Trasi says,  "One can definitely hit the salons during summer for haircare. Opting for deep-conditioning hair treatments will prove beneficial for hair care." Managing long hair during this hot weather is even more difficult. For these individuals, a haircut or trim can be a great option.
Drop habits that cause hair damage
Knowingly or unknowingly, we pick up habits that cause more damage to our hair. Dr Trasi suggests avoiding them. These habits include:
Taking long and hot showers
This can leave the scalp dehydrated and thus cause dry hair.  
Making excessive use of heating hair devices
Using hair dryers, straighteners and curlers to style the hair can steal your hair's natural shine and health.
Also Watch: How to protect yourself from heatstroke?
Colouring your hair
Colouring the hair during this season is also not advised by Trasi.
Using any hair products containing strong chemicals
Although a temporary fix to oily hair, the use of dry shampoos can make the scalp itchier. It can clog the hair follicles and lead to hair breakage. Their prolonged use can further lead to bacterial and fungal infections. It is always best to wash your hair with shampoo and water.
Role of diet to keep your hair healthy in summer
"Food plays a very important role in hair care. Hair and scalp require the right amount of protein, calcium, and minerals," says Dr Trasi. She recommends consuming nuts like almonds, cashews and walnuts to stimulate hair growth. Regular intake of green leafy vegetables, she says, helps grow thicker hair follicles. Dairy products like milk and eggs are also great sources of vitamins, proteins, iron, zinc and omega-6 fatty acids. Besides eating healthy foods, avoiding processed foods and sugar is also necessary to protect the health of your hair.
Since temperatures are only soaring by the day, it is advisable to start your haircare routine at the earliest for healthy hair.

Also Read: Acne treatment: Mumbai expert guides you on how to avoid breakouts this summer Do you follow a haircare routine for summer?