As temperatures soar, the human body undergoes specific physiological changes. Consequently, the heart is compelled to increase its efforts, pumping blood at a faster rate to help regulate the body's temperature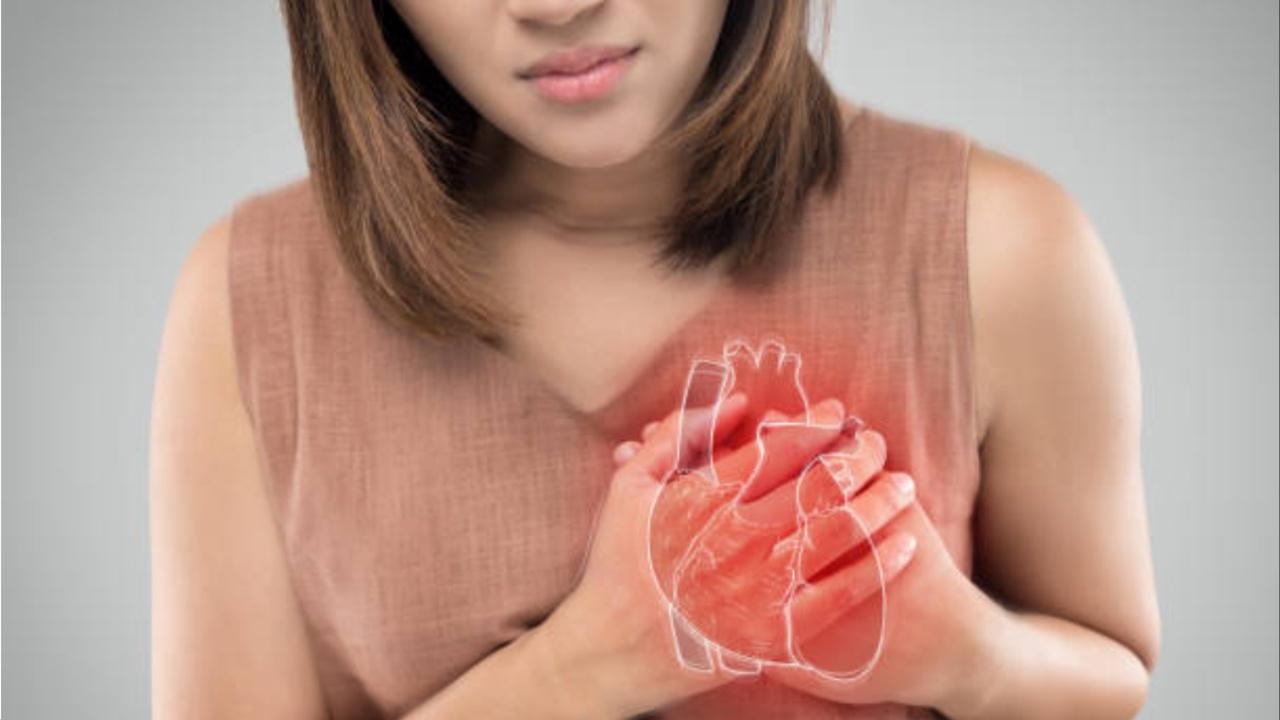 Image for representational purposes only. Photo Courtesy: iStock
When exposed to extreme heat, there is a heightened risk of heatstroke
Dehydration can strain the heart as it needs to work harder to pump blood effectively
Allergies and respiratory problems tend to worsen during the summer
Heart failure is a chronic condition that affects millions of people worldwide. While its causes can vary, there is a noticeable increase in the incidence of heart failure during the summer months. This phenomenon has prompted researchers and healthcare professionals to delve deeper into the factors contributing to summer heart failure and explore effective prevention strategies.
As temperatures soar, the human body undergoes specific physiological changes. Consequently, the heart is compelled to increase its efforts, pumping blood at a faster rate to help regulate the body's temperature. When exposed to extreme heat, there is a heightened risk of heatstroke if the body's cooling mechanisms fail.
ADVERTISEMENT
This place added strain on the heart, significantly elevating the risk of heart attacks and strokes, particularly for those with pre-existing heart conditions. In certain instances, individuals with compromised or weakened cardiac systems face an increased susceptibility to heatstroke, dehydration, heart failure, arrhythmias, angina, and myocardial infarctions.
How does hot weather affect the heart?
Cardiovascular diseases, particularly heart failure stand as the predominant cause of mortality globally As per a recent report from the World Heart Federation, deaths attributed to cardiovascular diseases (CVDs), which reign as the foremost global cause of fatality, surged by 60%. The global count rose from 12.1 million in 1990 to 20.5 million in 2021.
During periods of excessive heat, especially in the summer season, the cardiovascular system encounters the demanding task of regulating body temperature by expelling excess heat. In response to the heat, blood vessels dilate, leading to a decrease in blood pressure and subsequently causing an elevation in heart rate and stronger cardiac contractions. However, this physiological response can pose a significant risk to the heart.
Heart failure tends to exhibit an increase in incidents during the summer months, and there are several reasons behind this phenomenon:
Dehydration
In hot weather, people tend to lose more fluids through sweat. Dehydration can strain the heart as it needs to work harder to pump blood effectively when the blood volume decreases due to dehydration.
High Temperatures
High temperatures induce the expansion (dilation) of blood vessels to dissipate heat and cool the body. This phenomenon can lead to a decline in blood pressure, rendering the heart's task of efficiently circulating blood more challenging.
Physical Exertion
People often engage in more physical activities during the summers including exercise and outdoor recreation. Overexertion in the heat can put additional stress on the heart.
Sodium Intake
Summer diets sometimes include higher levels of sodium (salt), which can lead to fluid retention and increased strain on the heart.
Respiratory Challenges
Allergies and respiratory problems tend to worsen during the summer due to factors like pollen and air pollution. These can affect breathing and consequently place strain the heart.
Guidelines for Addressing Heart Failure in Extreme Weather conditions 
Fluid Management
It's crucial for individuals with heart failure to carefully manage their fluid intake, especially during hot weather. Excessive fluid can lead to fluid retention and worsen heart failure symptoms. On the other hand, dehydration can strain the heart. Work with your healthcare provider to establish a daily fluid intake plan that suits your specific needs.
Medication Adherence
Continue adhering to the prescribed medication regimen as instructed by your healthcare provider. During hot weather, your doctor may consider adjusting your medications or dosages to optimize your condition management.
Stay Cool
Avoid extreme heat whenever possible. Stay indoors during the hottest parts of the day and use air conditioning or fans to maintain a comfortable temperature at home. If you need to go outside, try to do so during cooler morning or evening hours.
Monitor Symptoms
Be vigilant about monitoring your heart failure symptoms. If you notice increased shortness of breath, swelling, rapid weight gain, or other concerning symptoms, immediately contact your healthcare provider promptly.
Low-Sodium Diet
Continue following a heart-healthy, low-sodium dietary plan. High-sodium foods can contribute to fluid retention, which may worsen heart failure symptoms. Exercise particular caution when dining out or consuming processed foods.
Hydration
While it's important to manage fluid intake, make sure you are drinking enough to stay adequately hydrated. Consult your healthcare provider for personalized guidance on fluid restrictions.
Moderate exercise
Physical activity is important, but heart failure patients should establish a sustainable exercise routine in consultation with their doctor.
Seek Immediate Medical Attention
If you experience intense chest discomfort, severe breathlessness, confusion, or fainting, it is imperative to promptly seek medical assistance, as these symptoms may indicate a cardiac emergency.
In conclusion, tailoring your heart failure management to cope with the challenges of scorching summer conditions is essential. Collaborate closely with your cardiologist to formulate a customized strategy that caters to your unique requirements, safeguarding your health and ensuring your comfort throughout the hot weather.
(Dr Nimit C Shah, Interventional and Heart Failure Cardiologist, Breach Candy Hospital , Cumballa Hill , Mumbai)
"Exciting news! Mid-day is now on WhatsApp Channels

Subscribe today by clicking the link and stay updated with the latest news!"
Click here!