Let's look at the drawbacks of investing in a cheaper hoverboard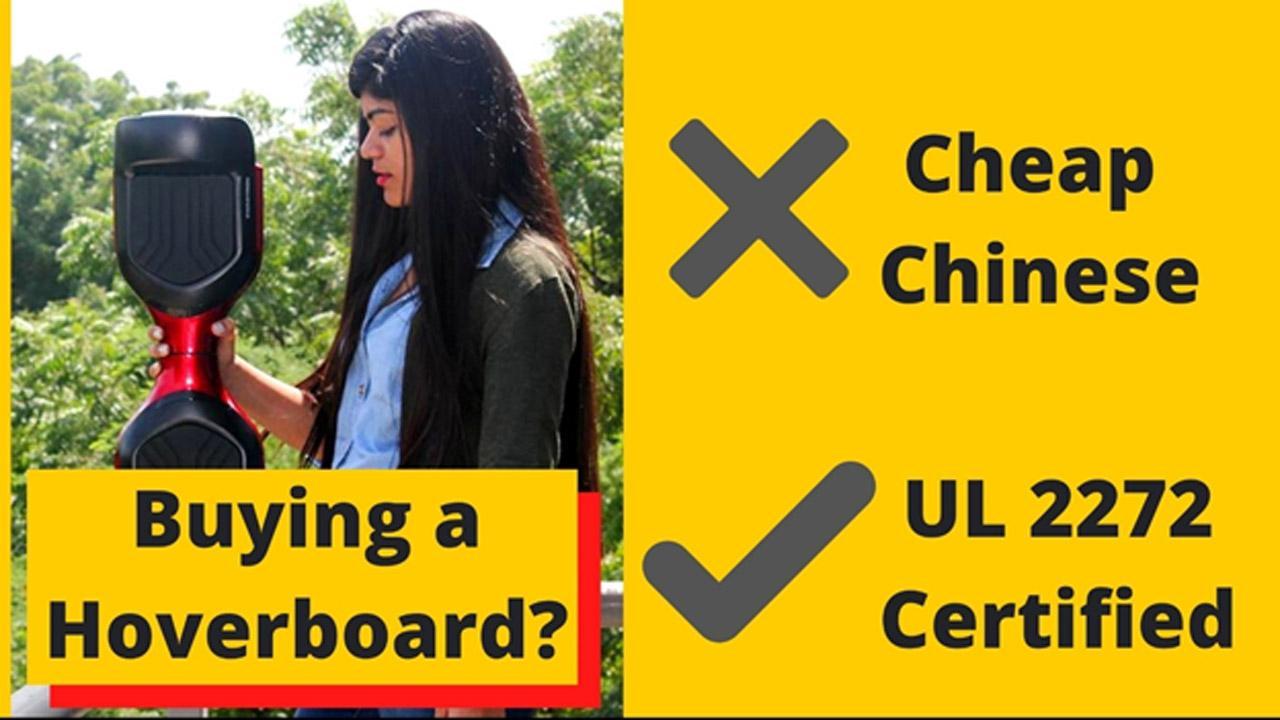 .
Hoverboards have become quite popular all around the world and India. There is a mad rush to buy hoverboards. However, this little piece of joy does not fit every pocket. And this has persuaded people to buy cheaper hoverboards. But are the cheaper versions safe? Let's look at the drawbacks of investing in a cheaper hoverboard:
Prone to frequent damages
ADVERTISEMENT
If you pay peanuts, you will get monkeys. The price of the best hoverboards is decided based on the high quality materials that have been used to manufacture them. Cheaper versions of hoverboards have low-quality parts that wear off easily. Further, the fitting of the parts too is not up to the mark. The problems that the riders of the cheaper hoverboards face are quite frequent and common. People complain of loose cables and even bad connection. The internal circuits in such hoverboards are malfunctioned most of the times, leading to injury. Also, the balance sensors must be recalibrated, which is not quite easy to do. And the biggest problem is the battery, which is not cheap, and needs to be replaced quite often. Cheaper hoverboards face the glitch of wheel motors, where they require replacement only after few days of usage.
Waste of Money
When one buys hoverboard, lots of thought and consideration goes into it. There are lots of dreams and wishes that one thinks of accomplishing on a hoverboard. However, with the cheap versions, all these dreams come crashing down. This is because cheaper versions are a complete waste of money. It is always better not to buy a hoverboard in comparison to buying a cheaper version available online. Many cheaper hoverboards have completely failed and disintegrated and are hard to repair. Such buyers are left with no other option but to buy another one.
Unavailability of Parts
A hoverboard is made up of different parts. The logic board is the brain, gyroscope refers to the sensors, further there are infrared sensors, electric board, and the central pivot. When one buys a cheaper hoverboard, the person does not get the best of these parts. There is a problem in one of the parts or all of them. When low-cost hoverboards stop working, the parts used in them are not easily available. This is because in high-quality hoverboards, all the parts work like a team. And these parts are readily available with the manufacturer. However, this is not true with the cheaper versions. Parts are secured from different places or even reused to bring the cost down.
After sales customer service
When one buys any kind of product, a pen, a cellphone or a hoverboard, he expects good customer service while buying the product and even post buying it. Customers should have the surety that they can get in touch with the brand to know how the product works and how to get out of the problems if any faced. However, this cannot be expected when one buys cheap hoverboards online. There is no after sales customer service to take care of any glitch that the customer faces.
No Warranty / Guarantee
Cheaper hoverboards do not come with any kind of guarantee and are not covered in the warranty period. The buyers cannot get in touch with the manufacturers for the faulty part used in the hoverboard. Such hoverboards might work for 12 months or they might stop working in just 12 days. And on top of that, the customer will have to run from pillar to post to get the hoverboard repaired. With branded high quality hoverboards like Swagtron, customers are assured of commitment and warranty with every product purchased. With a quality hoverboard, buyers know that if there is a manufacturing defect or any kind of technical fault, company will take care of it.
Safety should be the first priority
If you are buying hoverboard for the first time or for the second time (after losing faith in cheap hoverboards), consider buying high-quality Swagtron hoverboards. It has all the safety precautions in place which includes UL2272, a must for hoverboards internationally. Swagtron hoverboards are carefully manufactured, taking into consideration all the global requirements. Further, these hoverboards come with door to door warranty service, wherein the customer does not have to carry the hoverboard all the way to the store. Swagtron hoverboard is a priced possession and a proud one as well. You are definitely going to enjoy the ride.
This story has been sourced from a third party syndicated feed, agencies. Mid-day accepts no responsibility or liability for its dependability, trustworthiness, reliability and data of the text. Mid-day management/mid-day.com reserves the sole right to alter, delete or remove (without notice) the content in its absolute discretion for any reason whatsoever