two youths of Bihar have proved the sentence that turned disaster into an opportunity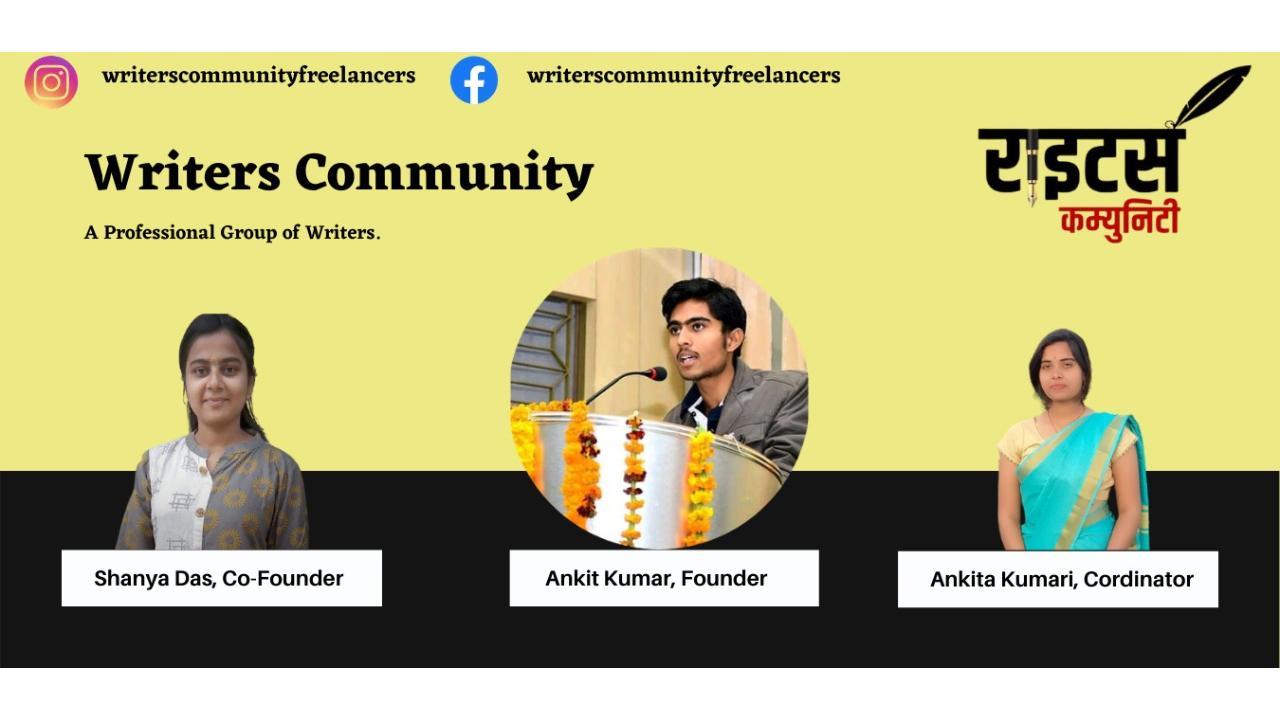 Writers Community
Work from home and freelancing have established their place in the changing nature of the digital world and the impact of the Covid epidemic. All private and government institutions have approved work from home, and people are also working accordingly. In this Corona period, many people have also lost their jobs, and many unemployed are looking for work. But in the meantime, two youths of Bihar have proved the sentence that turned disaster into an opportunity. Ankit Kumar of West Champaran district of Bihar and Shanya Das of Araria district has set a different example at an early age. To employ the ordinary people sitting at home, both have started an organization called Writers Community. In February 2020, both of them created a WhatsApp group to connect people with writing work and get employment sitting at home. They made an effort to stop the scams happening in content writing and freelancing on Facebook. This effort proved fruitful that more than 300 people joined the Writers Community and started working within a year. Ankit Dev Arpan and Shanya Das contacted Embibe, Unacademy, Pariksha Adda, Flamingo Publications, etc., and began distributing all their online work among freelancers to create employment. People were afraid of scams earlier, so the payment system was transparent, and its information was made available to everyone.
Ankit Dev Arpan says that he now wants to give a new platform to these freelancers. Many skilled freelancers have to connect with clients through Facebook and other social media mediums and give different samples. After much difficulty, they get a job of 200 to 500 rupees at a time. But now, they will start a platform where clients will judge the quality of freelancers based on a universal sample and employ them. The determination of advance payment will also be done, and the surety of the amount will also be determined. By doing this, freelancers will not be victims of scams, and they will also get regular work.
ADVERTISEMENT
Ankit Kumar, the Writers Community founder, is an alumnus of Jawahar Navodaya Vidyalaya and is currently pursuing law from IMS Law College. The articles written by him have been published in many journals, and along with writing, he is also a good speaker. Being more interested in writing, he has made constant efforts for the interests of the writers. Ankit Kumar is very popular on social media as Ankit Dev Arpan. Along with his articles, his activity as a social worker and analysis of political news are also prevalent. He has also been invited for debate and panel discussions at many unique places.
Shanya Das, the Writers Community's co-founder, is also an alumnus of Jawahar Navodaya Vidyalaya. She is currently taking Hindi education from Gargi college. Shanya das says that freelancers are playing an essential role in the digital age. She sees freelancing as the main link of the coming times. Shanya noted that she has worked as a freelancer in many news channels, her articles have also got a place.
But along with establishing himself, she aimed to provide a platform to the rest of the people associated with writing. She said that generally, girls and women get fewer opportunities to work outside, so it is our effort that these people also get the right employment opportunities. Thus, freelancing is easy as well as safe for women.
 The Writers' Community recently organized an internship program to train students from the best universities in the country. In this, 25 student students from IIT, Banasthali Vidyapeeth, University of Delhi, and many other universities participated and received 28 days of training. The Writers' Community will soon start monthly internships and employ people through a large freelance portal.