Dr. Vinay Bajrangi is an Indian and world-famous Vedic astrologer for direct and online astrology consultation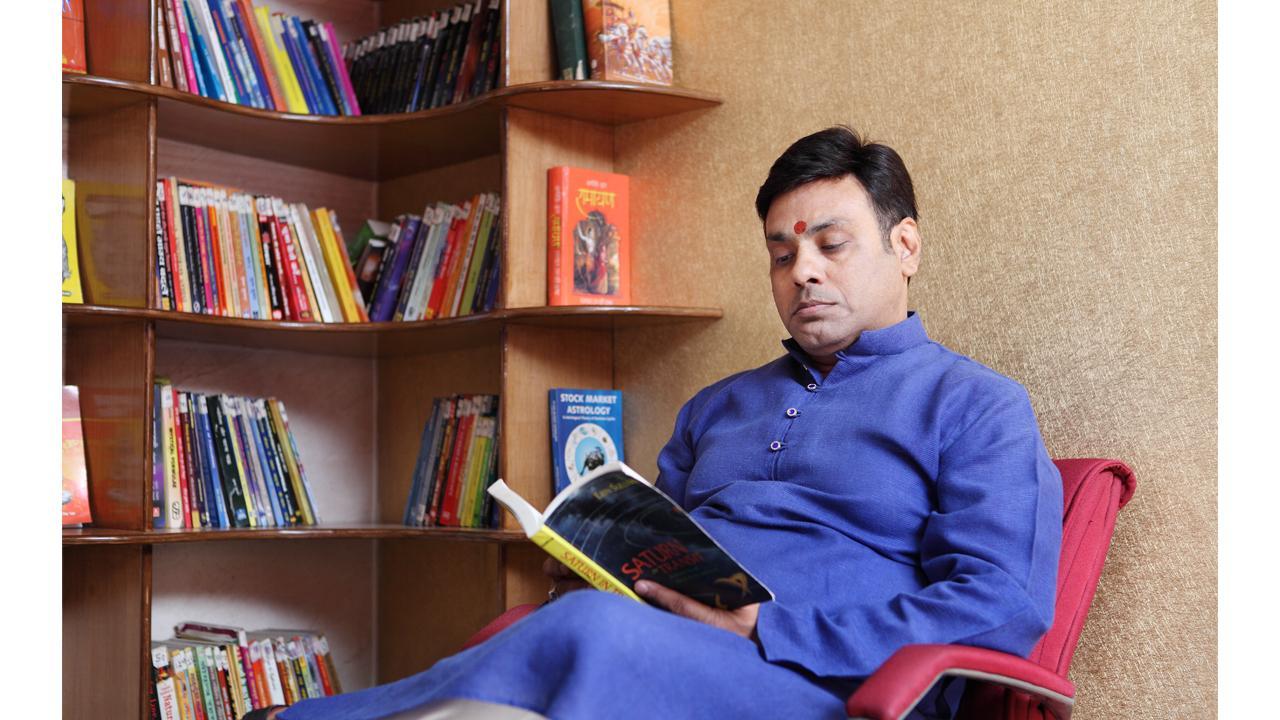 Dr. Vinay Bajrangi
Our daily actions are the basis of our joys and sorrows, so we look for certain general guidelines to make our day better. Life is full of challenges to face and events to plan on daily basis. It is in everyone's mind that how can a day be made better or at least planned better? That's why to look for daily horoscope in newspapers, websites, magazines, etc. is becoming a passion. It is because these daily horoscope predictions hold some importance in our daily life
To understand the significance of a free daily horoscope and how it can impact an individual's everyday life, we got in conversation with the famous Vedic Astrologer of India Dr. Vinay Bajrangi, and asked him various questions. His opinion was that a daily horoscope is a general indication of what may transpire in the lives of an individual, and it is not the same for two zodiacs either. These daily horoscope can be used best to get an idea about some Do's and Don'ts for a day. It works on the principle that it is better to have some idea about the day than to be utterly unaware of the proceedings. Here is our conversation with the maven, and let us know about his views about daily horoscope.
Can a Daily horoscope help a person
Dr. Vinay Bajrangi- Yes, indeed, Today's horoscope does help a person. The daily predictions are an integral part of astrology. They work on the probability that, as per the calculations, people of a certain zodiac sign can have this happening during the day. Working on probability does not mean that it is less in Astrological Inputs. It has a lot of efforts going into it for making it an indicator of events for the people of different signs. The persons should be aware of how to read a daily horoscope to make it beneficial. I want to mention that if the source delivering a daily horoscope uses four planets instead of just two, it will be more helpful for the people. So, checking on that fact will be better for the people.
What is Today's Horoscope
Dr. Vinay Bajrangi- To say the least, today's horoscope is an astrological analysis of the impacts of the movement of the planets on the different zodiacs. This is different for all the zodiac signs and accordingly impacts the various facets of life. Career, finance, Love, and health are the aspects that are mentioned in a free daily horoscope of all zodiac signs. The transit of a planet to another planet has different fallouts, and it is pretty natural to see a transit happening and impacting the people.
Making the predictions for Today's horoscope is no less than art. Art, because there are many things that need to be seen, including the movement of planets, combinations, transits, etc. This is why it is only better to trust a good Astrological website, as predicting it right is not the job of a rookie but a master. If one follows the right way, the principles of Astrology to make predictions, one can deliver a trustable today's horoscope for sure. You can visit my website to stumble on the daily horoscope, and you will revisit it, I think.
What is the importance of Today's horoscope
Dr. Vinay Bajrangi -The primary agenda of a daily horoscope is to assess what is to be done and what is not to be done by the people to churn out the best results on a particular day. So basically, a daily horoscope online can tell you the Do's and Don'ts to follow to make the luck by your side. Suppose you have an interview, meeting with friends or anything else and the planetary combinations are not by your side on that particular day. It can suggest you avoid it if you can or vice-versa. There is nothing like that; you can't do it ever; they are just suggestions of any better day according to the planetary combinations. If you abide by the suggestions of a free daily horoscope, it may or may not give you a big benefit but can indeed restrain you from bearing an expected loss. It is entirely up to you that with how much seriousness you consider a daily horoscope. The folks believing in Astrology do believe in the same, and the others take a dip into it just for entertainment's sake.
 How accurate are Daily horoscopes
Dr. Vinay Bajrangi -It is a tricky question in itself to judge the accuracy of Daily horoscopes. They are also astrological predictions which are done by having a lot of inputs. The newspapers, websites, or any other websites announcing this do put in quite a lot of hard yards to get it together for the people. It is a promotional activity, but it is also a fact that one has to study all the nine planets and that too for all the twelve zodiacs; that is a task in itself. Thus anyone announcing daily horoscope will ensure its accuracy to an extent for sure. It is a no-brainer that when a person-specific horoscope is made by an able astrologer, keeping all the Vedic principles in mind, its accuracy will be certainly more than that which is done for all the folks of a particular zodiac. So, it can be concluded that the daily horoscopes do not pull out a dart but can come in handy to give an idea about a particular day's proceedings. Take it this way; it is better to know a little than be completely blank. That exactly defines the accuracy quotient of a daily horoscope.
How much reliant is a Daily horoscope
Dr. Vinay Bajrangi – In this regard, I have already shared my views earlier.  If you are to increase the reliance on these daily horoscopes, one should always consider astrology website that considers four planets and not just one or two. It is the question of belief as well; which style of Astrology do you believe. If you believe in Vedic Astrology, then look at a Daily horoscope based on the Moon sign. There is no harm in believing in Sun sign Astrology as it is done in the West, but I feel a daily horoscope based on Vedic Astrology is better in terms of accuracy.
The moon stays in a particular sign for two and a half days covering all the people born in those Sixty Hours compared to Sun, which stays in a sign for about thirty days, impacting the accuracy probability percentage. But, it is for you to pick Sun Sign or Moon sign for reading Today's predictions.
 Personally,     I feel, if you want to bank on Today's horoscopes, line up to a good website delivering such predictions for some time. Read your Today's horoscope for a while, see the impact on your daily life, and include it in your routine if you are content with the same.
Is Today's horoscope different from a horoscope
Dr. Vinay Bajrangi – For sure, today's horoscope  is a lot different from a horoscope. A horoscope is given to a person when they are born in this mortal world. It is based on the exact birth details, and according to this, a person-specific horoscope is formulated. It remains the same for the entire lifespan of a person. It is a very detailed account touching almost all aspects of life.
On the other hand, today's horoscope or daily horoscope is only for a day, and it only gives an idea because it is somewhat generalized. It touches only a few aspects of life, such as career finance, love life, etc., but the horoscope is a roadmap that paves the way for the entire life. The two have different roles in a person's life, and there is no point in comparing these two. Both are to be seen as a separate entity doing the things for which it has been made.
I think that relating the weekly horoscope with your daily horoscope prediction can help you if you are acquainted with how to make the best use of all these daily and weekly horoscopes to make your life better.  But, one thing to be kept in mind is to bank upon only a good source and not just any random ones.
This was Dr. Vinay Bajrangi who offers many such guidelines on his website vinaybajrangi.com, one can write mail on mail@vinaybajrangi.com or contact his office on +91 9278555588/9278665588.