.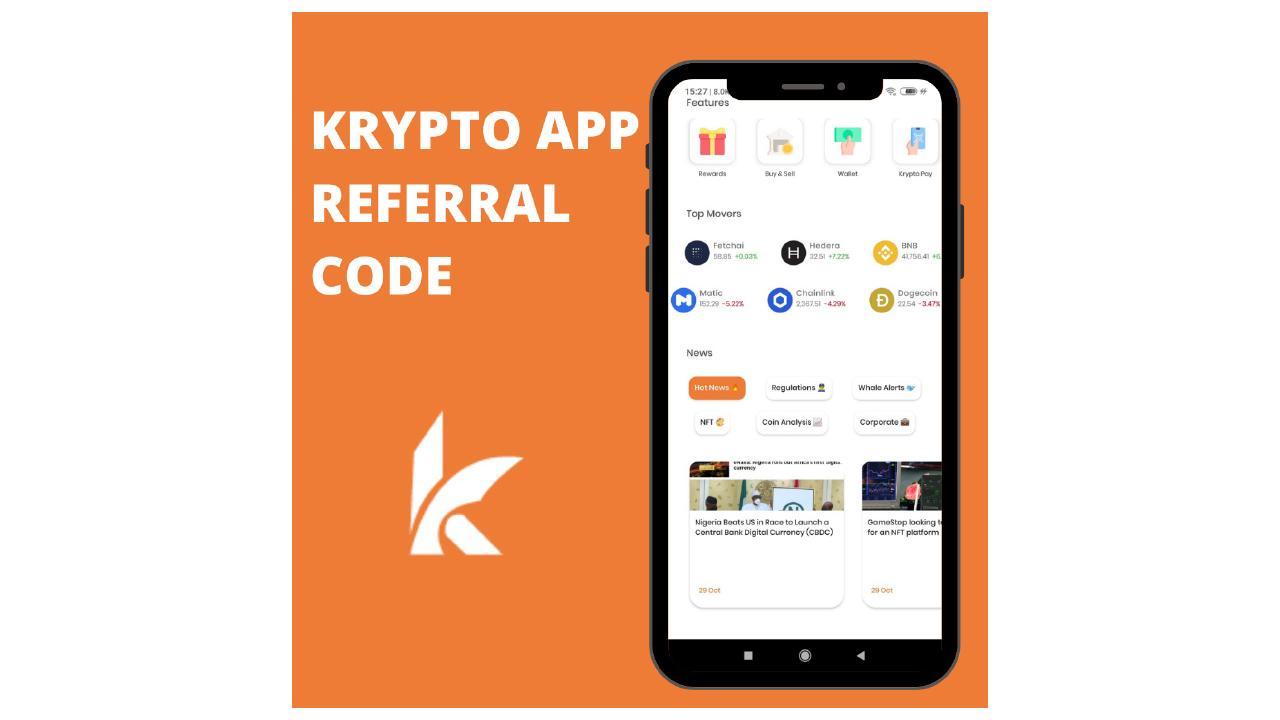 Krypto app
India is on the verge of the next phase of the digital revolution, with its full capacity to leverage its human capital, skills, and resources to become a powerful nation in this era of digitalization. Cryptocurrencies play a pivotal role in accomplishing this vision. These will be considered as a commodity/asset for all reasons, including taxation, payments, investment, or utility according to the user requirements.
Why use Krypto?
Join with Krypto app referral code GXH1OB to get a scratch card with an assured signup bonus. You will be eligible for the new user referral bonus only once you've completed your KYC verification.
'Krypto Pay' is a one-of-a-kind feature that allows you to pay your bills in real-time using your cryptocurrencies. It allows you to transmit money in cryptocurrency and have it received in Indian rupees by the recipient.
In addition to this, a user can choose between identity mode and hidden mode (anonymity mode)
'Krypto Feed' provides a friendly, trustworthy, and well-informed environment for all of its users to conduct their cryptocurrency transactions. It is the first crypto-centric social media since it exposes newcomers to the crypto trading sector with insights from crypto experts.
'Krypto Exchange' allows you to compare cryptocurrency rates from over 600+ exchange sites and get the best deals!
Krypto's futuristic payment architecture allows you to pay for anything and everything with your cryptocurrency, whether it's groceries or cab fare. It's much faster, easier, and secure!
Krypto allows the user to easily purchase, convert or exchange cryptocurrencies without costing an arm and a leg. It neither has any unnecessary transaction charges nor a minimum buying limit. Zero percent fees for crypto trading!
App recognizes the volatile market nature and offers a sophisticated peer-to-peer exchange solution for a quick and hassle-free trade.
Free and instant fiat deposit and withdrawal options even as small as Rs.100 using UPI, IMPS, and bank transfer.
Krypto uses 90% Cold wallets and military-grade security to assure and secure your funds at the best and Krypto referral code is very rewarding for inviting friends to the app.
The app lets you be aware of your orders before you place them by taking a look at the 'Market' and 'Limit orders'.
Krypto also guarantees backup options in case of any unforeseen events. They provide undelayed services and intelligible communication. You can get insights from worldwide crypto experts!
KRYPTO APP REFERRAL PROGRAMME -AN OVERVIEW How to Sign Up to Krypto App
Download the Krypto App from the Google Play Store or the App Store. To complete your registration, you'll need a mobile device.
Once you've downloaded the app, click on the "register as a new user."
Please note that you won't be asked for your Krypto referral code during the signup procedure, but you'll have the option to submit it once you've completed the KYC.
You will be asked for your email address and a strong password twice on the following page ( you will not be required to submit the referral code until you have completed the enrollment process.)
Proceed to the next step.
it's highly advised that you use a security mechanism like Google authenticator to protect your crypto investments.
Once you've completed all of the requirements above, click on 'Complete KYC'. To complete your KYC online, you'll need your Aadhar card, passport, and PAN card. The KYC processing might take up to 48 hours to fulfill.
Now is the time to use the Krypto referral code. To do so, go to the top left menu bar and choose Redeem Referral Code, then input the Krypto App referral code GXH1OB
Two scratch cards will now be found in your rewards category. 8. The other alternative referral offer is FTX pro referral code.
How to refer and earn up to 0.02BTC Per Joins on the Krypto App?
Go to the Krypto App Refer & Earn option.
2. On the homepage, you'll see an invite option
3. Grab your referral link and share it with family and friends.
That's it! Both you and your friend shall get crypto like Bitcoin, Ethereum, and a lot more for free!
 
FAQs relating to the Krypto app
Founders of Krypto App:
Shaaran Lakshminarayanan, Vaibhav Vats S, Ritumbhara Bhatnagar, Bhavesh Praveen
Investors and backers of Krypto:
Koinex Founders, Elevation Capital, Upsparks, Elementary, PayU Founder, Ramakant, Binance, Bitgo Wallet(Custodian Partner), Stellar Org(Blockchain Partner)
Why is Krypto providing services for free?
Krypto envisions promoting Blockchain and the real potential of financial democracy.
4. How much can you earn from the Krypto referral code?
The Krypto referral earnings range from ₹5-1000 on a scratch card with assured earnings.
Conclusion
Krypto allows finance without fine prints! It provides its users with the greatest crypto experience possible. The appreciable features of this software include a 0% trading charge, 24/7 customer services, and free assured cryptocurrencies per diem. Krypto is a similar app to wazirx and is slightly better in user interface and trading experience.
Let's revolutionize the payment industry. Buy, sell, trade, and pay with cryptocurrencies anywhere, at any time, to anyone!  Let's Krypto!