World Osteoporosis Day 2021 is observed on 20th October every year to raise awareness about prevention, diagnosis, and treatment of osteoporosis.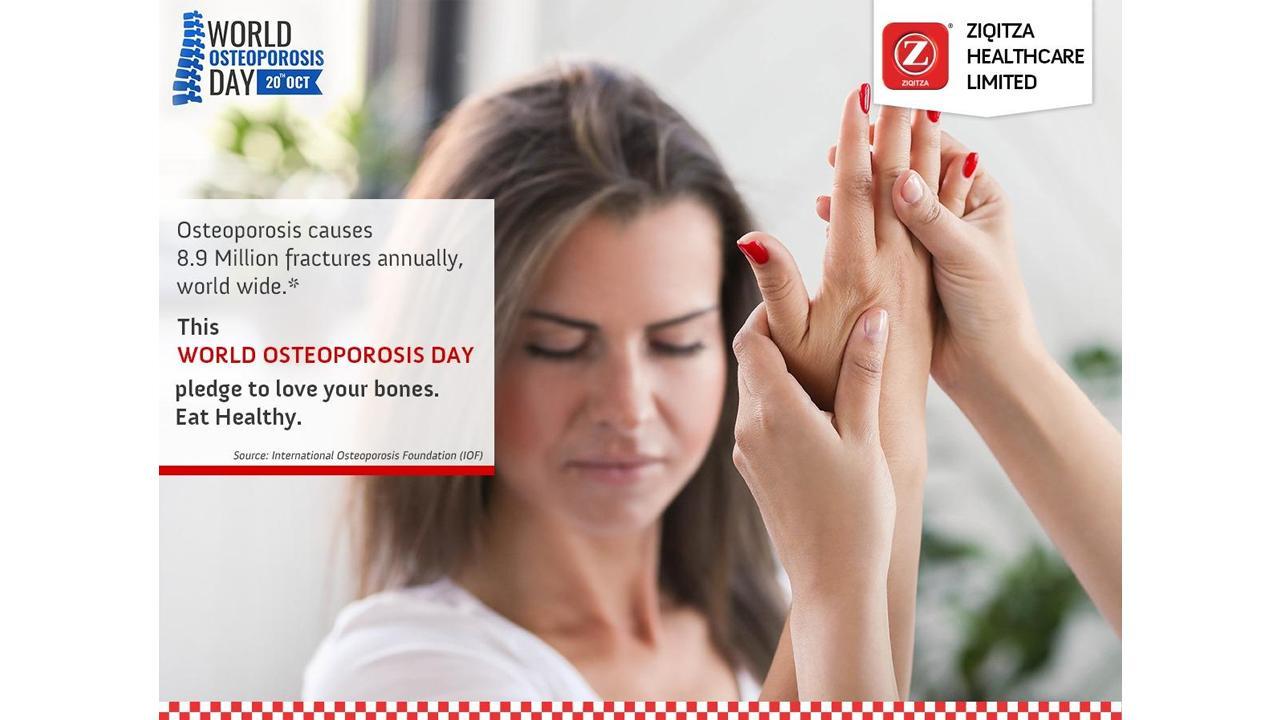 World Osteoporosis Day 2021
Dr. Santosh Datar from Ziqitza Healthcare Limited (ZHL) says, Healthy and strong bones are essential for good physical health. Bones support the body structure, facilitate movements, protect vital organs (such as brain, spinal cord etc.), produce blood cells and store minerals and other nutrients.
ADVERTISEMENT
What is Osteoporosis?
Our bones are living tissue and store calcium and other minerals. Bones are hard and strong to support body structure, give shape to the body and protect internal organs. They do not break easily even with a strong force. The available data suggests that one in three women and one in five men over the age of 50 will be affected by a broken bone due to osteoporosis.
Osteoporosis literally means porous bones. As age advances, bones start becoming thin and fragile. They lose their strength and can easily be fractured even with a force which otherwise would not have caused fracture in a young adult. The following image shows loss of bone mass as age advances. In women, there is more bone mass loss after menopause, remarked by experts at Ziqitza Healthcare Ltd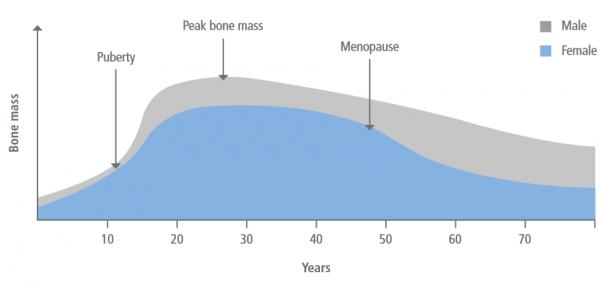 Image source:  International Osteoporosis Foundation
Osteoporosis – Risk factors
 The following factors hasten the progression of osteoporosis
Non-modifiable

Modifiable

●      Female gender

●      Increasing age

●      Family history of osteoporosis

●      Previous fracture after a minor injury

●      Menopause

●      Some chronic diseases

●       

●      Very low weight

●      Alcohol consumption

●      Tobacco consumption/smoking

●      Unhealthy diet

●      Vitamin D deficiency

●      Lack of exercise and physical activity

●      Certain medications
Osteoporosis - Complications
 Older individuals may suffer bone after a fall or injury. The commonly affected bones are spine, hip and wrist. But fractures can occur in other bones as well.
The severity of complications will depend on site and type of fracture. It may result in blood loss, infection, injury to blood vessels and nerves and deformity. Prolonged bedridden state and inactivity has its own complications such as formation of clot in lungs and legs, bed sores, urinary tract infections, lung infection, constipation, stiffness, mental depression and loss of muscle mass. The social implications will be economic burden due of treatment cost and absence from work, remarked by Dr. Datar.
Osteoporosis - Symptoms
Many individuals have no symptoms till they have a fall leading to fracture. That is why it is important to take preventive measures and have regular check-ups. Some individuals have symptoms such as loss of height, change in posture, back pain etc.
Osteoporosis-Diagnosis and Treatment
Osteoporosis is diagnosed early by detailed medical history, clinical examination and certain tests such as measurement of bone mineral density. The treatment is tailored to individual needs and will consist of medication, nutritional advice and lifestyle modification. Similar observations were made by Ziqitza limited Rajasthan.
Osteoporosis– Prevention 
 Though osteoporosis cannot be prevented 100 %, one can reduce the risk by following precautions
A well-balanced nutritious diet rich in calcium and vitamin D
Regular exposure to sunlight to build stores of Vitamin-D
Nutritional supplements as per advice of your doctor
Regular exercise and physical activity as per advice of your doctor
Avoidance of alcohol, tobacco and smoking
Control of chronic diseases which promote osteoporosis
Avoidance or minimal use of medications such as steroids
Regular medical check-ups which will include tests such as bone mineral density etc. as per advice of your doctor
Awareness campaigns in elderly population will help in early detection and prevention
Make your home safe to prevent falls e.g., good housekeeping, adequate illumination, non-slippery floors, grab bars in the toilet and stairs, wearing good non-slippery footwear, cleaning any spills immediately etc.
Speaking about the importance of early detection of various ailments & health issues is major concern nowadays in a fast-paced lifestyle where we often give least importance to our health & Mental wellness, Mr. Nandadeep Pandharkar – Sr. Vice President, Ziqitza Healthcare said, "A variety of telehealth tools are available to help manage both your Mental & physical health care and receive the services you need. Our goals by means of telehealth is to - Make health care accessible to people living anywhere & at any time especially for the active millennial workforce and their families."
About Ziqitza Healthcare Limited
Ziqitza Health Care Limited (ZHL), has been one of the leading players in India's Emergency Medical Services industry since 2005. ZHL Rajasthan & Ziqitza Rajasthan also have appreciated the Tele-Health services to provide quality healthcare services to people as per their convenience in this pandemic situation. Ziqitza healthcare is a "one-stop integrated healthcare solution" for corporate or government that include Integrated Emergency Services and Corporate Health Solutions. The service network includes 3,300 ambulances, state of art Helpline centres and medical mobile units that services 2 customers every second in India. We work with multiple state governments and 75 corporate clients in India and Gulf. Ziqitza Limited is winner of Global Real impact Awards and Times Social Impact Award.
For further information please contact: visakh.dayanandan@zhl.in