Five vegetarian travellers, including vegans, tell you how to survive in carnivore countries Jordan, Myanmar, Portugal, Kenya and Switzerland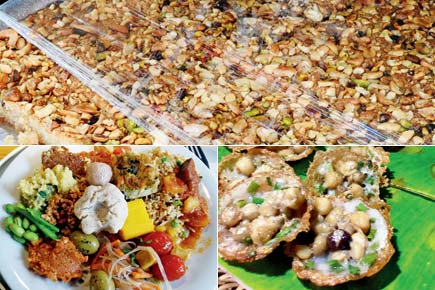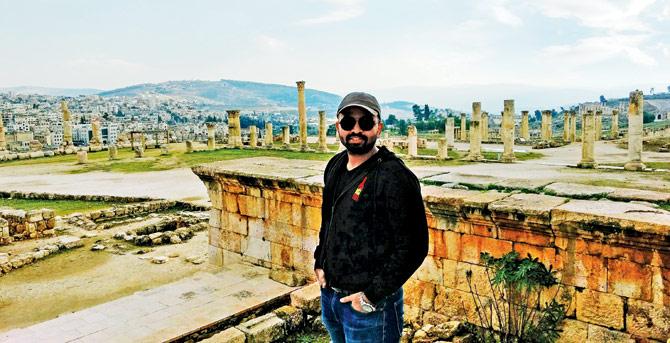 Ajit Balgi in Amman
'Learn to love falafel'
Destination: Jordan
Though his online search only threw up falafel, hummus and shawarma as vegetarian options, Ajit Balgi ventured on a culinary trip to Jordan, last December. "The research prepared me for the worst," recalls the 32-year-old founder of wine consultancy, The Happy High. His eight-day itinerary packed Amman, the coastal city of Aqaba, historic Petra and the wilderness of Wadi Rum and the Dead Sea. For breakfast, he relished Ful Medames, comprising mashed fava beans seasoned with the indigenous spice sumac, and the vegetarian version of Galayat, a tomato-garlic gravy dish, usually cooked with meat or eggs.
"Learn to love falafel because wraps are your only hot, vegetarian street food option," says Balgi. He shares a tip: Ask vendors to smear it with Moutabal, a dip of smoked aubergine. He also suggests bingeing on desserts like Warbat, akin to baklava, and semolina-coconut sweet cake Hareeseh. "Also, try Kunafeh, a layered dessert soaked in rose-scented sugar syrup, at Habibah in Amman."
Cool Tip
Enjoy eating on the streets of Amman and Aqaba as there's nothing around the Dead Sea. Buy your wine at the airport (it is expensive in the city) to pair it with veg food.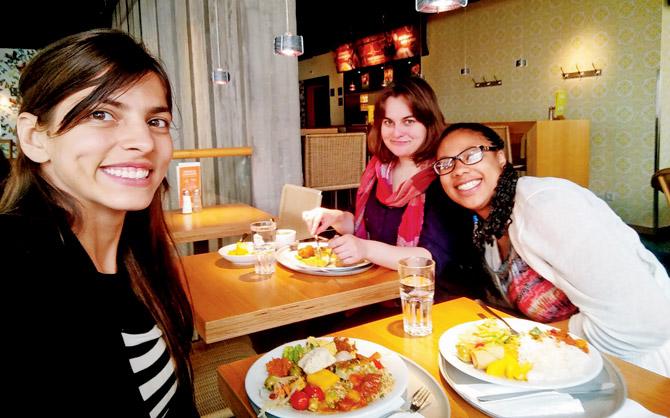 Vegan spread that Ritika Arya
'My meal was bread with a spread'
Destination: Switzerland
Vegan for the past six years, 27-year-old Ritika Arya, Waldorf-certified educator and spiritual scientist, embarked on an 11-day trip to Switzerland last March, which included attending a five-day conference in Dornach, a countryside, fairytale town. "The few restaurants that served vegetarian options would shut by 6 pm," she says. So, she stocked almond milk, hummus, vegan pesto, rice crackers and baked vegan bread.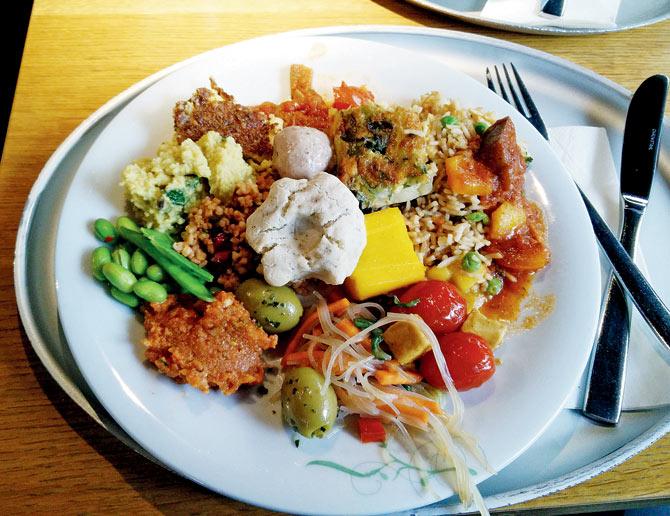 Enjoyed in Basel
"My breakfast was almond milk and cereal. I would have bread with different spreads for lunch and dinner," says Arya. Her advice: Learn to read local language to "interpret labels correctly". In the neighbouring, more popular town of Basel, she enjoyed a hearty meal at vegan restaurant TitBits. "After facing so many challenges, it felt like heaven."
Cool Tip
Adventures in smaller towns require perseverance and bigger towns demand research and scouting. Take help from locals.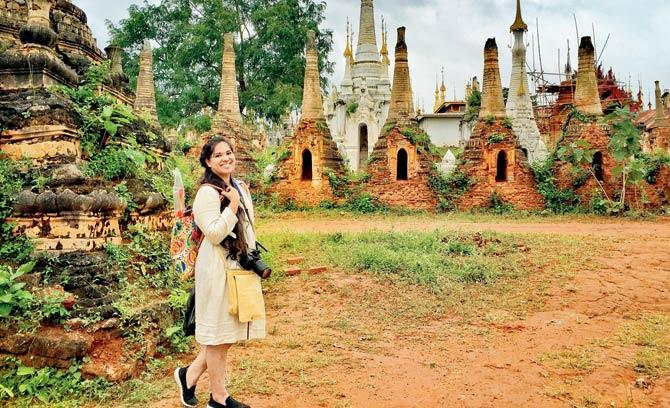 Divyakshi Gupta in Myanmar
'Khaw Suey is a term for snacks'
Destination: Myanmar
Knowing that she would be in a country for nine days where "fish is omnipresent", 28-year-old travel blogger Divyakshi Gupta carried thepla as back-up. "But using the miracle word 'Tathaloo', meaning lifeless, helped me sail through the trip," says Gupta, who discovered local options in Mandalay, Yangon, Lake Inle and Bagan.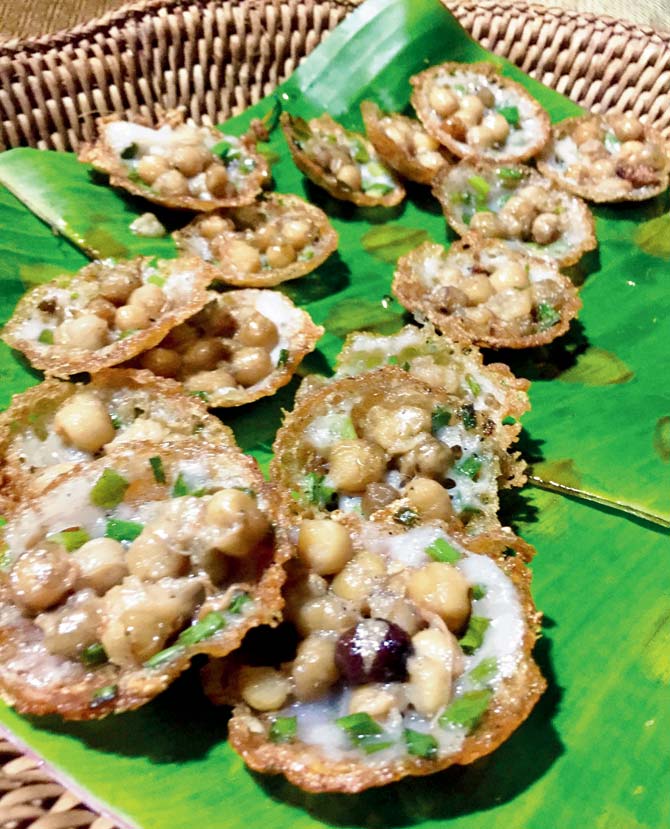 Mont Lin Ma Yar
These included Mont Lin Ma Yar (fried rice pancakes) known as husband-and-wife snack "because twin pancakes are stuck together" and salads made using fresh tomatoes plucked from floating farms at Lake Inle. Her favourite was a meal with mock meat, yellow tofu, assorted mixed vegetables and rice at Burmese restaurant, Little Bit Of Mandalay. "I also searched for the famed Burmese Khaw Suey, only to find my guide explaining that Khaw Suey is a generic term for snacks," laughs Gupta.
Cool Tip
Learn phrases like 'Atha ma sa bu (I don't eat meat)'. It's easy to find Fried Rice and Shaan Noodles.

Rita Theobald (fourth from left) with her family and the tribes of Maasai Mara
'Ugali tasted exactly like idli!'
Destination: Kenya
While Peter and Rita Theobald usually plan their own trips, they opted for a local tour by Gamewatchers, on their visit to parts of Kenya in 2011. "They took care of our safaris and food. It also turned out to be cheaper," shares Rita, who turned vegan in 1996. "In Maasai Mara and Serengeti National Park, we stayed in tents. Our meals comprised couscous or quinoa salad that the operator had organised, along with local-style vegetable stew with carrots, potato and peas, cooked in tomato. We enjoyed it with Ugali, a Kenyan dish made of mixed flour (sorghum, cornmeal, millet), which tasted like idli!" recalls Theobald, adding that between-meal snacks largely comprised fruits like pineapples and banana, found abundantly in the region.
Cool Tip
Since Africa has a large Gujarati population, restaurants know that vegetarian means no egg too. Opt for a local tour for an authentic experience. Stock up on fruit and fruit juices from a local supermarket.

Komal Lath in Cascais, Portugal
'Fish is considered vegetarian'
Destination: Portugal
With dried salted cod and grilled sardines making up the base of most dishes, one naturally assumes that finding vegetarian cuisine in Portugal would be tough. However, 31-year-old Komal Lath sailed through Lisbon and Cascais for six days in 2014. "Being an eggetarian made it simpler, but they use duck eggs, so the flavour is drastically different," says the head of a communications consultancy. Instead, she relished Caldo Verde (a traditional green soup), Broa de Milho (corn and rye bread), Pasteis De Nata, an egg tart pastry, which she recommends having in the neighbourhood of Belem. "Main courses are meat-heavy, but we found types of cheese, olives, wines and breads along with pizza and spaghetti. Restaurant owners are friendly, and will customise, especially if they offer live cooking. I did carry fruits on day trips to Cascais and Sintra. We found an interesting shawarma shop and tried Arroz Doce (rice pudding) that tasted like kheer. But ensure you mention 'no pesca' because fish is considered vegetarian," shares Lath, who would enjoy buttermilk pancakes for breakfast.
Cool Tip
Be open to eating egg or carry energisers like bars and dry fruit. Try sweets and cheeses from nearby villages and areas like the Docks and Cascais, which is the last point of Europe. Locals are high on hospitality and feel awful if you don't have a good time. Tip well.