What better than starting the day with a plateful of idlis - the soft and fluffy round steamed savoury cake - served usually with a bowl of piping hot sambar and tangy coconut chutney
What better than starting the day with a plateful of idlis - the soft and fluffy round steamed savoury cake - served usually with a bowl of piping hot sambar and tangy coconut chutney. Well, if you still haven't tried this essentially South Indian staple then do it now because chefs and idli connoisseurs feel that this simple snack is fast gaining universal appeal and is here to stay for generations to come. But not much is known that idli can in a variety of shapes and sizes and is served with a wide range of side dishes apart from never-miss sambar and chutney.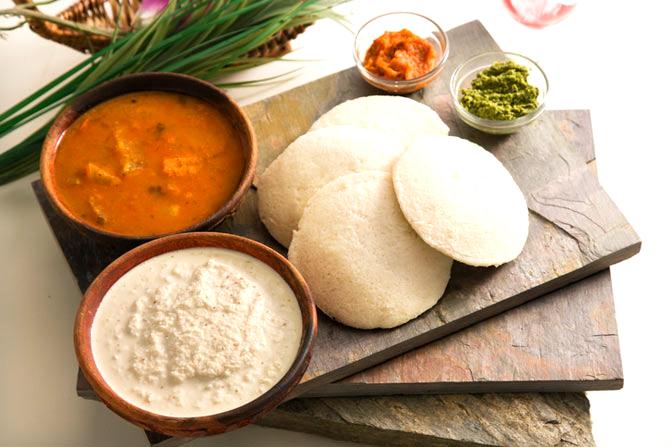 Representational Image
Apart from revealing some interesting preparations of idli, the experts also throw a bit of light into its history. "Both Tamil Nadu and Karnataka claim to have invented this recipe. There are references to the making and existence of idli from the 8th century," Sujan Mukherjee, the executive chef at Chennai's Taj Coromandel Hotel, told PTI. "But many of us will be surprised to know there are claims that idli did not originate in South India at all. Some food historians believe idli was derived from some steamed rice preparations from Indonesia. It is believed that this recipe was invented by the cooks of the Hindu kings who ruled some parts of Indonesia," he says. The second claim contradicts this, as some of food historians claim that idli was introduced to South India by Arab traders, who had been in constant contact with the southern coast.
"There are works that mention about a flat boiled rice preparation that had a bland coconut paste and this preparation was developed upon by the locals to the present-day idli and coconut chutney," Mukherjee says. The simple idli comes in a lot of variations and adaptations throughout the world. Some of the classical varieties are - Kanchipuram idli (tempered with black pepper and coconut) and Ramasserry idli (a flat and soft idly from Palakkad in Kerala), the chef says. "There are modern-day adaptations like mallipoo idli and podi idli. Mallipoo in Tamil refers to jasmine, the idli gets its name as it is as soft as a jasmine. The podi idlis are mini idlis tossed with gun powder (ground chilly)," he reveals.
There are also household adaptations like sambar idli (idli immersed in sambar) and idli upma (tempered idli cubes with chopped onions and chilies). All the idlis are prepared by steaming method but in a few snack preparations they are fried after steaming. The basic ingredients of idli are raw rice, boiled rice and urad dal, but their ratio changes from household to household and state to state. Some varieties also include sago or flat rice to enhance the softness of idli, Mukherjee says. The idli appeals to all as it has the good bacteria which are good for the gut, says Devavrat Kamath, the son of the owner of Cafe Madras in Matunga, a hub for South Indian delicacies in Mumbai. "The idli appeals to all. It is fermented, it has good bacteria which is good for the gut, for digestion, to help normalise your gut. That is why even dieticians recommend idli to someone who is sick. It is the safest to eat since it has good bacteria," he stresses. "This is the major reason why everyone feels good after having idli," says Kamath.
He says in their households, they prepare different variations of idli, like cucumber and jaggery idli (by mixing these in idli batter) and also a "teekha wala idli", by adding green chilly and coconut paste to the batter. Customers also request for idlis cooked in jackfruit leaf and some joints have already started making it. "It's called khotto idli...few people make it at home and give it to restaurants. You have to make a cup of jackfruit leaf, fill it with a different idli batter, not the usual batter, and then steam it," Kamath says. According to Indira Nair, a housewife from Vaikom in Kerala, the advantage of idli steamed in jackfruit leaves is that it could last for several days. People used to carry it while they set out on pilgrimage trips to the hill shrine of Sabarimala, she said.
Delving further into the varieties of idli, chef Mukherjee says the Ramasserry idli is a unique preparation found in Palakkad and in some parts of Coimbatore. "This idli is traditionally made in a mud pot with boiling water covered with muslin cloth. The batter is poured flat over the muslin cloth and cooked over wood fire. This idli has become extinct in many places but there are a few eateries and families in Palakkad who still follow this recipe," he explains. "It is the flattest idly ever made and is so soft and flavorful," the chef says. He says the USP of idli is that "you won't feel heavy after having a few of them. It is easily digestible and so it is one of the first solid food given to babies."
"This dish goes equally well with both vegetarian and non-vegetarian accompaniments. Though it is usually had with sambar and chutney, it can also be had with a tangy fish curry or a flavourful mutton kuruma," Mukherjee says. "This dish can easily be served as a starter too, of course with a few tweaks. If you are a South Indian and you are down with a fever, this is the only dish your mom feeds you for breakfast and dinner," he says. "In my culinary experience many guests who have come to Chennai for the first time want to taste idli and dosa first as they have heard so much about them. The fact that some restaurants that specialise in idlis are spread across Europe, America and South East Asia makes it evident that idli has a universal acceptance," he says. "Once I had a guest who wanted to try idli in oriental style, which we tried out and came out really well. In another instance, a guest had requested to make idli with mutton thanni kozhambu (a thin lamb curry with country vegetables).
"We collected the actual recipe from the source through our local contacts and prepared the same for the guest. It was a new learning for us and also we made the guest
happy," he says. Mukherjee says, "the idli is here to stay and it will remain so even if generations pass." It has been able to adapt to changes in food habits of people over the centuries. The most important thing about idli is that it doesn't require even a drop of oil for cooking. It has got minimal fat in it, so the presence of carbohydrates is overlooked by various other positive factors, he says.
Some of the other interesting and healthy variations include the rawa idli, ragi idly and barnyard idli. "The idli soaked in fish curry is a delight for fish lovers. This is a highly versatile dish that can be tuned according to the imagination of the cook. It will take in any flavors that you want to," he says.