If you are a snack addict but suffer from guilt pangs, try Snackible.com's healthy options
Snackible offers various healthy snack options including Baked Bhakarwadis, whole wheat waffles, ragi cookies and seed mixes. Buy snacks from the website �������  la carte or order weekly/ monthly subscriptions for snack boxes
  For 26-year-old Aditya Sanghavi, his challenge to find a healthier daily evening snack inspired him to start Snackible.com. "Between 5 pm and 6 pm, my colleagues would be munching on snacks like rolls and fried, packaged snacks.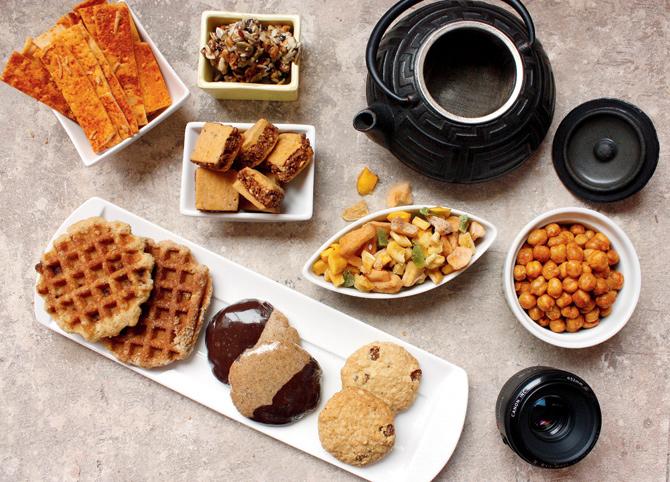 Snackible offers various healthy snack options including Baked Bhakarwadis, whole wheat waffles, ragi cookies and seed mixes. Buy snacks from the website à la carte or order weekly/ monthly subscriptions for snack boxes
ADVERTISEMENT
After a point, we would feel dissatisfied with our choices but continue to eat the same due to lack of choice," recalls Sanghavi, who worked with a consulting company for start-ups before starting his food venture. After research, Sanghavi discovered a huge vacuum in the food industry as far as affordable and healthy snacking was concerned.
Snackible offers à la carte and weekly or monthly subscription options of over 18 varieties of snacks. The company originally took orders via social media and instant messaging platforms, but now takes orders on their website that was launched a few weeks ago. They deliver across the country with an option of same day delivery within the city.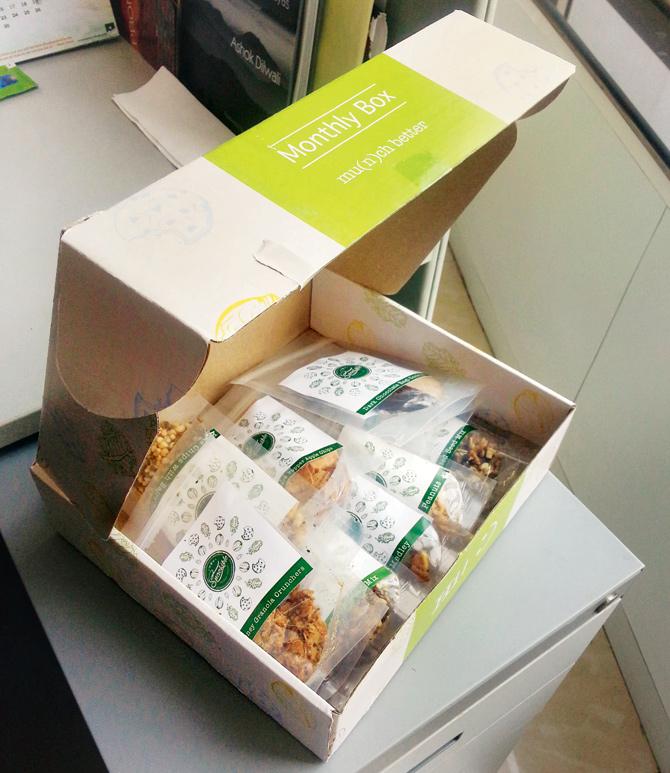 The taste test
The food list includes usual health snack suspects such as wasabi-flavoured nuts, granola bars, seed mixes and whole grain cookies. Fortunately, Snackible does a great job of making the ordinary delicious. An insightful example is their Kale Chips with Bajra Puff. We're not fans of kale, but the manner in which the recipe is devised, where the kale doesn't attack our taste buds, is commendable.
The same goes for the Dark Chocolate Ragi Cookie; it doesn't taste like cardboard, a taste that we've often endured with gourmet products. The Salted Black Pepper Apple Chips is delish if you don't have a sweet tooth. They also have seed mixes, which make for a great alternative to traditional farsan mixes. Other tasty options include Wasabi Peanuts, Whole Wheat Belgian Choco Chip Waffle and Baked Pizza Stick Dippers. The prices are competitive, with each serving of about 25-80gm ranging between Rs 50 to Rs 80. The only thing that we didn't like was our gluttony. We polished off our monthly pack in two days.
Log on to: www.snackible.com

This was a preview and hence not anonymous.
"Exciting news! Mid-day is now on WhatsApp Channels

Subscribe today by clicking the link and stay updated with the latest news!"
Click here!