The Naga Tangkhul migrant community in the city finds a taste of home, and more, in the specialty grocery stores in the bylanes of Khar Danda and Kalina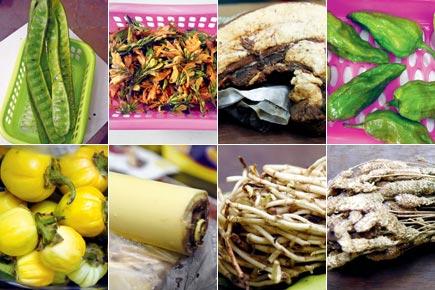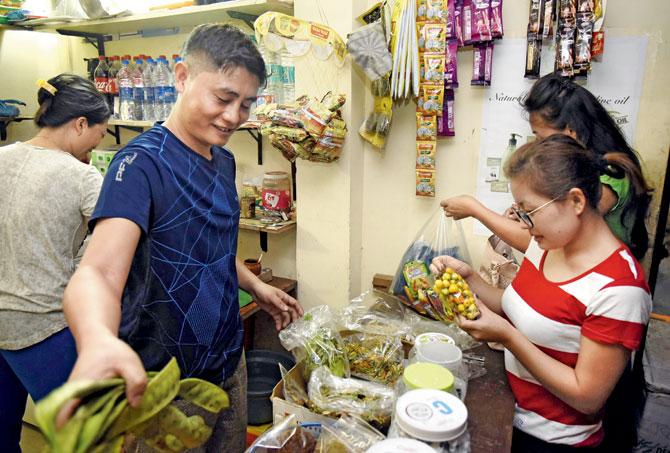 Aking Zimik in Khar Danda, Wung Naoshung and Yaomi Awungshi in Kalina
The shop with no name on Kalina's Masjid Lane smells faintly of seaweed, eucalyptus oil and old women. It's a curious combination of odours and it takes a quick minute or two to get acclimatised.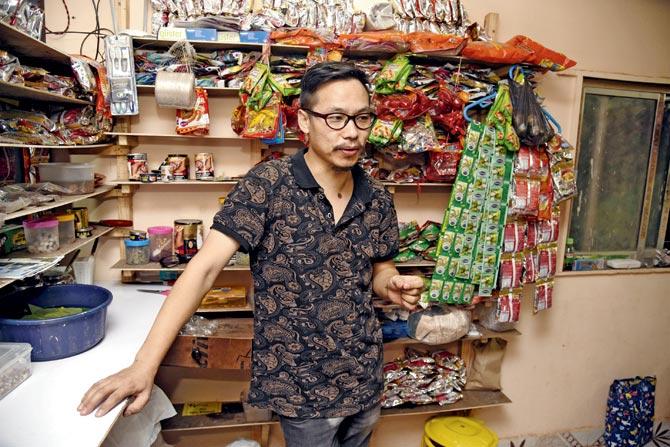 Leaderson Horam in Khar Danda run stores for the food needs of the migrant Naga community
The shop with grey rolling shutters is as ubiquitous as they come. It has no exceptional storefront; a picture of momos is plastered on the windowpane. But you'd be mistaken to give the owner advertising advice. His customers, who are least interested in momos, know that if they are looking for sunflower seeds and smoked eel, they have come to the right place.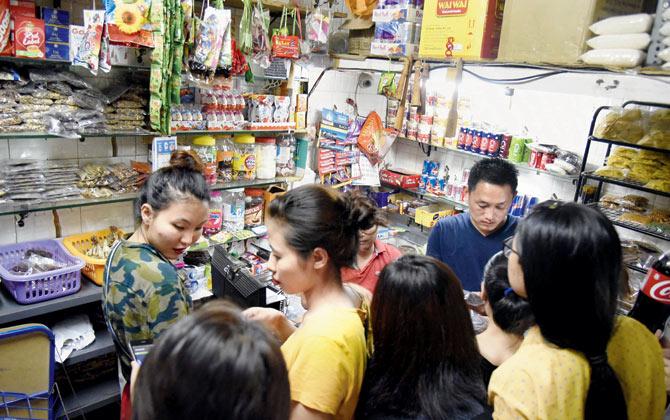 Yongpa is used both for its flavour and medicinal properties
The shop with no address is where some of us in the city end our day at, with gossip over a much-needed paan and pickled plums. For some, this is a whiff and taste of home, 3,275 km away from Mumbai, on the northeastern border of the country.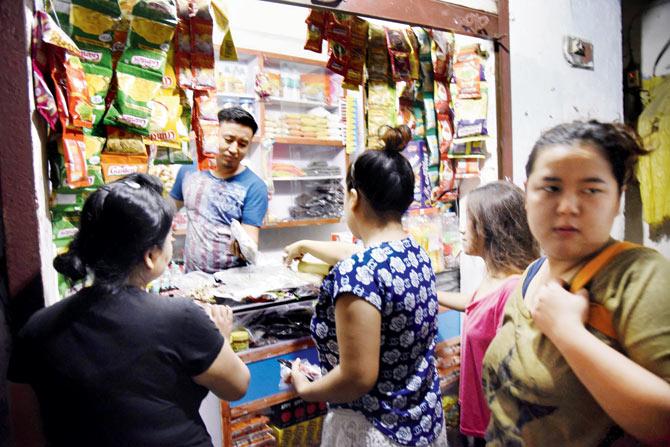 Wung Naoshung, a 32-year old MBA graduate, opened this grocery store three weeks ago. Twice a week, Ashung (as he is called) flies down fresh and preserved produce all the way from his hometown in the Ukhrul district of Manipur to Mumbai. He belongs to a tribe of Nagas, called the Tangkhul, who live along the Indo-Burmese border.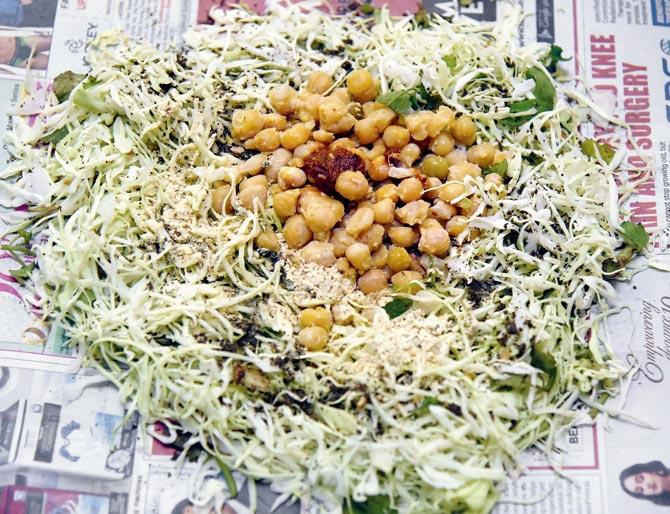 A salad snack called sinchu
This is also the tribe that inhabits large parts of Khar Danda and Kalina, having settled here while catering to the beauty, luxury and hospitality industries.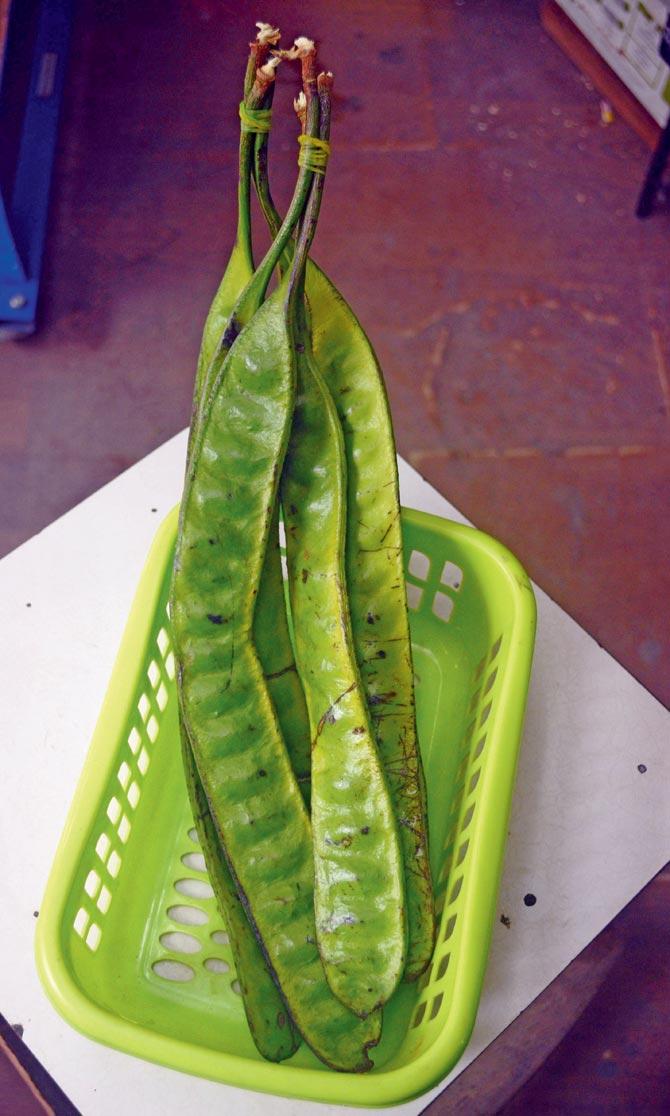 Yongchak, as the bean species Parkia Speciosa is called by the Tangkhul
Ashung's store is the most recent but not the first in Kalina. There are three other specialty stores like his that follow in the same spirit as the Mangalore stores in the city, sourcing and stocking home-grown produce and ingredients available in the native land.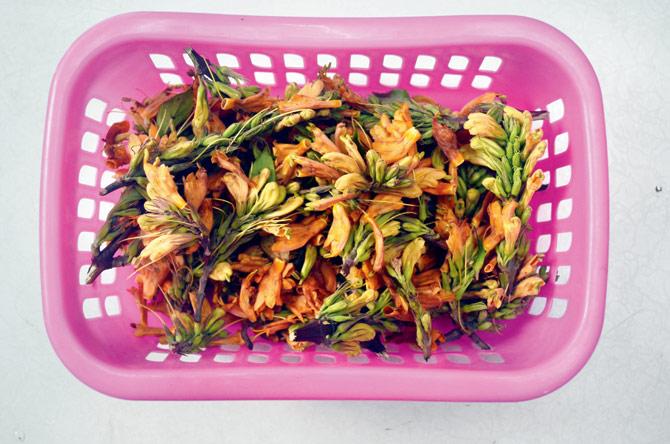 Nongmangkha flowers are made into a chutney
For authentic produce
"The Tangkhul is known to be a community that loves to explore new ventures, right from textiles to food," says Ashung, seating us in a little curtained area at the back of the store. "I started my shop because the food items we consume are quite different from those of mainland Indians and locals here. We get fresh pork and chicken in city markets, but not the vegetables, preserved meats, or the condiments that our cuisine needs," he says, in a voice so soft and courteous that you have to lean in to hear him.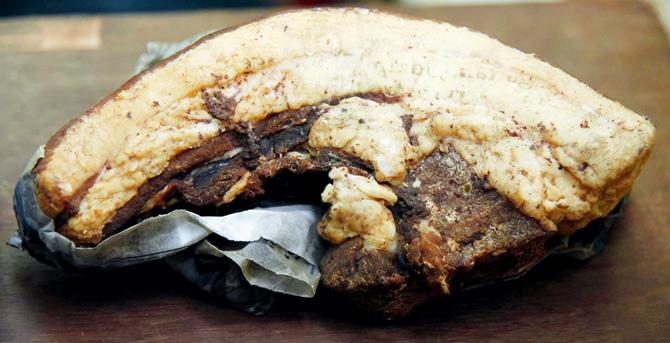 Smoked pork
As we converse, customers flit in and out of the store. Peeking through the curtains, we see a Gujarati man (who we later learn is a senior hairstylist at a leading salon) shopping for dinner with his Naga girlfriend. A little later, a Swedish tourist is led into the store by her newly-acquired Naga friend, who introduces her to the delicacies of his Tangkhul cuisine.
Just down the lane from Ashung's, Yaomi Awungshi runs Thotrin General Store, probably one of the most frequented in Kalina. Like all its counterparts, Thotrin General Store stays open till as late as 11 pm.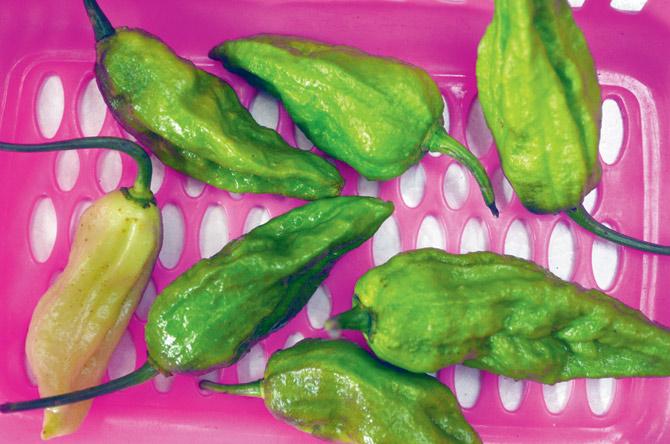 King chilies
Awungshi, also a Naga Tangkhul, is a seasoned shopkeeper that the young guns would love to emulate. Every Wednesday morning, Awungshi collects a cargo of fresh produce from the nearby airport. Before his present occupation, he worked as a travel agent in Bengaluru. The love of a woman, rather than business, brought him to Kalina - a decision that was well-met by the growing demand in his community for Manipuri and Naga produce.
At most of these shops, a hot favourite is yongchak, a sturdy bean by the Latin name of Parkia speciosa, that is consumed in the form of chutney. If the tribe could wage war over a commodity, it could be yongchak rather than water or oil. It is rumoured to be the source of instant energy, and therefore beloved by football players back home. Eat yongchak, and, 42 hours later, you should have the strength of 10 tigers, we are told.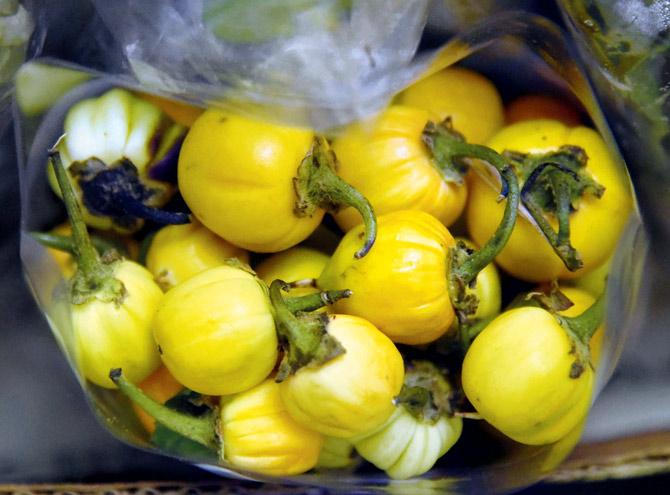 Aiyang thei, a brinjal variety
The demand for yongchak is so high in Kalina that another local variety, called pathari, is sold by street vendors as substitute. Naga migrants often buy pathari as a substitute for yongchak. Other verdant imports from their district include snow peas, passionflower leaves, mustard leaves and nongmangkha flowers.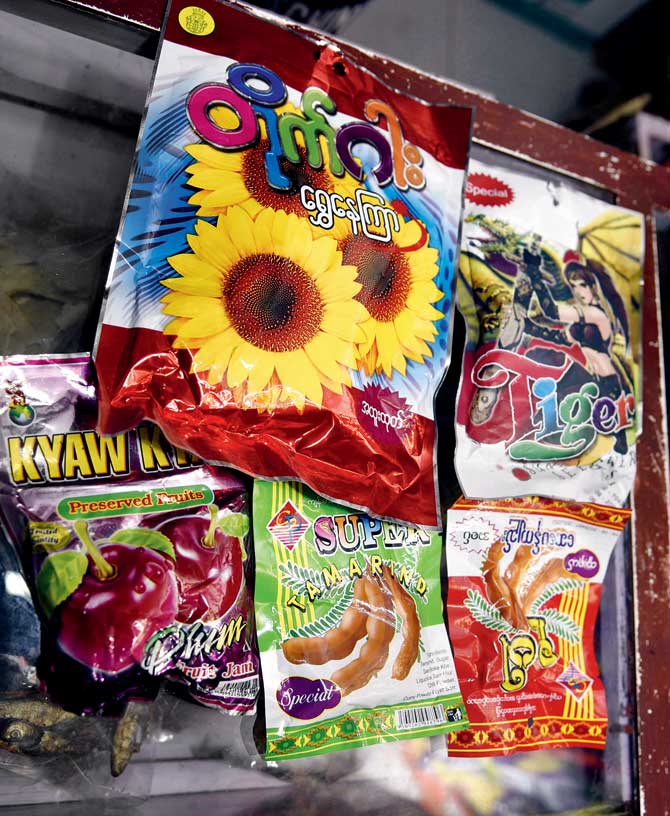 Pickles and chutnies from Burma
More than just food
Over at Khar Danda, Aking Zimik's store, called Perfect Marketing, comes alive in the evenings with Manipuri customers dressed in Vero Moda shoes and enviable coiffures.
Flying down produce from Manipur twice a week (fewer times if the border faces geopolitical tension), Zimik relishes bee larvae . Like all the rest of Tangkhul produce, it is seasonal, and, in Zimik's case, a product that he loves to savour rather than sell. For Sashi, a 21-year-old technician at a Parel salon who shares a room with three others, this is shop is her refuge. "My mother taught me how to cook but where is the time here? Yongchak reminds me of home," she says.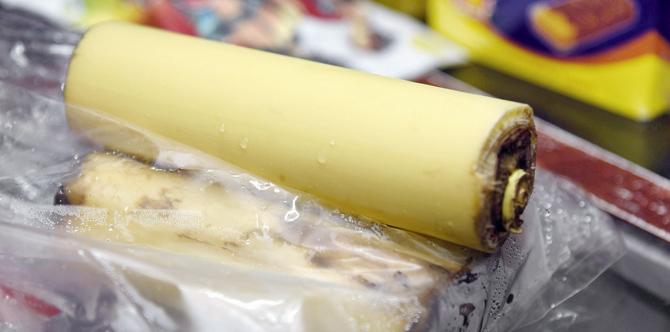 Tender banana shoot
The price that nostalgia quotes is a hole in your pocket, she agrees. Every little packet of produce, be it sunflower seeds, ngayung (roots of the chameleon plant) or aiyang thei (a specific variety of brinjals) costs Rs 50. It's far more expensive than potatoes, cauliflowers and beans, but it's a choice Sashi makes when she can afford it.
It is but obvious that the cost of the produce is directly linked to the airline cargo charges. The price for flying down each time, says Leaderson Horam is about Rs 24,000. Horam opened his store in Khar Danda about a month ago and is yet to pick up business. He used to work as a therapist in a posh Andheri spa but a rather exploitative industry made him rethink business options.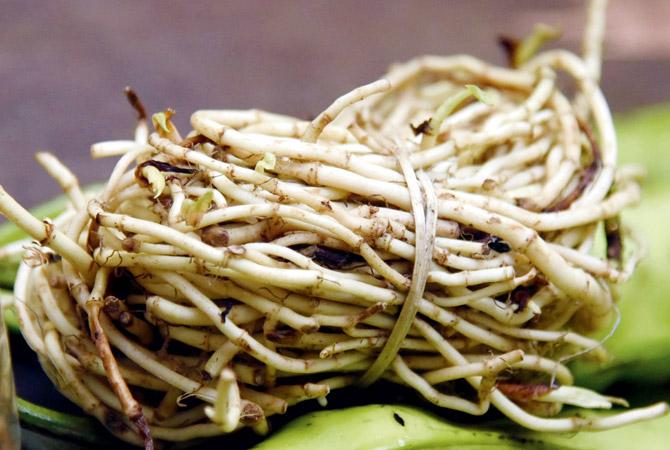 Ngayung roots
The 27-year-old says, "I thought it was high time I became my own boss." The Manipur end of the business is handled by his family, who pack the vegetables and condiments, many of them arriving in Manipur from neighbouring Burma, and ship them to Mumbai. "The more weight you fly down, the lesser you have to pay," he says. He shows us young shoots of banana, a produce that is found locally too. "Oh, the banana shoots of Manipur are special," he says. The same goes for paan leaves, he adds, quoting Rs 50 for a banana shoot that is under a foot long.
The ecosystem of these stores is such that these are more than just centres for a quick grocery fix. At Yaomi's store, his past experience as a travel agent comes of use, when a customer asks him to book tickets to Manipur. "For many of us, travelling to Manipur is not easy. Even a single trip will cost as much as Rs 15,000 one way. It's important then that we get to eat our home-grown food in Mumbai," says Ashung.

Ashung arrived in Mumbai a year ago seeking treatment for throat cancer at the Tata Memorial Hospital, where one-third of the patients are from the North East. Ashung hints, "Our food tends to be smoked, fermented and fried. Some have linked these cooking techniques to carcinogenic properties."
He explains that these days he is looking at natural alternatives within the Tangkhul diet. He is consuming sour sop leaves, a whole bunch of which are placed behind us, boiled with water. In fact, he elaborates, much of Tangkhul cuisine involves ingredients known to have medicinal properties. If there is a dream that Ashung cherishes, it is to go back home to his farm in Ukhrul and do his bit for the youth there. "The food is good here but it can never compare to that of my district. Think about idlis from Chennai and here. It's not the same taste, right?" he smiles.