Kamala Mills' latest nightout entrant offers you the same dishes on two menus, with different treatment. Why choose between European and Indian, when you can have both?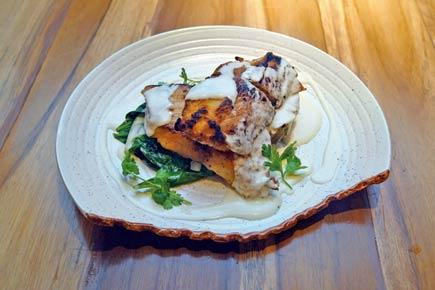 Kamala Mills' latest nightout entrant offers you the same dishes on two menus, with different treatment. Why choose between European and Indian, when you can have both?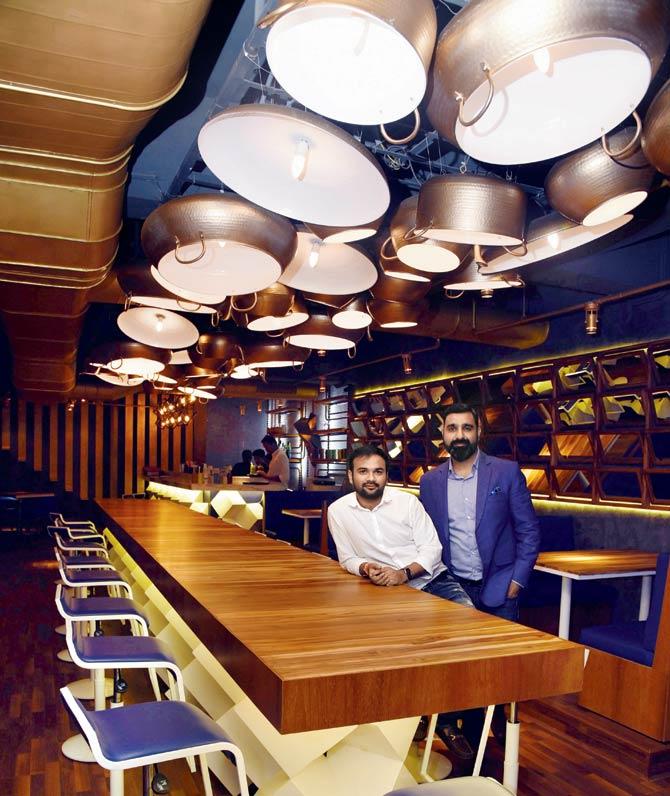 (L-R) Owners Vivek Bhargava and Rahul Bhambri
"This is the smallest property I have owned," says Rahul Bhambri, the man behind Delhi's Hybrid, Flying Saucer, Lights Camera Action and Teddy Boys.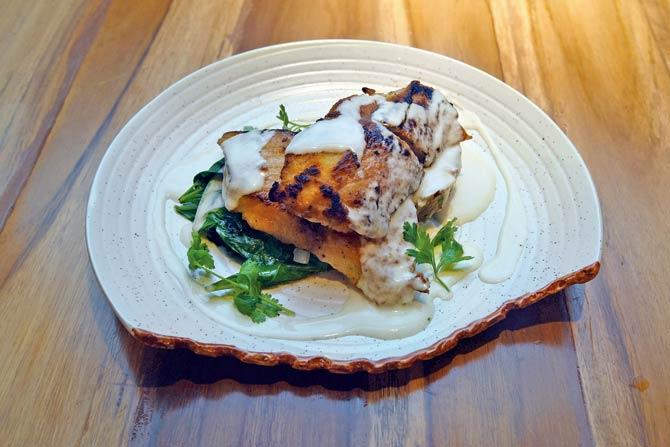 Bhekti gets a French and Koliwada treatment at Ann-censored
Even the cloakroom carries a feeling of infinity. At the entry point, past a blue door with tufted buttons, a sturdy 20-seater community table flanked by swinging seaters for motion addicts, stands a wall covered in mini mirror windows. "Most of our spaces are over 15,000 square feet. I had to make this look larger than life."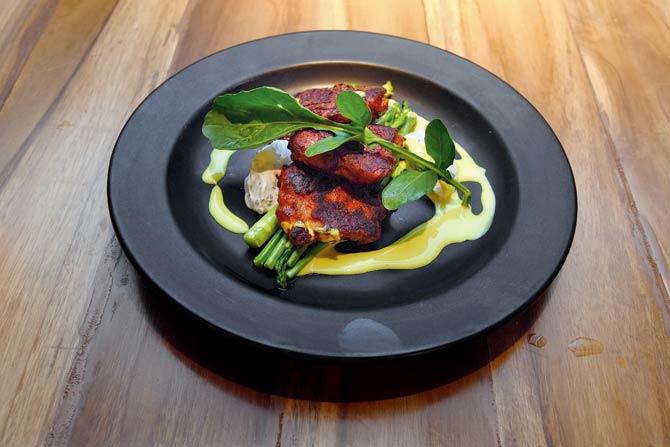 AnnCensored (Ann is written in Hindi) is Bhambri's debut Mumbai launch. The lower-level resembles a nightclub, blue lights lining the bar, a performance space ready for gigs.

Whiskey Sour
The establishment, which opens this week, gets its name from the Sanskrit term for food, ann. And it isn't satisfied offering one menu. The censored menu offer pure European dishes with a hint of French, Spanish, Chilean and Japanese flavours. The anncensored menu serves you the same dishes with a modern Indian twist. The cocktails too take off from regular fare, but are marked by a detour in thought, including an extensive tiki-inspired section. To allow the dancers and gig attendees to let down their hair, some cocktails come in pouches that you can pin on to your belt. Bartender Suyash Pandey places a glass of Alcohol n Cookie (Rs 415) before us. It has been fermenting in a barrel for three days. Vodka finds companions in Earl Grey tea, milk and honey syrup. Take a sip, and a bite of the cookie. Nice.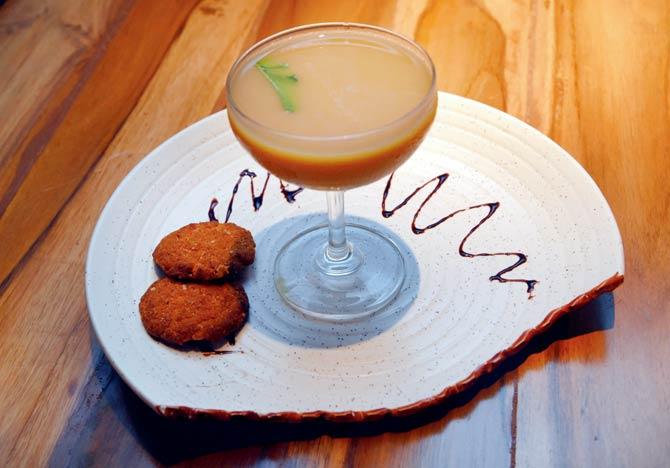 Alcohol n Cookie
We take a special liking to South Hall (Rs415), where London dry meets Indian spices with gin, Luxardo liquer, lime juice and peppery kebabchini syrup.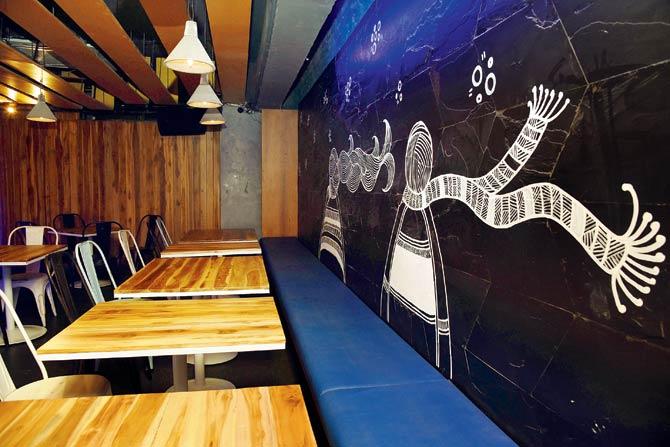 The lower level
The Tasting
White plates are for the censored menu, black for anncensored, Chef Abhimanyu Chauhan, says. He ran two restaurants in Delhi, Tre and Perch, after an exhaustive stint in the UK.
First up, we taste censored Mushroom Consume with Hazel Nut Foam soup (Rs 110). It comes with enoki mushrooms on the side. The frothy hazelnut foam uplifts the earthy fungi, adding a nutty blend without overpowering the mushrooms.
The Italian Mozarella and Tomato salad (Rs 325) comes with a palatable cucumber spaghetti, tangy lemon oil and a mildly-spiced balsamic sauce. But dunking the mozzarella cubes in kalonji tomato chutney and rasam granita for the anncensored version is a cooler way to fire the palate.
The salt-braised pork with a tropical touch of sweet mango melon salad and plum ginger dressing (Rs 375) can have you believe you are on the Caribbean beachfront. Ann's tawa-braised masala pork hurls us right back into India, with its BBQ sauce and pineapple reduction.
The classic eggs benedict (Rs 375) comes on a bed of asparagus and French beans; the egg cooked at 63 degree celcius. The hollandaise is made with walnuts and a hint of pesto. The Indian version lags behind, as the red curry hollandaise is no match for its walnut counterpart.
So, while we will leave molecular gastronomy feats to Farzi Café and Chemistry 101, we predict Anncensored will turn into the destination for competent cocktails, high-end food on a night when you are in the mood for gimmicks, and live gigs.