Ayesha Takia and Farhan Azmi, polar opposites in their food preferences, let us in on the secrets behind a happy co-existence of a vegan and an omnivore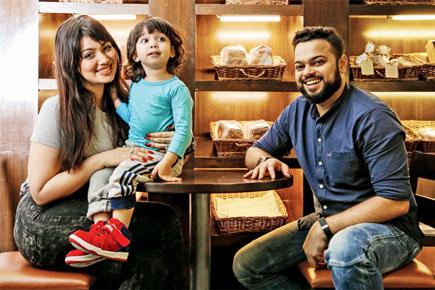 Ayesha Takia and Farhan Azmi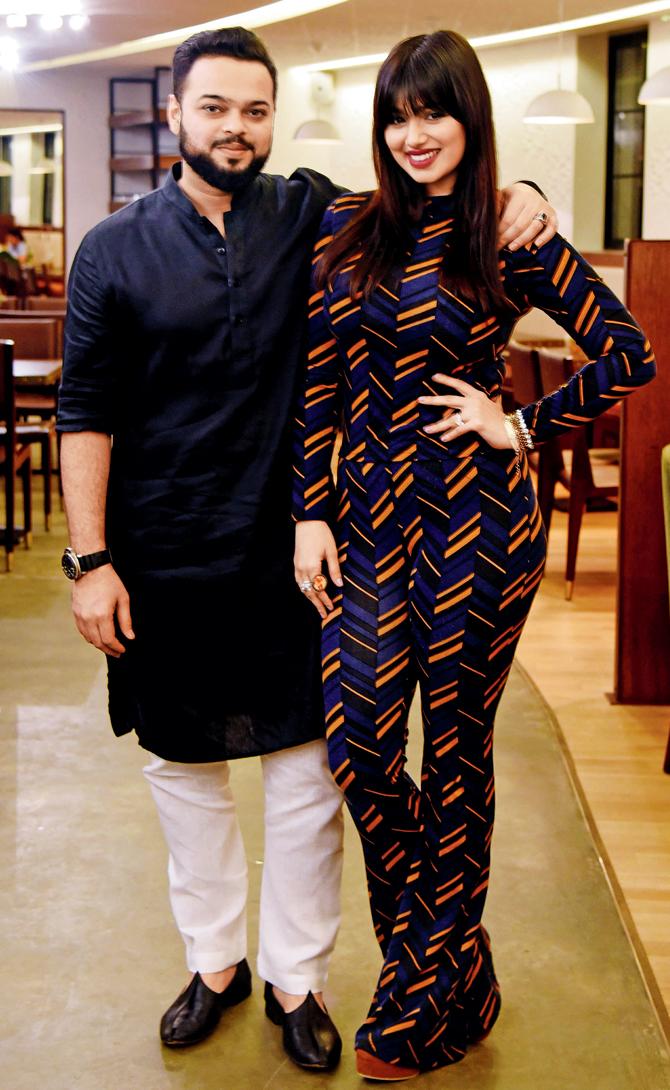 Ayesha Takia and Farhan Azmi have embraced the difference in their food choices
When actor Ayesha Takia switched to a vegan diet, back in 2011, it wasn't meat that she missed most, but her ritualistic morning chai. "I was a meat eater, but giving up on my daily dose of masala chai was the toughest. Of course, giving up favourite foods is never easy. Any substitute would have to mimic the total sensory experience elicited by it," she says. But Takia wasn't alone in her battle. Her mother and sister turned vegan around the same time, and would come up with dairy-free alternatives like soy milk and cashew cheese. "For me, it worked well, because we were doing it as a family," recalls the 31-year-old. Her masala chai substitute these days is cashewnut milk. "It tastes almost as good as masala chai," she smiles.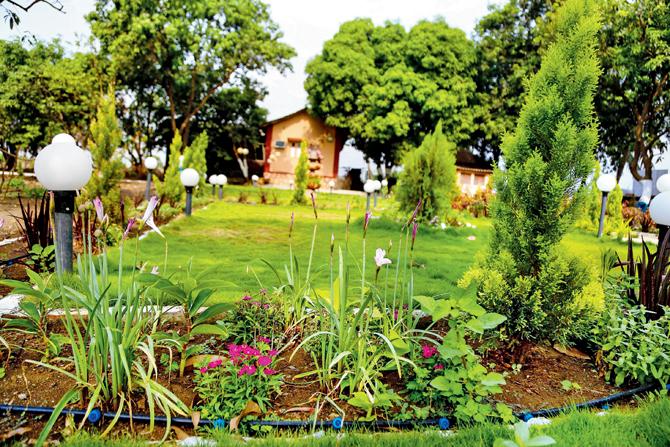 The Family land in Bhiwandi that has been converted into an organic farm
As for her other food cravings, she is well over them. This year marks Takia's sixth "vegaversary" and standing by her side is her husband of eight years, Farhan Azmi. He, however, is yet to embrace the vegan way of living. "He loves his biryanis and meats and will never give them up. But now, he has become a bit more conscious about his food, because of me. Every once in a while he doesn't mind having a vegan sandwich or a couscous salad," says the wife. Azmi, however, isn't shying away from spreading awareness on veganism. Together, he and Takia have created a vegan menu that has just been launched at their restaurant, Basilico.
At home though, Takia loves preparing her own meals. And, usually it's between Mac and Cheese (cashew cheese, mind you), or khichdi and a couscous salad with her favourite ingredient, avocado. So, is eliminating dairy and meat as simple as it sounds? "It isn't as hard as you imagine it to be," she reassures.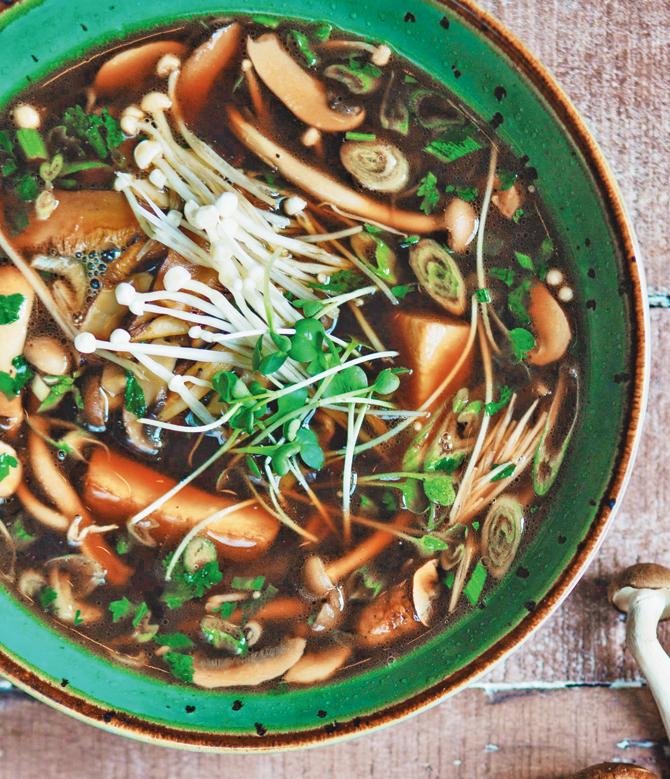 Shitake Consomme
From omnivore to herbivore
For Takia, the decision to go vegan was more an ethical push. "Reading books on animal cruelty made me question everything I was consuming," says the actress, adding that books like Skinny Bitch by Kim Barnouin And Rory Freedman, which is a rallying cry for women to start eating healthy, and China Study, that offers an insight into the connection between nutrition and heart disease, diabetes, and cancer, shaped her thinking further. "The biggest hurdle in turning vegan is not the unavailability of ingredients or choices. It's actually being in people's line of questioning. Everyone turns nutritionist when they meet a vegan." But, turning vegan showed her the results in a year's time. Not only did she shed the extra pounds, her skin and hair felt healthier too. "I was vegan throughout my pregnancy and I felt the healthiest then."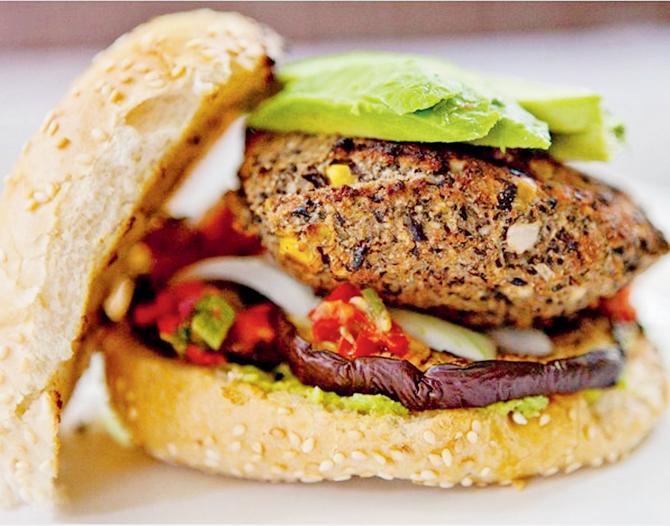 vegan burger are among the newest additions to the menu
Let's talk shop
The idea to convert her love for vegan food into a business was a product of her own experience. "There seems to be a misconception that vegan food is boring. For instance, our Moroccan Vegetable Tagine, has always been vegan. It's just that now we're spelling it out, because more people have been asking for vegan food at the restaurant. It's nice to see them taking to the concept." In addition to the existing menu, they have also introduced Scrambled Tofu, soups like Shitake Consomme (made of mushrooms, spring onion and soy broch), zoodles (vegetable spirals — zucchini, asparagus, beet, sweet potato) and the Bonsal Quinoa Burger. "Every time they ask for vegan options, I get excited," says Takia.
A family that eats together
Food, interestingly, has been largely instrumental in bringing Takia closer to Azmi. Their romance dates back to the time she'd frequent his restaurant in Bandra for a meal. "We wanted to keep it low. In fact, Farhan was more candid about us," she says with a smile. After tying the knot in 2009, following a long courtship, Takia took a step back from the limelight. The couple travelled abroad extensively, and, it was during one of these sojourns, that they chanced upon the idea of providing tasty, vegan offerings to their patrons. "We visited a restaurant called Eataly in New York that makes their own pastas and cheese.
That's where we got the idea of converting our family land in Bhiwandi to grow organic vegetables," she says. Her in-laws more than welcomed the suggestion. Takia, in fact, has been nudging her father-in-law, Abu Azmi too to adopt a healthier lifestyle. He has lost 16 kilos in six months. Her two-and-a-half-year-old son Mikhail also is following suit. "My son is being brought up to be a vegetarian. It's like a midpoint between my vegan and my husband's non-vegetarian food choices. Once Mikhail grows up, he'll be free to choose his own path," Takia says.