If you are headed to Kolkata for Pujo, set aside a day to follow this trail across north Kolkata, peppered with quirk, history and eats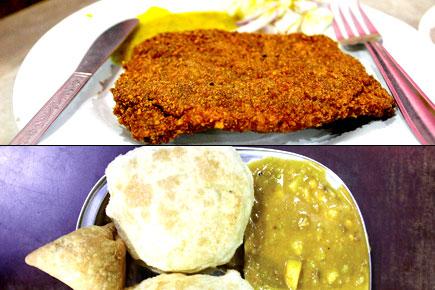 It's hot, humid and you're hungry, after all the pandal-hopping.
Now's the time to don the garb of the intrepid culinary traveller.
ADVERTISEMENT
Tag along!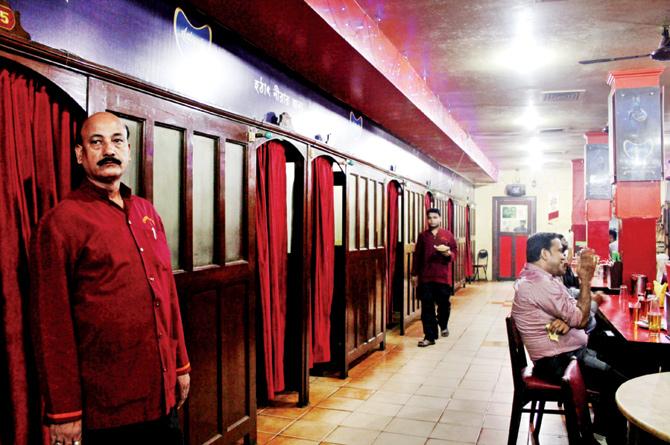 Chung Wah restaurant-bar was once the haunt of Bengali writers to get "spoilt" (Bengali: 'noshto') with glasses of whiskey and plates of pork. Over the years, it might have lost its top billing in the neighbourhood but it remains a hotbed for journalistic gossip thanks to its proximity to newspaper offices. Pic courtesy/ Asmita Nandy
Kalibari Kochuri
Start early and head to Thanthania Kali Bari near College Street. For this, board the tram for a part of the commute because this place falls along the tram route. If you are religious, say your prayers here since this is considered one of the city's most important Kali temples. Nearby is the Kalika Mishtanna Bhandar for Kochuri (R 4, approximate). This item, thicker and crispier than the puri, is made from pulses. It is served with a spicy potato curry with small potato dices. Slightly heavy, stroll down the road till you spot the bookstalls.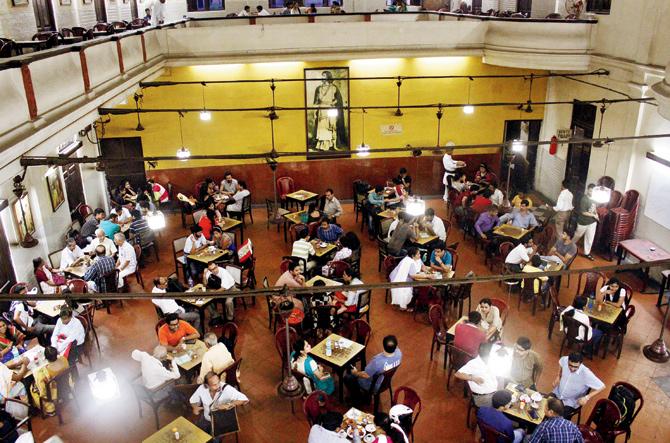 Indian Coffee House. Pics courtesy/ Asmita Nandy
Book bounty
You know you have reached College Street when you see books strewn on tarpaulin sheets along the footpath by sellers. You need to walk along, without being intimidated by the CAT, GRE and school syllabus titles staring at you. It is between them that you'll stumble upon literary treasures. Name a book and you'll find it. Kafka is here, so are JK Rowling and Chetan Bhagat. Even Karl Ove Knausgaard. After you have lost yourself adequately in that ocean without realising when the sun went up over the head and it turned into noon, you may want to turn to the lane opposite Presidency University.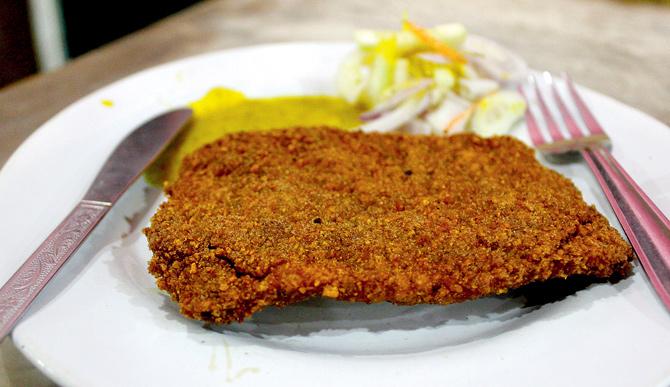 Mutton Kabiraji Cutlet at Dilkhusha
Coffee House
Walk up the wooden stairs of what may seem like a scene from an urban underbelly, with fraying wall plasters and posters. Let's call it the literary underbelly — Indian Coffee House. This is, after all, where every writer and filmmaker of modern Bengal and different parts of the country spent hours over tasteless coffee. The Mutton Afghani (Rs 60) could possibly have been a draw, apart from the discussions that seemed never to end. As you enter, you hear a din that rises and travels up to the tall roof and escapes through French windows of the upper floor. Reason enough have sip of that tasteless coffee. Rest a bit, because after this you could take a long walk through the lanes, where every house bends towards the other with age till you finally arrive at MG Road. You need to snake through. Race a bit; dribble a lot, till you reach Chandni Chowk.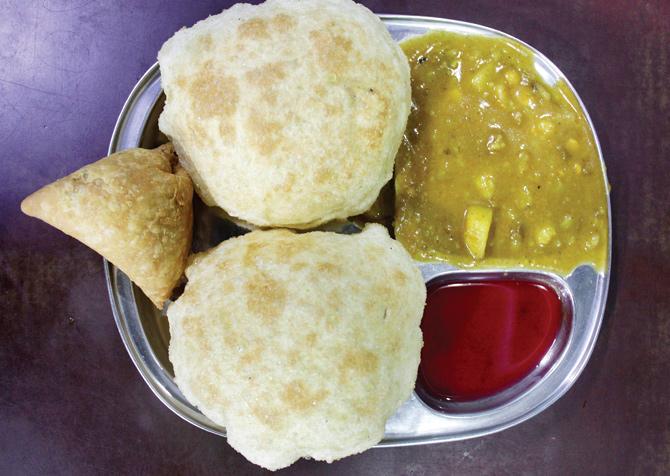 Kalibari Kochuri at Kalika Mishatanna Bhandar.
Chung Wah
Head to a hidden behind the metro station announcing, Chung Wah. This place is for those who don't mind their restaurant dingy but with unmatched Chilli Pork, Garlic Chicken (Rs 160) and Pork Fried Rice (Rs 145). It's ideal for those who fancy eating in restaurants with cabins named after Bengali novels or get nostalgic over the heady '60s and 70s, when Bengali writers and other explorers of night life dropped by to be spoilt (Bengali: noshto) over glasses of whiskey.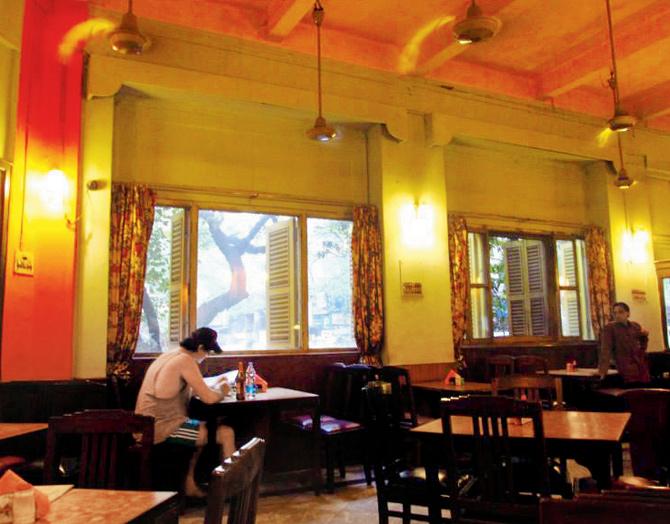 Broadway, one of Kolkata's oldest watering holes. Pic courtesy/Rajat Chaudhuri
Dilkusha Cabin and Mitra Cafe
After a few hours, head to Shovabazar to snack. After all, what is a north Kolkata walk without deep fried snacks? (Bengali: tele bhaja). As the sun sets, potato, brinjal, fish and meat in batter drown in containers of oil to become fritters in ramshackle shops that line the road (5 Rs to 20 Rs). And to taste the very popular and quirkier one of these chops, you should head to Mitra Café. Their Brain Chop (Rs 50) has remained immensely popular over the years.
Broadway
When the sun goes down, take a long walk for all of it to settle. Cross a few roads and enter Broadway. This is one of the few old buildings with a bar that is over 75-years old. Sit near a window with a glass of your tipple and watch the night take over.
North Kolkata
From Mumbai 1959 km
Thanthania Kalibari, Bidhan Sarani, College Street Market Area, Machuabazar.
Indian Coffee House, 15, Bankim Chatterjee Street, College Street.
Chung Wah, 13 A, Chitranjan Avenue, near Chandni Chowk Metro Station.
Mitra Cafe, 47, Jatindra Avenue, Shobha Bazar.
Dilkhusha Cabin, MG Road, near College Street Crossing, College Street.
Broadway, 27A, Ganesh Chandra Avenue, Dharmatala, Bowbazar.
Checklist
>> Wear comfortable slippers or walking shoes
>> Carry an umbrella because the rains are erratic
>> Carry enough cash. Cards are not accepted in many places
>> It is vital to note that after this walk you might need to stop by the nearest chemist for a bottle of Gelusil. It is said that the inhabitants of this area have survived this gastronomic onslaught on their stomach every day, aided by this cosmic syrup.
"Exciting news! Mid-day is now on WhatsApp Channels

Subscribe today by clicking the link and stay updated with the latest news!"
Click here!