The new menu at Quattro tranforms its food into gelled spheres and foams. Phorum Dalal writes about some of the hits and misses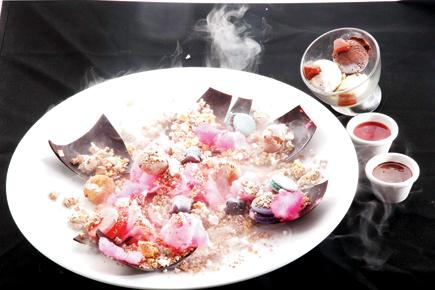 The Chocolate Explosion
Recently, Mumbai has caught a fever called molecular gastronomy. It is the science of physical and chemical transformation of ingredients by controlling the temperature and pressure. Sounds too complicated and technical? You are not alone. Even Ferran Adrià of El Bulli prefers to call himself a 'deconstructivist' while using the very same method, while Heston Blumenthal of Fat Duck calls the term 'elitist'.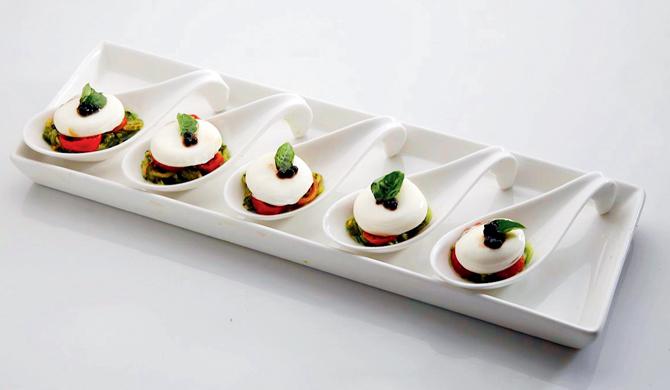 Capresse di Quattro
To cut a long experiment short, molecular gastronomy will serve you the same food that you eat, under a theatrical guise of vapours, foams, gelled spheres, edible papers, soil, transparent ravioli and powder.
On April 8, we indulged in a French-Japanese cuisine dinner at the JW Marriot prepared by visiting Michelin-starred chef Laurent Peugeot. Like they say, Michelin chefs are artists. One of the molecular gastronomy dishes, Salt-crusted Beetroot Salt with Melted Curry Ball and Yuzu Koshio had the sphere curry, bore the magical blend of spices, herbs and creamy liquid.
On Wednesday, we head to Quattro and slide into the comfortable sofa seating at Quattro and let their Molecular Gastronomy menu entice us.
Being one of our favourite vegetarian restaurants in the city, we are at ease with assurance that we'll be served great food as usual. However, will the scientific twist transcend expectations? Remember, we are still drooling over Peugeot's food.
For the masses
Our server sets a Minestrone Tea Set (Rs 295) before us. On a silver tray, he brings a white soup bowl with four edible ravolis. There are four small bowls of boiled pasta, parmesan cheese, green tea bag and grated garlic on the side. "When I pour hot soup into the bowl, the packets will open up. It is 'edible plastic'," he announces with glee. And it does. It flares up, and finely chopped broccoli, bellpeppers, chillies and garlic pieces now mix into the soup. To add to that, the manager gently dunks a green tea bag into the soup. The soup meets our expectation, and we love the marriage between tea and tomato.
The next soup, Aerated Mushroom and Leek Soup (Rs 255) is foamy in texture. The soup is generously laden with garlic, and the salty, earthy flavours of the fungi get a thumbs up.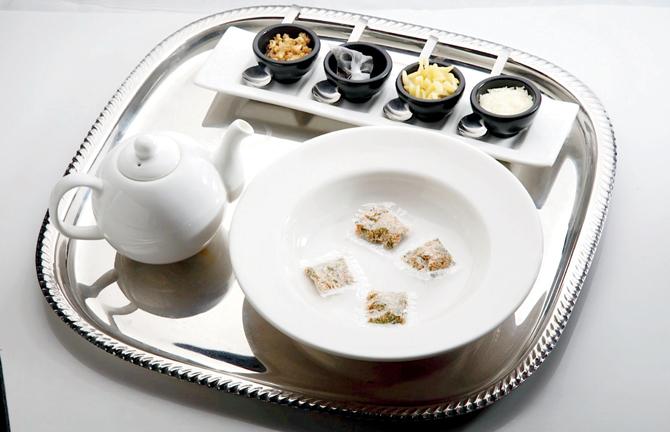 Minestrone Tea Set
Our last sip paves way for a volley of appetisers. While the Chilled Melon Feta Salad (Rs 455) is served in a pot oozing with nitrogen vapour for show, we are disappointed that the dish is just a regular salad on the skewer.
In the next dish, Capresse di Quattro (Rs 375) , the cheese is a gelled sphere, and sits like a boiled egg on a bite-size serving of spaghetti, pesto sauce and salsa on a spoon. One gulp and the cheese bubble spreads on the palate, followed by the pungent basil pesto, tangy salsa and al dente spaghetti. The dish is simple, classic and science adds a fun element here. Same with Olive Bursts (Rs 455), which are gelled black and green olive spheres on crackers.
The Tex Mex Loaded Skins (Rs 405) are jacket potatoes stuffed with bell peppers, carrots and corn. An untidy layer of foam sour cream has flattened by the time it is served, and the dish is way too spicy for our liking, and the potato rather chewy.
We have a gala time popping Fried Risotto Palle (Rs 375), which have a hint of Mexican chillies and jalepenos on a bed of thousand island dressing. Each of the balls are inserted with a pipette filled with balsamic olive oil, meant to be squeezed as per taste. Note, there's no molecular gastronomy here. The next dish, Smoked Camembert (Rs 510) is a winner — baked camembert topped with an entire garlic flower, and molecules of honey caviar. The cheese is warm, pungent and peppery in taste, sweetened subtly by the honey granules. Served with Shea Butter breadstick and cranberry and rye bread, we taste travel to the Alps and back. We take an extra serving of honey caviar just to have them pop on our palates.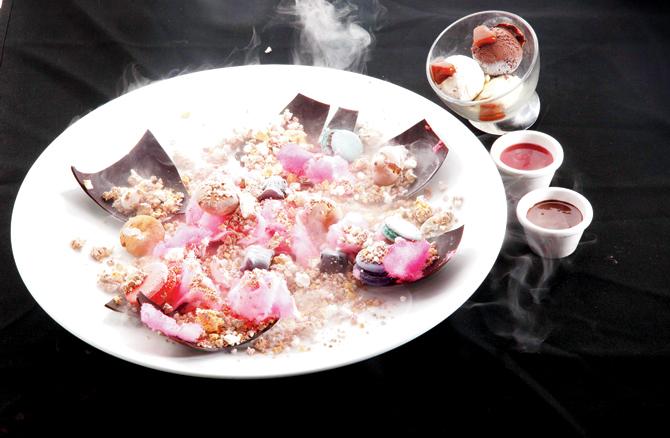 The Chocolate Explosion
The Chocolate Explosion (Rs 745) gives our dinner a cold ending. Picture this — an edible chocolate bowl, stuffed with vanilla and mango mousse, brownie chunks, macaroons, nuts, candy floss. Sounds mouth watering, right?
The server smashes it on the dish and it crack open, spilling the items artistically onto the plate. He adds three scoops of ice cream and evenly pours strawberry and chocolate sauces on to the plate. Then he pours liquid nitrogen, which freezes the insides (literally).
When we take a bite, our teeth almost fall out in a bid to bite the brownie and macaroons which have now turned rock hard. The frozen pieces of mousse mar the taste and we are left licking the ice-cream and sauces. It takes a full 10 minutes for the chunks to soften. By then, our craving has passed.
To sum up, we love the food as we always have, but the molecular gastronomy fare does little to elevate the experience. Kids (of all age groups) will love the tricks and presentations, but the dishes lack the finesse molecular gastronomy demands.
We cannot rate the review as it was an invitation