Royal Opera House is about to get a new music and culinary destination, and the quartet behind it say they wouldn't have taken it anywhere but SoBo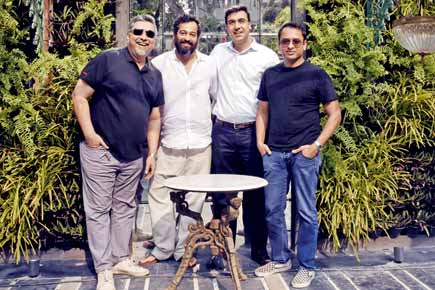 It's a hot October afternoon, but in the rooftop restaurant at the Royal Opera House, there is no evidence of the heat or noise. The large, sound-proof windows insulate us from the din, and all we hear is laughter from the rambunctious quartet of musician Ranjit Barot, composer Ashutosh Phatak, investor Nakul Toshniwal and chef-restaurateur Nico Goghavala.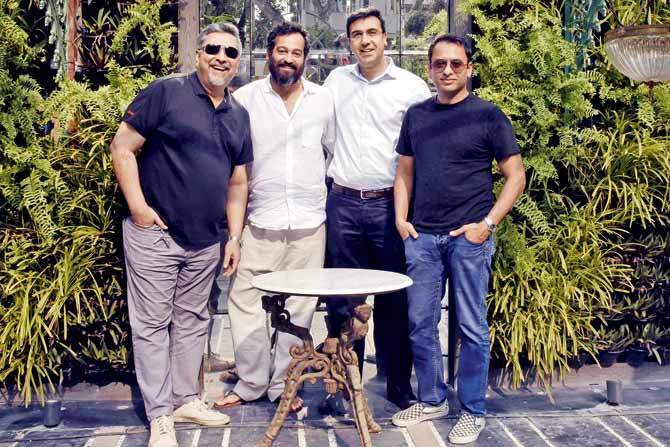 Rajit Barot, Nico Goghavala, Nakul Toshniwal and Ashu Phatak at the al fresco section ofThe Quarter which is set to open at the Royal Opera House later this month
It was a couple of months ago, at pretty much a meeting such as this, that they decided to merge their passions for music, food and culture into business. Their labour of love would be called The Quarter, a jazz property set to open inside the newly restored century-old venue on October 26.
Just as we join them, a molten chocolate cake is brought to the table. It's Phatak's birthday, but celebrations can wait. Work comes first. It's a mantra the team has followed, which is why, ever since they locked the idea behind this project, they have come here every day. "There was absolutely nothing here," says Ghogavala, "we'd sit outside with chairs and brainstorm for hours."
While Barot, Phatak and he were the first to team up, it took two months of chasing friend and investor Toshniwal. The choice of music that will play at the establishment had something to do with it. "The general perception about jazz is that it's music played to an older audience, and if it's not played in a particular fashion, it's not jazz. But, if you're able to explore the moment and give it a sense of improvisation, jazz will ask no more of you. Young musicians are treating the genre differently, of course," says Barot, who hopes to make the venue a platform for all things art and culture. Jazz, he sees as an extension of social dialogue.
"This sort of music is not part of the Indian diet. We barely have time for classical music, and we are talking an African-American genre here. But, why identify yourself with one genre? The younger generation has grown up to rave, electronica and hip-hop, so it's about creating sounds and integrating them into our music."
The only genre, the team is clear the venue won't play, is death metal. "We don't want the chandeliers to crash or the soufflé to collapse," Barot laughs.
Playing together
While figuring the restaurant's vibe, they were clear that it would be nowhere close to a nightclub or an EDM destination. "The most beautiful thing about this space is its size. It's only an 80-seater. Every experience here will be as intimate as an artiste's living room," says Phatak. In fact, the team was planning to give each of the four spaces that it houses, a different name -- the al fresco restaurant, the wine and mozzarella bar, the all-day cafe and the jazz club. But, nothing quite clicked until Goghavala's wife, Kamal Sidhu, suggested The Quarter during a dinner discussion. "And we went, voila! The name works on so many levels. It was one thing we unanimously agreed on," Barot remembers.
While the grand concerts will be held inside the concert hall of the Royal Opera House, the smaller gigs will be held at Live, a cosy space meant for intimate sets. For those who don't want either, there's the all-day café which will open in phase two, next month. "We wanted to ease things in. People shouldn't get overwhelmed by the experience," says Pathak.
Goghavala, the restaurateur among them, says the wine and cocktail bar is his way of connecting with his "feminine side". "It's the kind of place where a bunch of girls would love to hang out," he says, before adding a sweet something with respect to the mozzarella bar. "Water buffaloes have their origin in India. Here, they graze in their natural habitat, so we have access to the best buffalo milk. Why not exploit that?" But, they are clear that music will be the focus for now.
Phatak says the shuttering of Lower Parel's best loved live venue, blueFROG (which was also his baby), presented them an opportunity. "Mumbai was missing a music venue that was intimate. But having a jazz music space requires serious investment, both in terms of time and commitment, so that it can continue as a profitable venture. But, we've worked out an economic model," says Toshniwal.
The gigs will be held every day with sets that will be exclusive to the venue. Infact, six months of programming schedule has already been slotted. "We aren't just going to curate, but also create. We are taking artistes, then moulding them. Everything will be recorded and documented," he adds. The idea, Barot says, is to have one artiste perform over two nights -- once at the Royal Opera House, and then at Live. "I'll be collaborating with the artistes. They could be a stringed quartet or a choir or even a symphonic orchestra. The idea is to create new music," he says. Every month, the venue will see a performance by an international band or musician too. In February, Barot plans to bring down English fusion jazz legend John McLaughlin.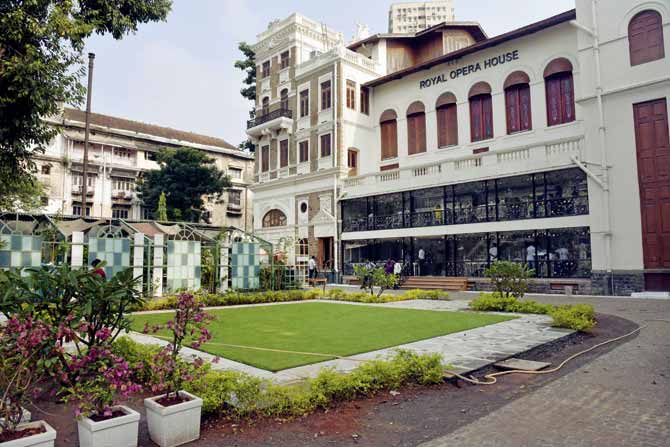 The team plans to use the lawn for cultural pursuits  Pics/ Pradeep Dhivar
SoBo is alive and kicking
With most new cultural and culinary destinations gravitating towards the suburbs, attracting the crowd back to south Mumbai is a challenge. But the owners feel confident they can beat the trend. "It's not like SoBo has died. Like any growing city, there will be pockets that are buzzing, but the fact is that most of the serious, cultural institutions are here, whether it's the National Centre for the Performing Arts, Max Mueller Bhavan or Jehangir Art Gallery," says Barot. The biggest USP, they say, is the venue. "We are like this hybrid mongrel; not classical but massical. We have something for everybody -- all genres and all age groups."
For Barot, it's clear what he wants The Quartet to be. "Ronnie Scott's Jazz Club in London! It is the home of British jazz, and one of the world's most respected jazz clubs. We want to be that."