A city-based startup is aiming to become the Zomato of street food, with a crowd-sourced data base and an organised rating system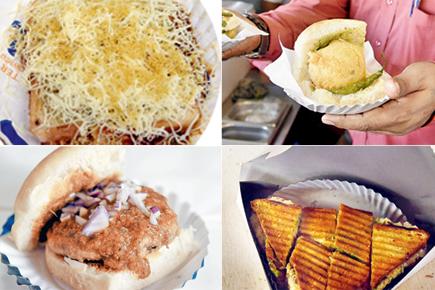 Harsh Shah, Anaita Siganporia, Pooja Singh, Sev Puri Sandwich, Chicken cheese frankie, Vada pao, Cheese Grill Club Sandwich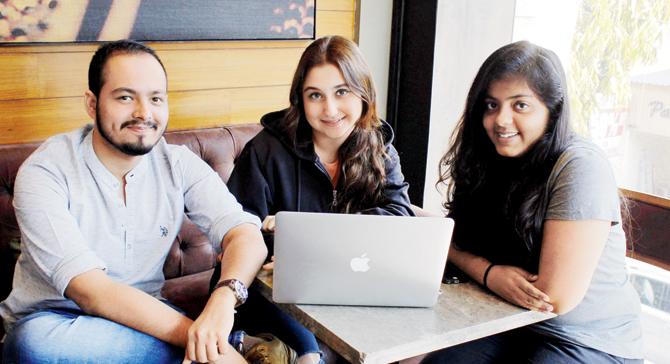 The core Ek Plate team, (from left) Harsh Shah, Anaita Siganporia and Pooja Singh. Pic/Poonam Bathija
Some of the best food memories are often closely tied to street food - that unassuming chaat wala on the street corner, who does something with the masala that makes it like none other. One may well have gone to him for years together but they know him as bhaiyya. India has over 30 lakh street food vendors, of which 2.5 lakh are in Mumbai alone, most shrouded in anonymity. Why does it have to be like that - is a question Harsh Shah asked himself, during his many food escapades in his National College days. Perhaps that's where the idea of Ek Plate (which studied the market to come up with the figures) was born. A city-based startup, currently with a team of seven, Ek Plate aims at being the Zomato for street food for the entire country.
Currently, over 7,500 vendors are listed on Ek Plate along with more than 100 types of dishes. Their sole aim, says founder and CEO Shah, is to create an organised platform for street food vendors, to help foodies find them easily.
Everyone loves street food
"Most people have their street food favourite, but neither can they identify the guys by their names, nor do they know the names of the stalls. I too, until recently, didn't know the name of our locality paani puri wala, even though he's the best in Lokhandwala. It then struck me that if this is some kind of an industry, albeit unorganised, people running it should be better known," says 23-year-old Harsh. The team spent one- and-a-half-years creating a data base of vendors in Mumbai, to start with, returning with both innovative cuisines and fascinating stories. Mentoring Shah and co. was Rajeev RK, co-founder and chief technical officer.
"Some of it is the kind of stories you hear of in the movies - a guy who came here to become an actor, ended up managing a vada pao stall in VT, for instance," says Pooja Singh, a team member who knows Shah from college. What's common to most vendors is that they have designed the fare based on customer feedback. Sometimes, a quirky suggestion from a customer led to an all-new dish on the menu - for instance, Shree's vada pao with chicken gravy. "That stall is right outside Bombay Scottish school in Mahim. One day, a student asked for a vada pao and requested he top it with a little chicken gravy. That's how this dish was born," says Singh.
Handle with care
While the vendors remain suspicious - checking first if anyone with too many questions is with the BMC - most are aware of the power of social media. Shah says, "Nearly all street food stalls here are family run businesses, started by their grandfathers. Now the younger generation is running the machine. They have smartphones and even if they don't, they are aware that if a photo on Instagram or Facebook gets a certain number of 'likes', it's a good thing. We constantly keep going back to them to show how people are liking their stuff and they get it, so they cooperate."
Hygiene is key
Most of those who stay off street food do so because hygiene is a dodgy subject. It's why that's one of the counts on which the vendors are rated. "We judge them on their surroundings, methods of preparation, freshness of ingredients, cleanliness of the towel used to wipe counters etc," explains Singh. The team also sends the vendors SMS reminders to improve on their hygiene. "Gradually, they are making the connection between better hygiene and better business. Also, it's good to connect with them via SMS, as unlike us, they don't receive 50 messages a day. So, they are likely to open and read. And now they are familiar with the name Ek Plate," Singh says.