A look at new services and products helping people use journals as a coping mechanism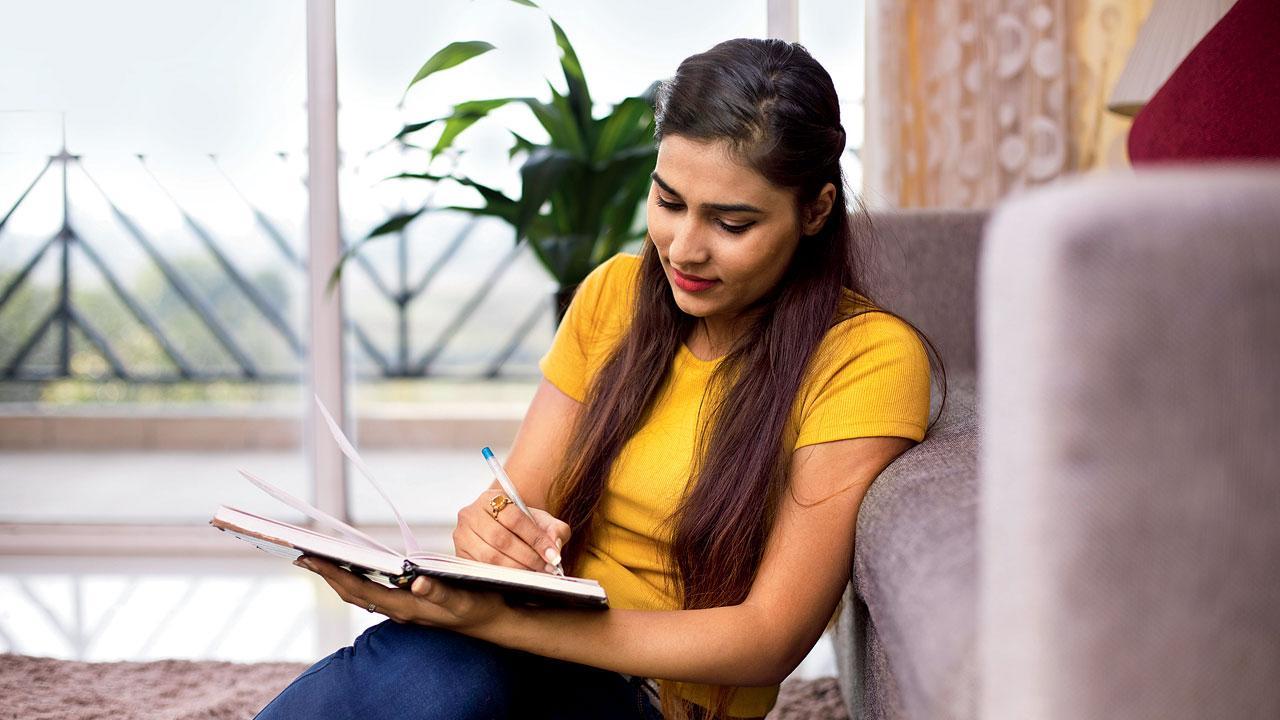 Journaling helps collect the thoughts in your brain
Aditi Surana, graphologist, high performance coach and anti-anxiety expert, draws our attention to the human mind, which is acknowledged for its ability to think, solve problems or even compete. "But we are not educated on essential skills such as dealing with emotions, expressing what hurts us, or even being vulnerable. Journaling gives you an outlet for your thoughts and emotions," says Surana, who conducts Calmsutra, a session for practising what is called 'sssss stroke'. "It is a breath-coordinated, rhythmic, handwritten stroke that calms your mind in minutes. In these challenging and uncertain times, our fears are triggered every now and then. We need a mechanism that works like a whistle to blow out the pressure from a cooker," says Surana.

The 'sssss stroke' method of journaling by Aditi Surana
ADVERTISEMENT
Meanwhile, Krisha Shah launched Gratitude Journal by Route, in April. The journal mainly focuses on bringing about a lifestyle change and helping users embrace a journey of self-growth and well-being. The 90-day journal has space for noting down daily gratitude and affirmations, among other things. "Set aside 10 minutes for journaling every day. One can inculcate the practice of gratitude journaling either when they wake up or before going to bed. It is recommended that you use the journal at the same time every day. Don't do it like homework, but like an activity one looks forward to," Shah says. 
The best way to utilise a journal is by being consistent in the practice. "One must imbibe the feeling of gratefulness for the smallest to the biggest thing happening around them in day-to-day life, and diving in deeper and introspecting on one aspect of learning from the day. Imagine learning 90 new things at the end of the 90 days of journaling," Shah adds.
Talking about her own journey of journaling, the 25-year-old says there is one statement that turned her focus inwards: why you do, what you do. "Having landed a job right after graduating from B-school, I was happy for a while, but my passion took a back seat. I realised my work wasn't aligning with my values. I quit and decided to spend some time focusing on my well-being. That is how Route to Life started. Today, it is a community on Instagram where followers uplift each other, and see the good in every situation even though the last year and counting has been challenging. Gratitude brings us to a state where we feel that what we have is enough. Instead of wanting more, we learn to appreciate the things we already have."

Krisha Shah and Yashasvi Kuchhal
While Shah designed her own journal, Yashasvi Kuchhal is a journal writing therapist, as well as a yoga and zumba instructor. She was first introduced to journaling while on a 28-day yoga therapy course in Mysuru in 2017. "We were only allowed to talk to our journals. It was the only medium of expression for 28 days. Since then, I have been journaling every day. It helps you reflect upon every fraction of your day and your feelings, thus helping identify your goals and desires, and lending direction to your life," Kucchal, who conducts 30-day course Journaling is Healing, explains. You can find her at @journalingishealing on Instagram and her website, journalingishealing.com.

Aditi Surana
She adds, "Writing something down affirms it and helps rewire the mind. We are usually focusing on bad or negative things, but journaling helps you appreciate the positives. One can organise the crazy ball of thoughts in the brain and when one delves deeper, it helps overcome difficult past memories and learn to be in the present." 
Log on to: aditisurana.com/lockdown21 for a free 21-day journaling workshop
Order of the day 
Love Yourself First - Wellness Journal
This journal by Dhruvi Doshi Chitalia, founder of Dhruvi Doshi Designs, helps keep a track of your thoughts, emotions and various moods on a regular basis. The prompts in the various sections are designed to give a writer direction while thinking and journaling, so that even jumbled-up emotions can be untangled.  Begin with tracking events and situations as they occur, and express emotions attached to them. It also helps you to check your progress through the mood trackers and manifestation pages.
Cost: Rs 1,500
Log on to: dhruvidoshidesigns.com  
Call: 9920782550
Gratitude Journal by Route
This is the one that Krisha Shah designed. 
Cost: Rs 999
Log on to: @routetolifee on Instagram to send a message
Also Read: You can't pour from an empty cup