With illustrator Orijit Sen as its editor, a new publication hopes to re-ignite the joys of reading physical comics among YA readers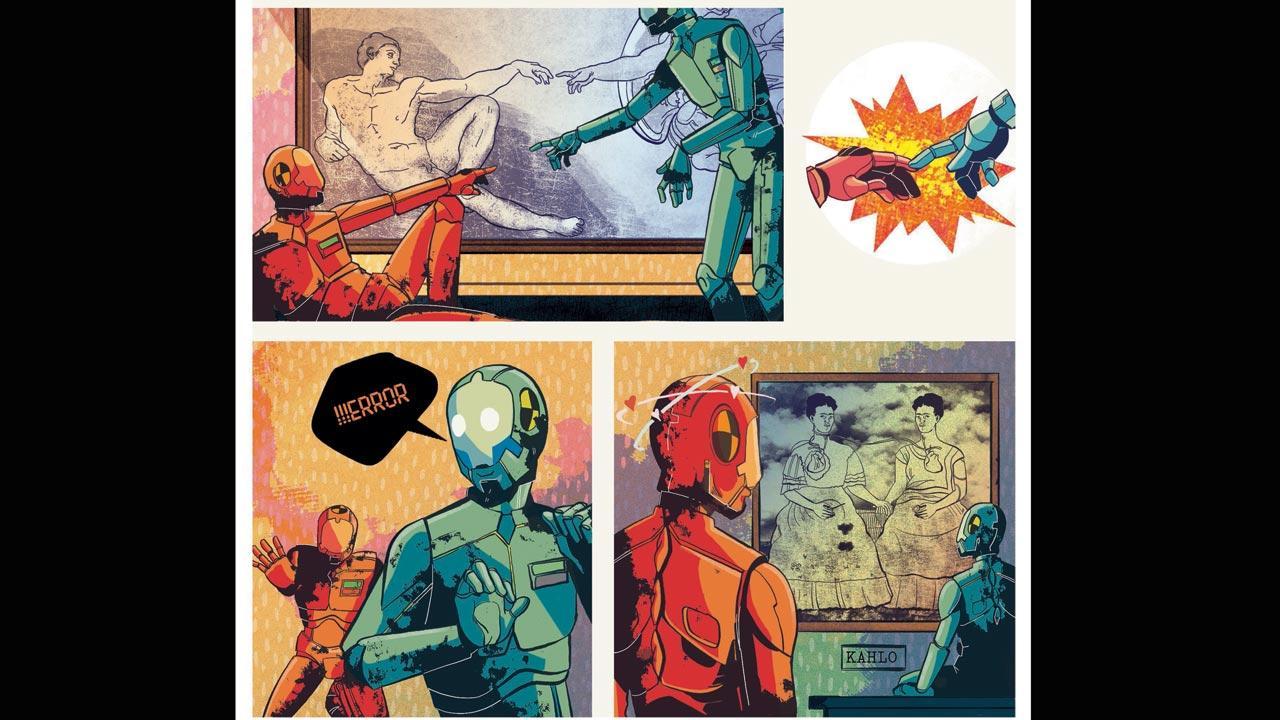 Love for Dummies is a story in Comixense that has hardly any text
Let's get the basics out of the way first. Let's clarify what the definition of a comic book really is. Don't confuse it with graphic novels, which are only a long-form subset within a larger framework of comic books. Don't bracket it in the same category as Indian folk art forms like pattachitra either, though both are visual forms of storytelling. Instead, hark back to a literary tradition that started in the US at the turn of the last century, when different publishing companies exploited the printing press to launch a new medium that we recognise today as the modern comic book, a product that marries the written word with panels of art that act as a visual execution of the writer's vision. That makes Batman a comic book ('graphic novel' being a euphemism that lends the same term a certain gravitas). That makes manga in Japan a form of comic books. Heck, that even means that Chacha Chaudhary is a comic book, taking nothing away from the exploits of the clever old man who kept a generation of Indian children anticipating the next issue.
Now that that definition is done with, it helps us put Comixense into better perspective. It's a true-blue quarterly comic book series that has just hit the market, after educational platform Ektara Trust joined forces with illustrator Orijit Sen to wean 21st-century youngsters away from their smart gadgets to rediscover the joys of reading printed material. Sen tells us, "Sanjiv Kumar, who runs Ektara Trust, approached me in late 2019 saying he's noticed that school kids above the age of 13 have become really addicted to their phones, as we all know, and that they associate the habit of reading only with their textbooks. It's not entertainment for them. For that, they have their phones, which are changing their reading habits in terms of short attention spans and a tendency to skim through things rather than actually engage with the text. So, he felt that we have to bring the love of print back among that generation, and he felt that comics are a good medium to do so."  
A page from The Plague Doctor's Apprentice
It was thus that the wheels of Comixense were set in motion. Sen roped in an editorial team that consists of Annie Sen Gupta and Francesca Cotta, with him helming the ship. The trio dug into their bank of contacts to form a talent pool of writers and artists, who are given a theme as a reference point for each issue. The editors then sift through the material once all the ideas are in, and select a set of five or six stories which they feel are tied by a common thread without the plot lines seeming like carbon copies of each other. Different artists are next entrusted with the job of bringing each story to life pictorially. The editorial team acts as the fulcrum around which the writer-artist duo operates to give each comic its final shape. And finally, the panels are sent to a printing press in Delhi where they are turned into tangible material that not just youngsters, but people of every generation can leaf through, and not scroll through.  
 
But why is this entire exercise important? What sets comic books apart from other visual storytelling mediums like pattachitra or even cinema? Sen tells us that comics are a unique literary vehicle because of the coexistence of words and images. "Things like theatre and films work through the dimension of time," he says, explaining, "Each moment in time replaces the next because by the time you watch one scene or sequence, it has obliterated the previous one. That's just how it works. But comics are one medium where every moment of time exists simultaneously — you aren't losing what you've left behind as you move ahead."
Orijit Sen
Moreover, Sen adds, it's up to the reader to fill in the blanks between two panels. "There is a progression in time between one panel and the next, and it's up to you to imagine what happens in the middle," he says. That makes the reader a de facto creator of sorts, because they are building their own worlds within the framework of the story that's been given to them. This process engages various parts of the brain. "You have to exercise your verbal, textual and visual understanding of things," Sen explains, ending with, "That's why, at the risk of sounding pompous, I feel that those of us who read comics as kids are smarter than the rest."
We'll leave it to you to judge the merits of that last statement. But consider this scenario: there are two teenagers. One is scrolling mindlessly through social media on a smart gadget. The other is poring over a comic book, seeping in the words and art in it. Who among them is likely to have a more vivid imagination?
Log on to comixense.com 
Cost Rs 200 per issue