This newspaper's report got cops to begin crackdown; but elderly tribal woman now untraceable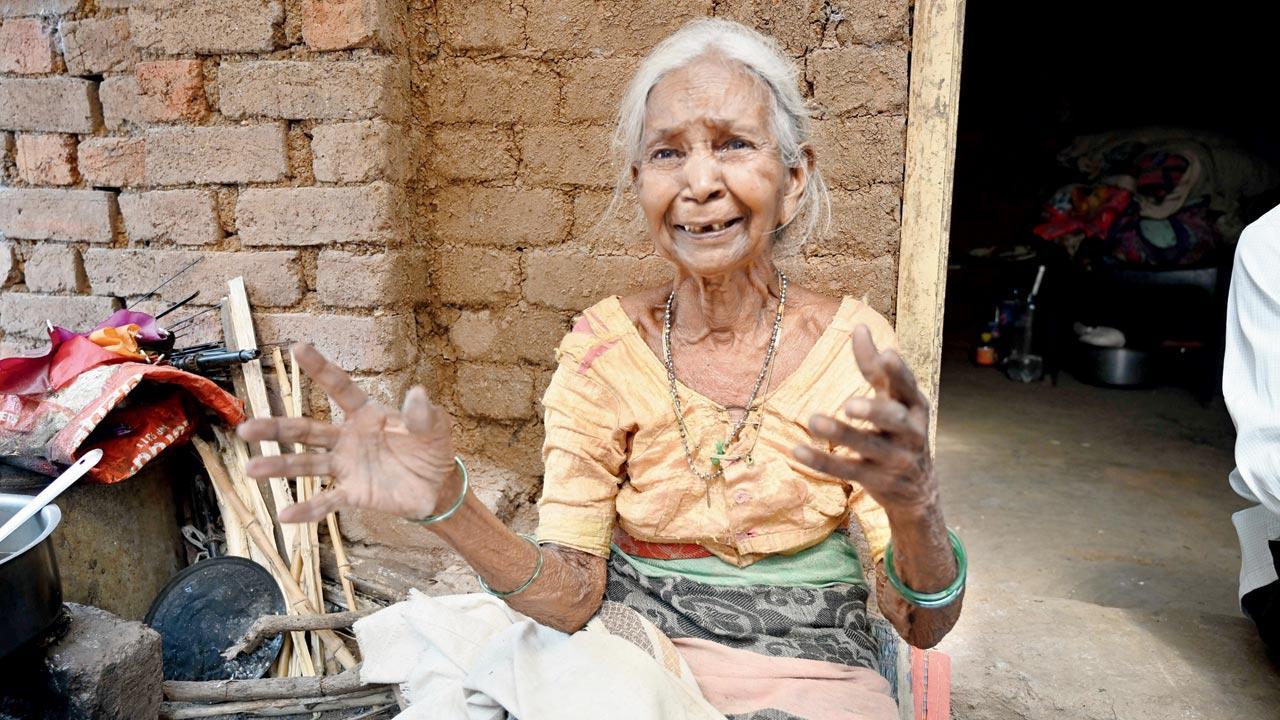 Bhagirathi Mukne learnt of the fraud after getting notices from the Sub-Divisional Officer. Pic/Hanif Patel
The Thane police took cognisance of mid-day's report on November 8 on an elderly tribal woman, Bhagirathi Mukne of Bhiwandi's Dugad village, and how fraudsters used her details to impersonate a dead woman to claim Rs 90-lakh government compensation for land, and arrested six people including the sarpanch of the village this week. However, after the police crackdown began following mid-day's story, Mukne has gone missing, claimed activists, who fear for her safety. 
The fraudsters, allegedly in connivance with some government officers at SDO, Bhiwandi, had used Mukne's documents to show a dead woman, Thaki Sakhya Savar, as alive by making her fake Aadhaar card, bank account and relevant documents to receive compensation for land (owned by Savar) to be used for the Mumbai-Vadodara Highway. The biometric details as well as photographs of Mukne were used to make the relevant documents.
The activists were surprised when the police booked Mukne with others in the case. "The fraudsters have kept Mukne at some undisclosed location after the story was published in mid-day on November 9. We are also searching for her, but neither she nor her daughter Baby are traceable in the village and nearby areas," said Balaram Bhoir, general secretary of Shramjeevi Sanghatana that has been fighting for the rights of tribals in Maharashtra.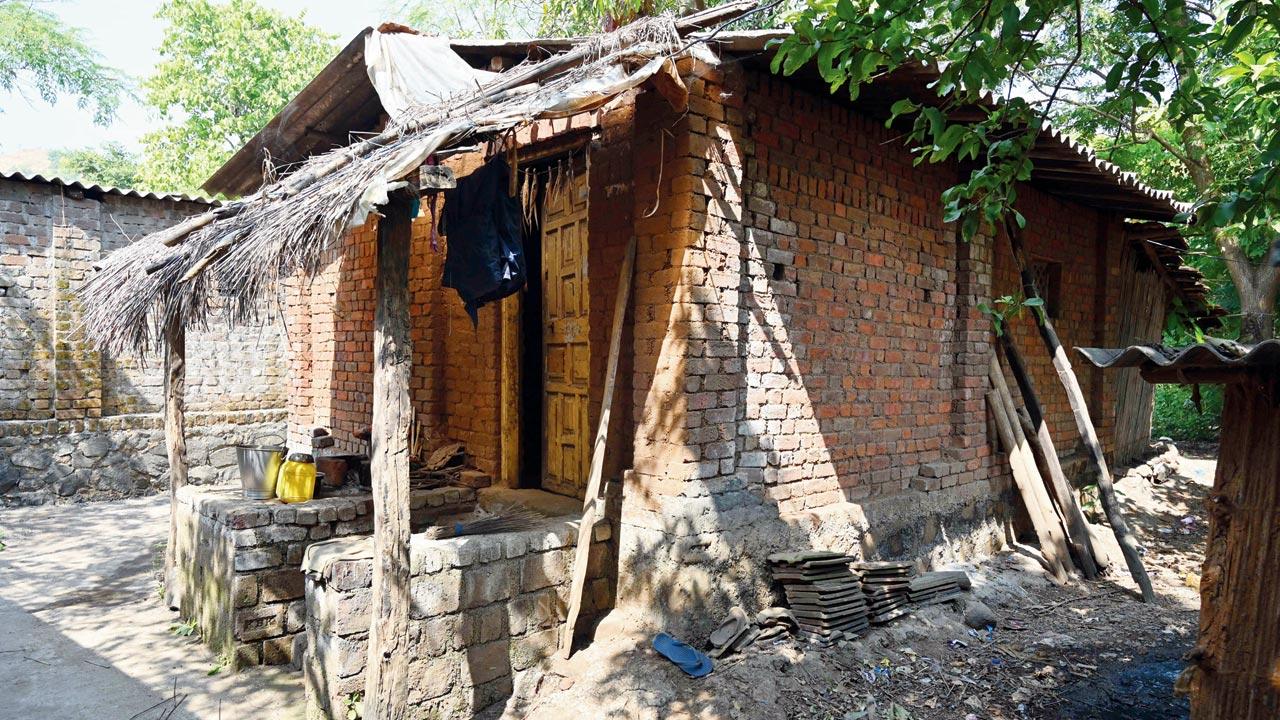 Bhagirathi Mukne's house in Dugad village
Investigating Officer Inspector Virendra Mohite said, "An FIR has been registered and we have arrested six people in this case. One accused has also deposited R57 lakh in the government account after the matter surfaced early this month."
Asked if Mukne was untraceable, Mohite said, "She has been named an accused in the FIR but it was important for us to record her statement in this case. We have been searching for her but she is not in her house in Dugad village."
'Three from same village'
Those who have been arrested include Rajesh Bhoir, Mukne's grandson Bhushan Ashok Nandviskar, Moreshwar Chandrakant Patil, Sudhakar Sakharam Gundolkar, Anis Momin and Mohammad Tahaa.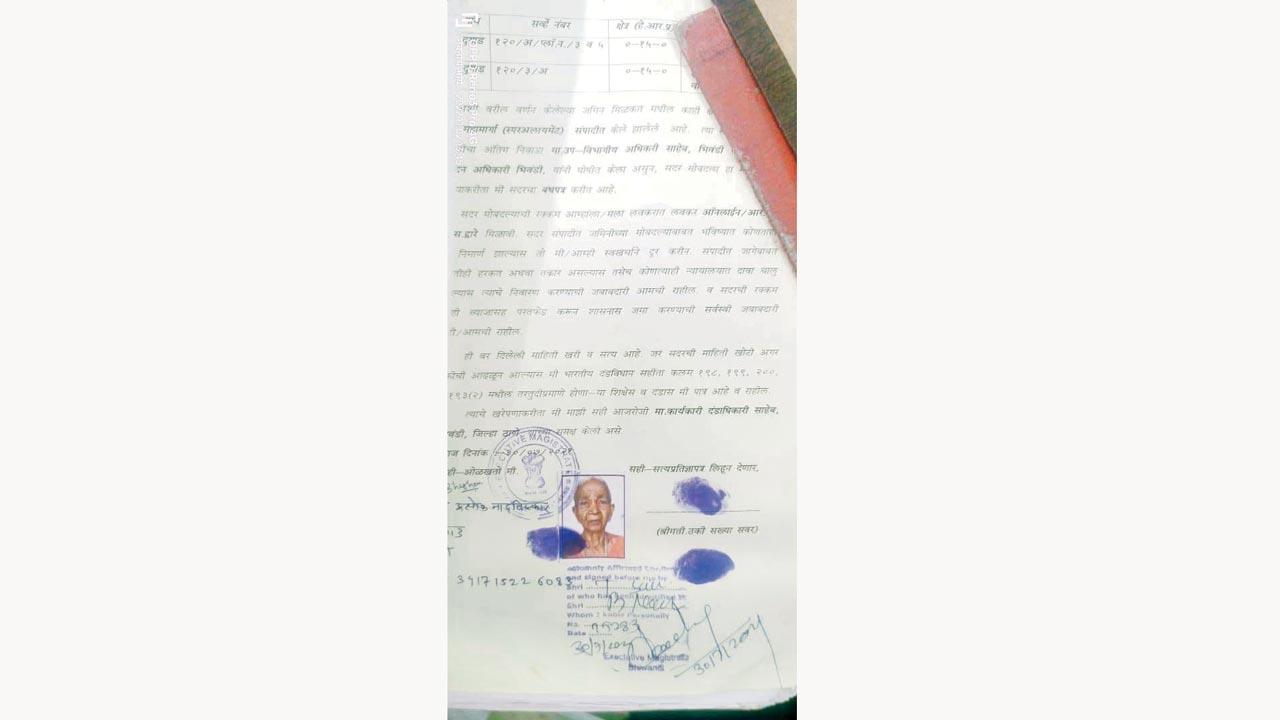 After forging the documents, the fraudsters made an affidavit (in picture) and produced Mukne as Savar to open a bank account. Pics/Hanif Patel
"Three accused belong to the same village as Mukne. The grandson of Mukne, Bhushan, gave her address, other details and thumb impressions to make fake documents to claim government compensation for land. Gundolkar became witness to get her bank account made. Sarpanch Rajesh Bhoir was responsible for getting the fake Aadhaar card made. The other two men—Momin and Tahaa—are agents who made the fake Aadhaar card in this racket," said Jayendra Govind Gavit, an activist working with Shramjeevi Sanghatana.
"Those who have been arrested are just pawns in this huge racket. The masterminds are roaming free and trying to dilute the matter. Since Mukne is illiterate, they must be trying to hatch some other plans. The cops must search for Mukne and record her statement in this case. Also, where is her daughter Baby who used to take her to the bank on the directives of the masterminds? Why are the police not searching for Baby in this case?" said Balaram Bhoir.
Also Read: Mumbai: Western Railway not sorry for your inconvenience
"The day mid-day published the first story on this case, Moreshwar Patil deposited R57 lakh in the government account. I want to know how he got so much money. Who helped him deposit the cash in the government account? This must also be investigated," Balaram Bhoir told mid-day.
'Investigate govt officials'
He further added that after Savar passed away in 2011, her relative Narayan Mukne had given an application to apprise SDO, Bhiwandi and other officials of her passing away.
"Savar's death certificate was also attached in the letter which Narayan Mukne had submitted in February 2021. If the SDO, Bhiwandi was apprised in Narayan's February 2021 letter that Savar is no more, why did he issue a cheque of Rs 57 lakh in August 2021 in her name when he knew that she is no more? The involvement of government officers cannot be ruled out. This must be investigated," he said.
Inspector Mohite said, "We have written a letter to the concerned department (SDO) for the same and our investigations are underway."
The chairman of Tribal Development Review Committee, Maharashtra, Vivek Pandit said, "The police must find the root cause of this fraud and book government officials involved. Unless the government officers at SDO office and their subordinates in Bhiwandi clear the file, no fraud will take place."
"The police claim to have arrested all the accused, then who has kept Bhagirathi Mukne hidden? They have booked Mukne but she is a victim in this racket. Mukne's daughter Baby must be arrested and grilled severely, as I have learnt that the big fish in this racket have bribed her (Baby) to execute their nefarious plan to claim government compensation in the name of Thaki Savar, who passed away long back," he added.
Rs 90l
Compensation sought for the land