Victim's family expresses unhappiness as 'son's killer will now continue to roam free'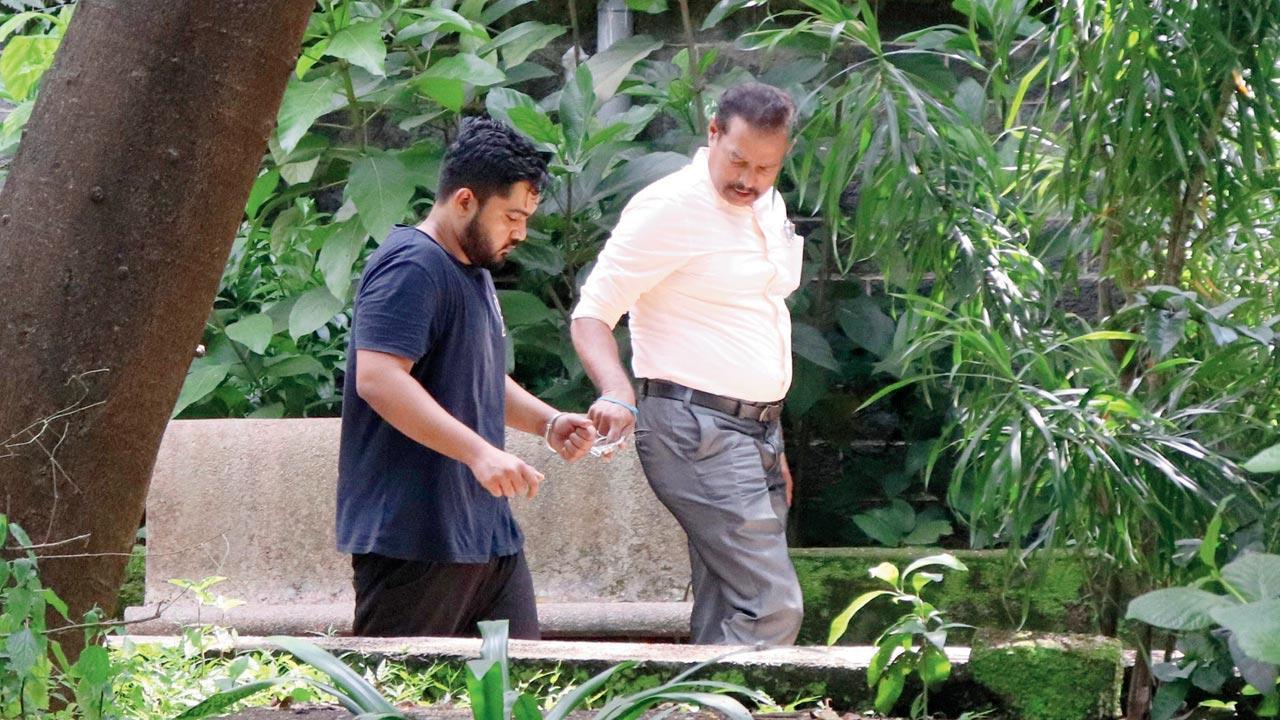 Keith Menezes at Borivli court on Sunday. Pic/Anurag Ahire
The 23-year-old accused in the BMW hit-and-run case who was arrested from the Hyderabad airport following mid-day's reports was produced before a holiday court on Sunday which granted him bail. Cops accompanying Keith Menezes called him a "remorseless brat". Menezes is accused of ramming his BMW car into Thane man Harry Bastian's two-wheeler on Western Express Highway on August 29 causing his death. 
Soon after the relief by the court in Borivli, advocate Devdatt Lad, who appeared for Menezes, said, "The court has given him [Menezes] bail for R15,000. He has gone home now."
Menezes, whose parents live in Dubai, was brought to the courtroom barefoot. The police said he has no regret for his deed. "He is arrogant. When we asked him where he was coming from on the night of August 29, he said 'I have my own rights'. He has no regret for the accident that ruined many lives," said an officer.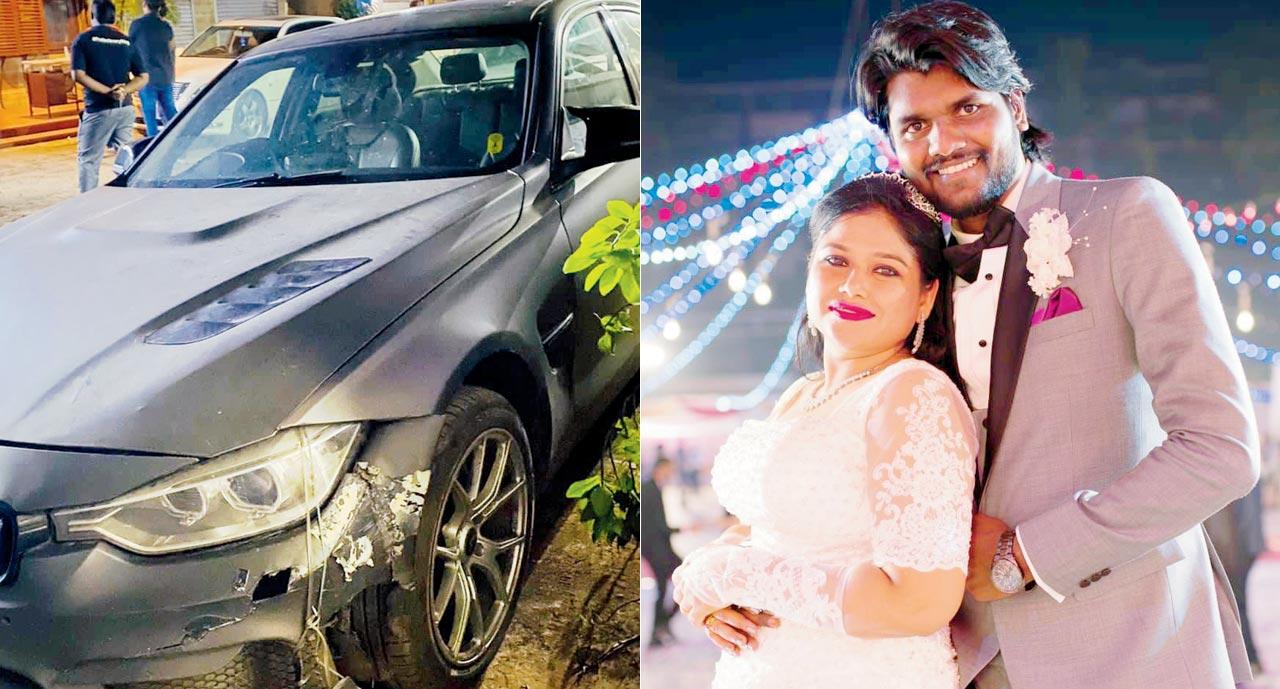 Menezes's BMW was brought to an Andheri garage on August 29 night, hours after the hit-and-run; (right) Victim Harry Bastian with his wife Jyoti
As per the case, Mira Road resident Menezes's BMW car hit Bastian's scooter on a flyover at Kandivli and the impact tossed him off the bridge. He fell on the road below and died of his injuries within minutes. 
The victim's family had almost lost hope when a report in mid-day on September 26 prompted a garage owner to come forward with precious information about the BMW that was brought to his Andheri garage on the night of August 29. More reports in this newspaper galvanised the investigation and prompted the police to issue a lookout circular against him. He was arrested from Hyderabad in the early hours of Saturday while trying to flee the country. Police sources said his location was Mumbai airport, suggesting that he flew to the Telangana capital.
Also Read: Kandivli BMW hit-and-run case: Officer changed, probe speeded up
'He's roaming freely'
"He killed my son and remained absconding for a month. After much hue and cry, the Mumbai police arrested him when he was fleeing the country, but Keith is again out of custody as it's a bailable offence," said Elizabeth Bastian, mother of the victim.
"We have not slept properly since last month, as I wanted to see the face of my son's killer. It is very sad to know that he has been given bail. We are god-fearing people and law-abiding citizens. Nothing can compensate for our loss," she added. Bastian's wife Jyoti said, "I am thankful to mid-day for helping us out in this case. Mumbai police acted swiftly only after mid-day started publishing stories. Our life has been ruined. But it's sad that he has been given bail. It will be very 
disturbing to see the killer of my husband roaming freely now."
Accused visited 3 garages
An officer from Samata Nagar police station said the accused visited three garages in the Western suburbs after the accident but the two of them refused to fix his BMW car's damaged fender. 
Police sources said Menezes was at Santacruz on the night of the accident and that he could be drunk at the time of the mishap.  When asked if the police can retrieve his bank account details to see if he had made any online payment to any pub or bar in Santacruz and further connect the dots with the CCTV footage of the restaurant, the officer said, "Yes, we will take all possible steps to retrieve maximum details about him. We are yet to find out his car."
Deplaned at Hyderabad
Sources said Menezes had booked a business class ticket to fly out of India. "He had boarded the flight for Abu Dhabi but the lookout circular issued against him helped the airport staff and agencies concerned to deplane him and alert the Mumbai police," said an officer. For the time being, Menezes can't fly out of India for legal reasons.
Aug 29
Day the accident took place