Four months after being released, murder accused sends an emotional letter to the deceased's email ID; mother files plea in Bombay High Court seeking cancellation of her bail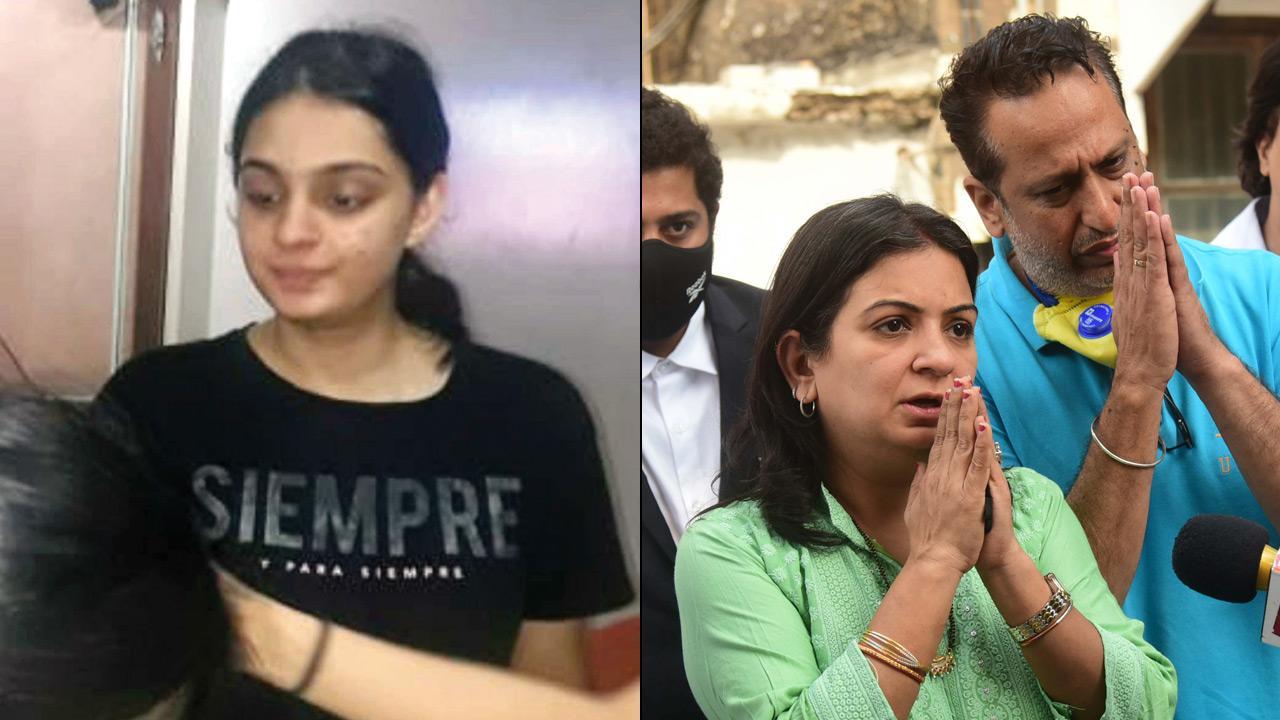 Diya Padalkar, accused in Khar murder case; (right) Jhanavi's parents Nidhi and Prakash Kukreja. File pic/Suresh Karkera
The parents of Jhanavi Kukreja, who died during a New Year's Eve party at Bhagwanti Heights in Khar, have approached the Bombay High Court seeking cancellation of bail to accused Diya Padalkar. The plea alleged that she is trying to influence the witnesses — the parents.
Months after being released on bail, Padalkar sent an emotional letter to the email of Jhanavi, saying that she would never hurt her and that people were spreading lies about her. Padalkar was granted bail by the Mumbai Sessions court on June 21 and she sent the email on July 7. 
While granting bail, the Sessions Court had said that the prosecution case is based on circumstances, and asked Diya to not to influence the witnesses in the case.
Advocate Trivankumar Karnani, representing Jhanavi's mother Niddhi Kukreja who is the intervener, said, "By sending such an email, she is attempting to fabricate evidence, suppressing her guilt and claiming innocence by tactically cultivating a defence in addition to influencing and intimidating the parents of the deceased who she knows are witnesses in the case." 
The application before the Bombay HC states, "The Respondent (Diya) is well aware that the said email will never reach the deceased and will be accessed by the Intervener/her husband... This act...after being released from custody is a clear case of fabricating evidence/cultivating her defence and/or influencing the Intervener and her husband into believing the case of the Respondent." 
Also read: Mumbai Crime: Lawyer, associate and clients attacked with swords and knives

The email from Diya reads, "Dear Jhanvi, samajh mein nahi aah raha hai kya karu tere Bina. I can't breathe sometimes, I miss you so much. The world feels ugly without you. People are so ugly. sharpening their tongues on swords, saying the cruelest things. I would never hurt you I love you so much. Everyday my heart breaks a little more, I wish you were here. Life is hell without you, everything is hell, aadhi jaan toh tere saath chale gayi. It hurts me, pains me to think that people say that I hurt you, that it was my fault. I wouldn't even touch a hair on your head, you are so so special to me baby girl, please tell me we're going to be okay, I don't feel okay without you. I'd give you justice myself but I'll never be given a chance, people spread lies and no one wants to know what the truth is. A web of lies and games and I'm stuck right in it, I'm so so tired. I just want to hold your small hand and look at you and smile. I would give anything to hear your voice right now, what was you was me. What am I now? I want you to be happy, wherever you are. Ek din milenge meri jaan, remember I love you always-diya."
21 June
Day accused Diya Padalkar was granted bail by Sessions Court
07 July
Day Diya sent an email to the ID of Jhanavi Kukreja, the deceased