The police said, while conducting further investigations in the matter, the Anti Narcotics Cell officials learnt that one of the suspects had stored a huge quantity of MD in Bandra-Kurla Complex from where the drugs were seized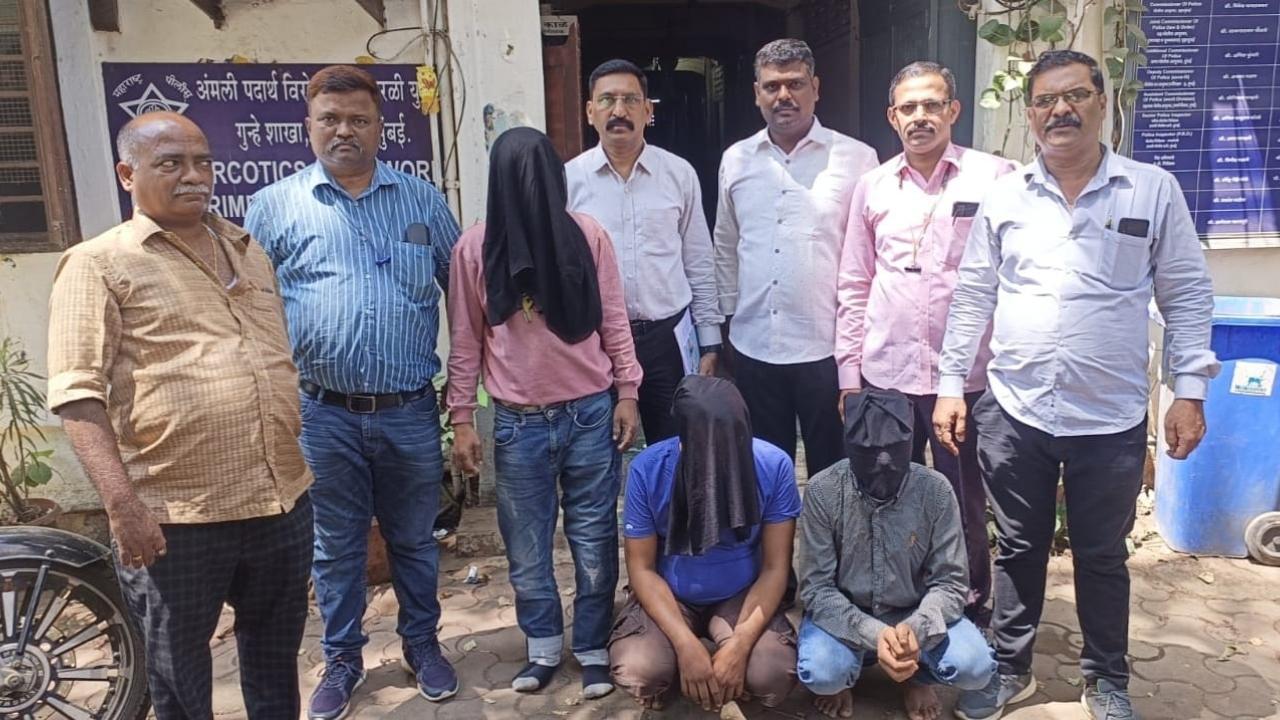 The accused in police custody. Pic/ Mumbai Police
The Anti-Narcotics Cell of the Mumbai Crime Branch on Monday said that it has recovered drugs worth over Rs 10.03 crore from Bandra east and arrested three people in connection with the seizure. 
According to the police, on March 17, the Anti-Narcotics Cell's Worli unit had initially received information on suspects in Bandra-Kurla Complex after which a routine vigilance was being kept in the locality and police round ups were being carried out. Last week, the officials spotted three suspects in the area and on suspicion, the official conducted a search on the trio. The searches led to a recovery of Mephedrone drugs also called as MD or meow meow.
ADVERTISEMENT
"The officials recovered 60 grams of the drug from one of the suspects, 100 grams from another suspect while 110 grams was seized from the third suspect," an official said.
Also Read: Salman Khan threat: 'Will give you shock next', said sender of the email
The police said, while conducting further investigations in the matter, the Anti Narcotics Cell officials learnt that one of the suspects had stored a huge quantity of MD in Bandra-Kurla Complex in Bandra east. Following the information, the official conducted a search operation at the place of the suspect and recovered around 4.749 kilos of MD which was later seized by the police. The total value of the drugs is over Rs 10.03 crore in the international market.
One of the suspects have past records. He was previously arrested in case in the year 2021 and had secured bail, the police said.
"A case under relevant sections of the NDPS Act was registered and further investigations are being done," the official said.
The police said that Mumbai Police has been taking strict action against drug peddling and drug smuggling in the city. The crime branch, its Anti Narcotics Cell and the local police has increased vigil in the city against drug abuse. Will the newly created special police commissioner post help Mumbai with better policing?