The accused also took the hard drive of the CCTV installed in the shop so that police cannot trace them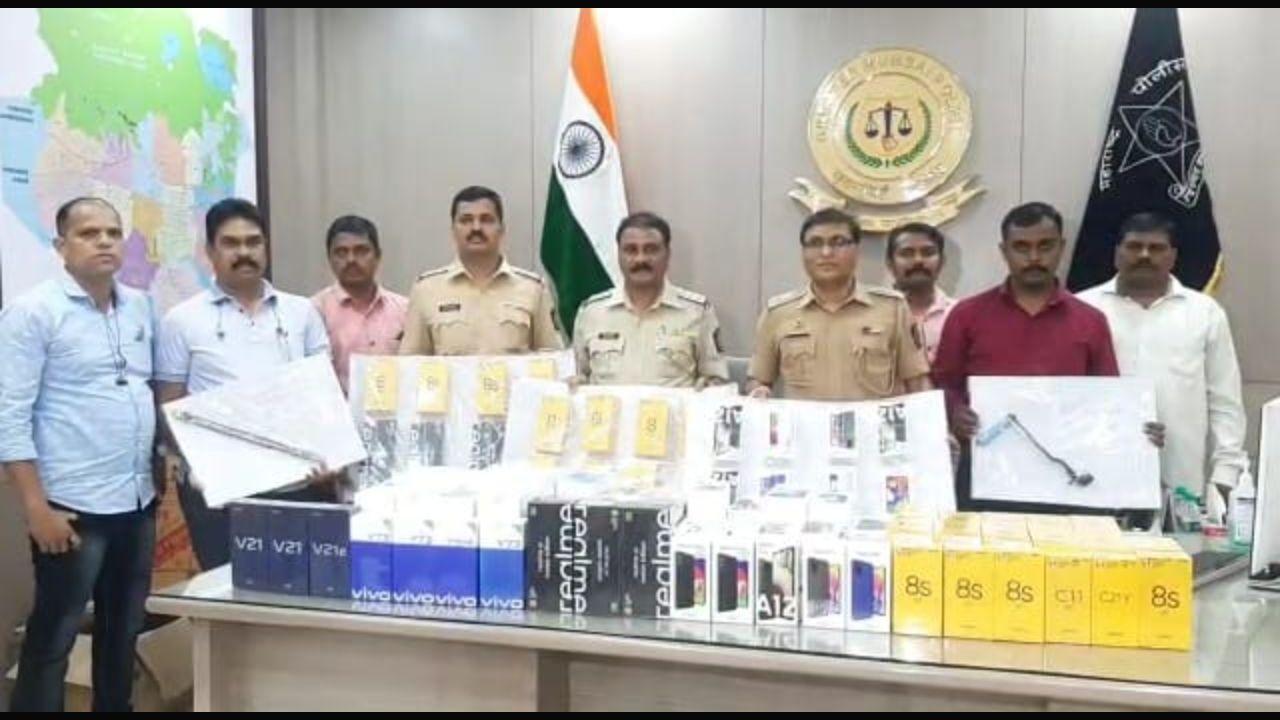 Police officials with the stolen phones. Pic courtesy/ Samiullah Khan
Four people were arrested by the Dindoshi police for allegedly breaking into a mobile phone shop at Film City road in Goregaon (East) and stealing phones worth Rs 32.28 lakh.
The accused also took the hard drive of the CCTV installed in the shop so that police cannot trace them.
According to the police, the main accused Mahendra Kumar Meghawal, 23, a carpenter by profession and native of Rajasthan had changed his disguise after the robbery to evade arrest. However, by scanning the CCTV recordings of over 200 places, the police were able to zero down on Meghawal and arrest him from his residence Malad (East).
As per police, Meghawal and his accomplices, identified as Mayur Khaire, 28 and Ramesh Porwal, 31, broke into the shop on September 22 and fled with mobiles worth Rs 32 lakh. They also stole the hard drive of the CCTV camera in the mobile shop, said police.
Also Read: Mumbai: 43-year-old mentally ill man dies by suicide in Malad
After a case was registered, detection officer API Dr. Chandrakant Gharge and his team scanned the CCTV recordings of nearby shops and traffic signals and by analyzing the mobile tower records they zeroed on Meghawal.
Meghawal was arrested and through him, they intercepted two of his accomplices and arrested them for break-in and theft. Police also booked and arrested the fourth accused, Tejas Ambekar, alas Hari from Kamathipura, who had bought the stolen mobile phones from the accused.
"All the accused were booked and arrested under the charges of burglary and were produced before the court on Sunday and Monday where the court remanded all of them into police custody," said DCP DS Swami, zone 12.