The complainants have alleged that the accused would keep a watch around their homes for a couple of days and take photos of their pets. And then the group would harass the pet parent by threatening to register a police case against for animal cruelty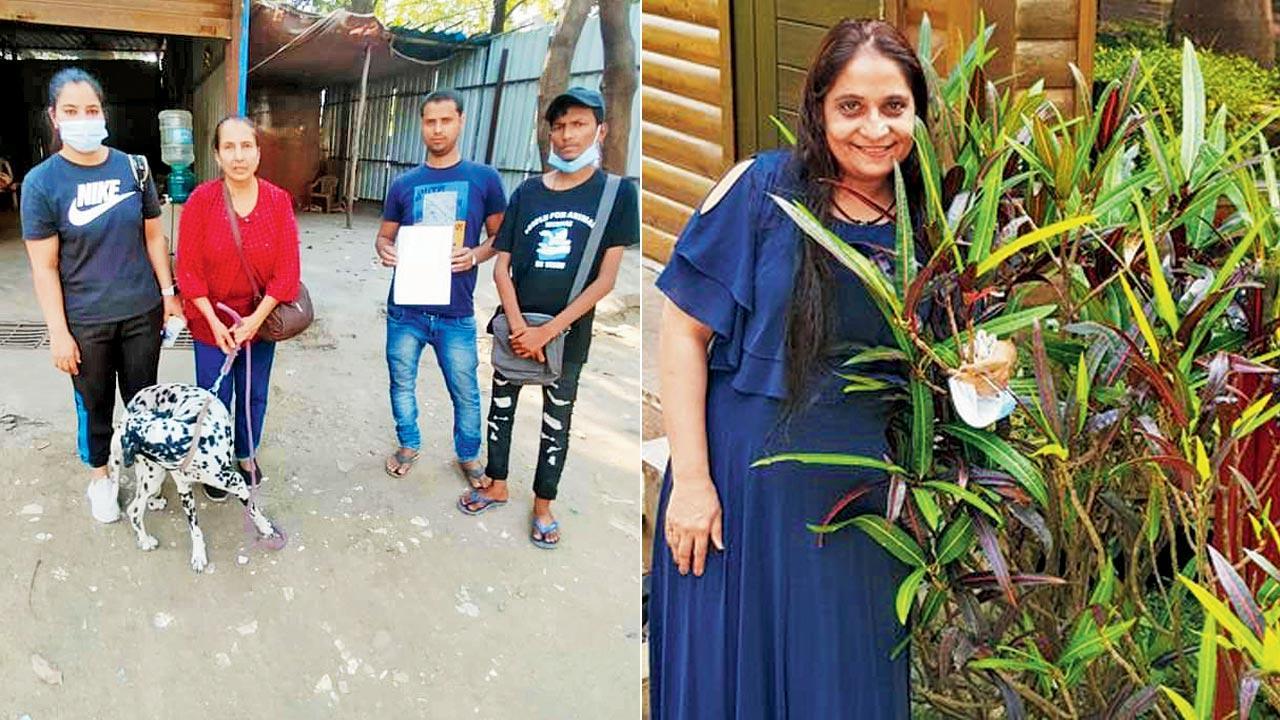 PFA members with the Dalmatian dog and an employee of the pet owner (second from right); (right) Lata Parmar, the main accused
Activists of the city's topmost animal NGO, People for Animals, led by MP Maneka Gandhi, have been booked by Sion police for threatening pet parents with police complaints and extorting them. Three activists—Lata Parmar, who is the president of PFA Mumbai; Bimlani Navani and Mohit Chawre—have also been booked recently for forging the stamp of Sion police in a letter about rescuing a Dalmatian dog from Thane. Cops said there are several cases filed against them at different police stations.
Cops said Lata Parmar, leader of the group, has two cases of extortion, assault and charges of deterring a public servant from performing duties. 
ADVERTISEMENT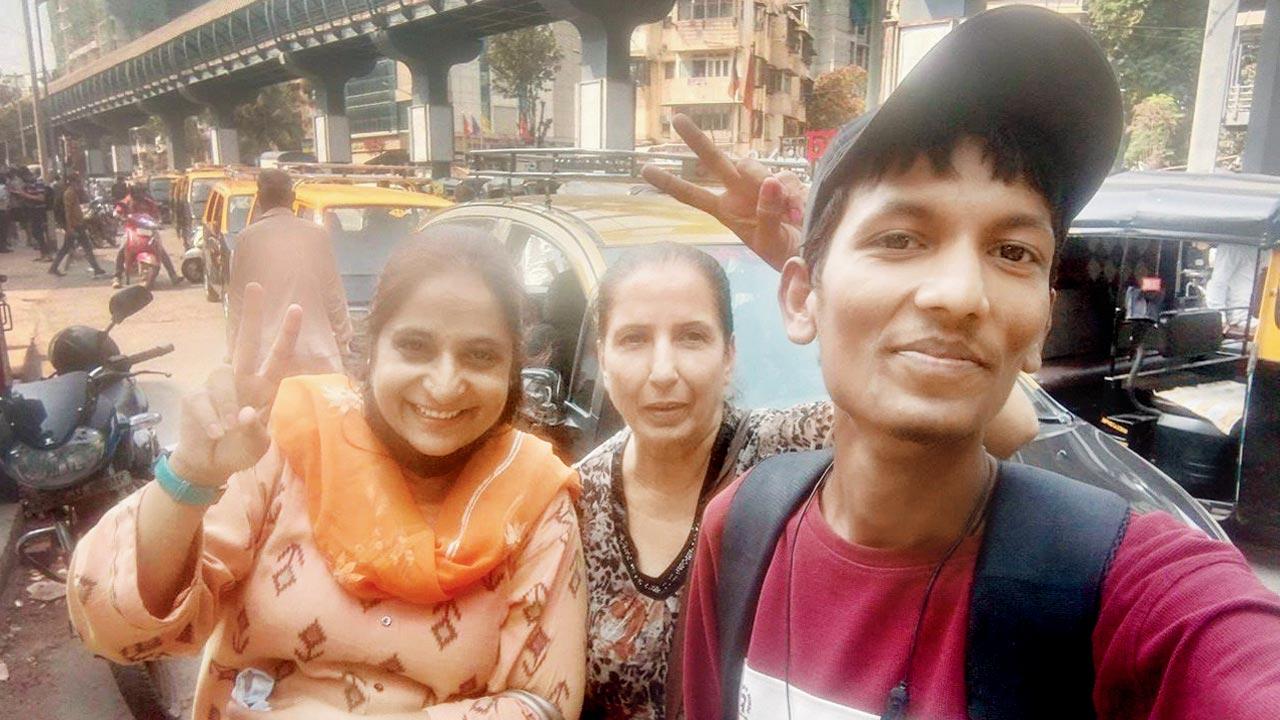 (From left) Lata Parmar, Bimlesh Navani and Mohit Chawre
The complainants have alleged that the accused would keep a watch around their homes for a couple of days and take photos of their pets. And then the group would harass the pet parent by threatening to register a police case against for animal cruelty. The group would take the pets away and sometimes even took money from the complainants. 
PFA founder and Lok Sabha MP Maneka Gandhi has, however, denied the allegations and stated that Parmar was not involved in any forgery or extortion. She further said that Parmar has done exemplary work to save pets and that the case was a ruse to defame the PFA. 
Parmar's post on Facebook on the alleged rescue of the Dalmatian
Chawre, one of the booked accused, told mid-day, "I am not at all involved in extortion or any criminal activity. I had gone to Thane as I was called by my friend Balu Mhatre. Now I won't work with these people."
The Sion case
As per the recent FIR filed by Sion police, a few PFA members had gone to Vedant construction site on Ghodbunder Road, Thane on March 3 and found a Dalmatian dog. They allegedly threatened Bindu Kumar Singh, an employee who was present there. Singh then called the owner, Akshay Zade. When Zade talked to Bimlesh Navani, Parmar's associate, he allegedly said they were taking the dog and that Zade could get the dog a few days later after showing necessary documents.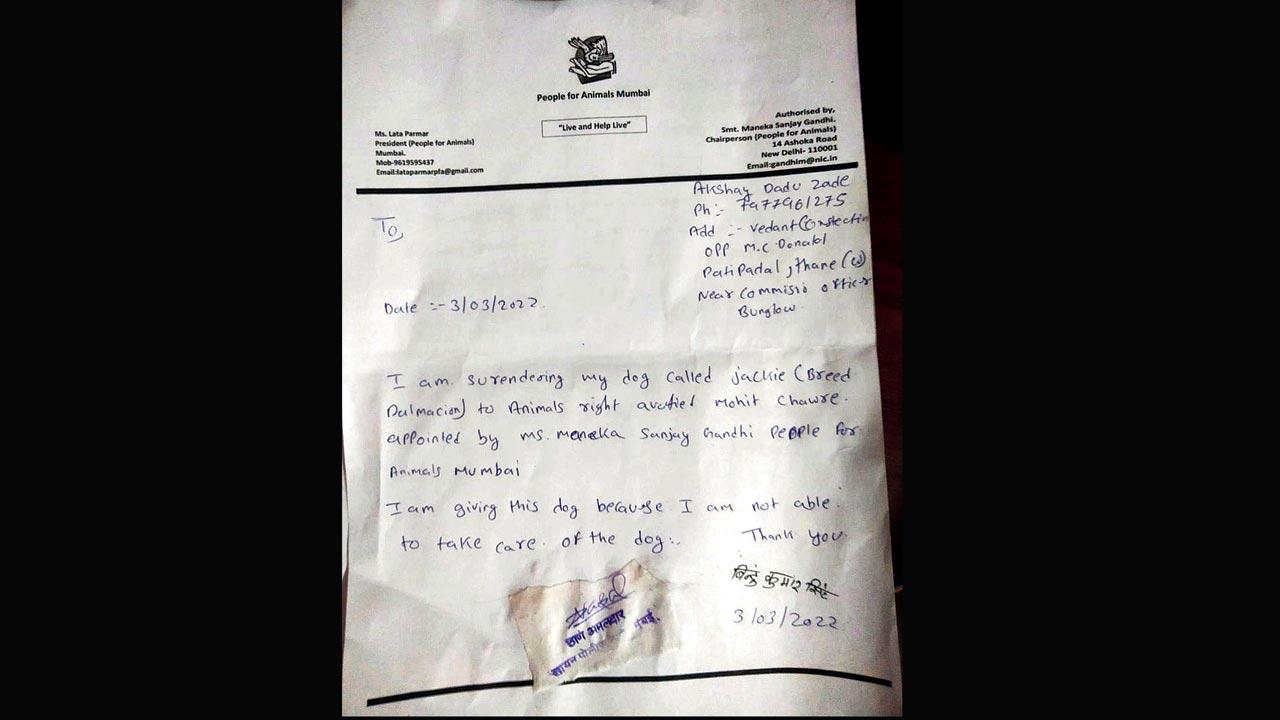 A copy of the fake police letter in the Dalmatian rescue case
The PFA members then allegedly threatened Singh to sign a paper that read: "I am surrendering my dog called Jackie (breed Dalmatian) to animal rights activist Mohit Chawre appointed by Ms Maneka Sanjay Gandhi, People for Animals Mumbai. I am giving this dog because I am not able to take care of the dog." 
On the same day, animal activist Ravi Bhatnagar saw a photo of the document and the dog posted by Parmar on Facebook and noticed that the sign of the police officer and stamp of Sion police didn't match. Further, it looked like someone had cut out the signature and pasted it on the document.
Bhatnagar then called Zade to ask if he had handed over the dog, following which Zade narrated the ordeal. Bhatnagar then complained to the DG, Maharashtra; Mumbai Commissioner; Joint CP (Law and order), DCP (zone 4) as well as Sion police.
After due inquiry, Sion police registered an offence against Lata Parmar, Bimlesh Navani and Mohit Chawre under sections 384 (extortion), 420 (cheating), 465 (forgery), 468 (forgery for the purpose of cheating), 500 (defamation), 34 (common intention), 467 (forgery of valuable security, will) and 471 (using forged document as genuine) of the IPC. 
"We have registered an offence against the accused and she [Parmar] was called for inquiry. The investigation is underway. We decide on the course of action depending on the findings," said Vijay Patil, DCP (Zone 4).
Bhatnagar said, "These people are running rackets in the country in the garb of activism. They barge into homes and offices of people who keep pets and threaten them. They extort money. They are not less than mafias and have political backing as well."
ManekaSpeak
PFA President Maneka Gandhi told mid-day, "We are taking care of animals. Lata Parmar has helped many animals including dogs and cats who were kept in poor condition. Parmar helped these animals and kept them in the shelter. Lata Parmar did not forge any documents and there is no extortion in this case at all. In this case Parmar helped a Dalmatian dog who was in poor condition and sent the dog to shelter."
Explaining the fake police sign, she said, "After sending the dog to the shelter, Parmar had asked Mohit Chawre to go to the police station and get the police to sign the letter. However, the police refused to give him a letter. So, Chawre forged the document and gave it to Parmar which she uploaded on Facebook. There is no monetary benefit in this. Lata Parmar gave her entire life for the animals. This drama has been created to defame PFA."
Earlier cases
This is not the first time Parmar and her coworkers were booked for extortion. In March, Navani and Hema Choudhary, an animal activist, were booked by MIDC police for allegedly taking a German Shepherd from Dhum Roshan Singh, a roadside herbal seller. They had allegedly threatened him with police action for not handing over the dog. 
In February this year, another case was filed against them with the Sion police wherein the complainant, Ravindra Naidu, a businessman and animal lover, had alleged that a PFA member had visited his office and demanded R1 lakh for not filing a case against him for alleged mistreatment of dogs and pigeons and took away the animals. 
Parmar has also been booked by Jogeshwari police in 2015, and Vishnu Nagar Police station, Thane in 2021.
"These activists threaten pet owners over not having any documents or finding any illness. Most pet owners don't have documents or licences for their pets, and that's how they start extorting them. Fearing police action, many owners hand over their pets and money. Such victims should come forward and register police complaints so that such activists face the law," a cop said.