The Bombay High Court had on Friday asked Sameer Wankhede to appear before the CBI for investigations in the case. The court has given Wankhede interim protection from arrest until Monday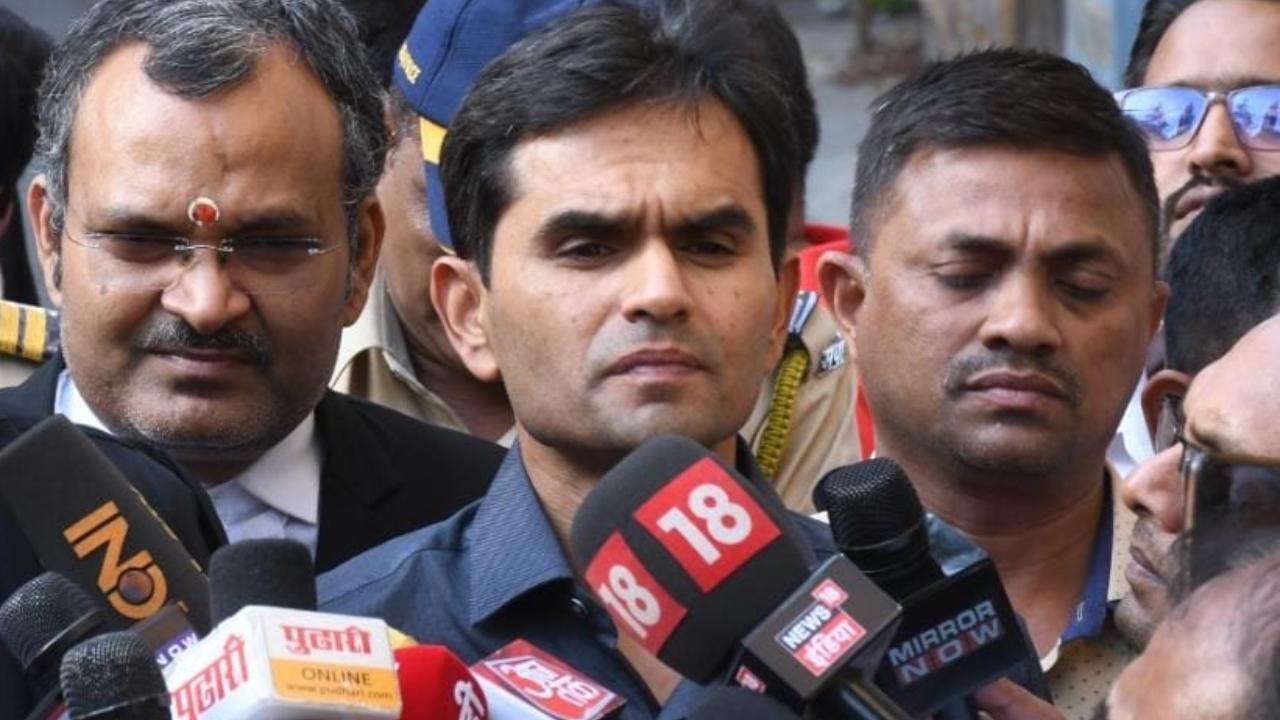 Sameer Wankhede at Bombay High Court on Friday. File Pic/Ashish Raje
Former Narcotics Control Bureau (NCB) Mumbai zonal director Sameer Wankhede was on Saturday questioned by the officials of the Central bureau of Investigation (CBI) for about five hours in connection with a corruption case that was registered by the agency earlier this month.
The Bombay High Court had on Friday asked Sameer Wankhede to appear before the CBI for investigations in the case. The court has given Wankhede interim protection from arrest until Monday.
ADVERTISEMENT
The court had on Friday passed order saying, prima facie there is a legal bar under 17A of the PC Act and asked CBI to not to take any coercive action till Monday and asked Wankhede to appear before them on Saturday.
Sameer Wankhede was present during the court proceedings on Friday, and senior advocate Rizwan Merchant represented him, making extensive arguments about the alleged misuse of power. 
Also Read: How did CCTV footage from day of Aryan Khan's arrest go missing?
Advocate Rizwan Merchant on Friday emphasized that Wankhede, a celebrated IRS officer of the Indian government, has been wrongly implicated in the case. He further contended that the CBI does not have jurisdiction to register the case and referred to Section 17A of the Prevention of Corruption Act, which imposes a time limit of four months for completing the inquiry from the date of registration of the main offense. In the Cordelia case, the offense was registered on October 3, 2021, and more than two years have passed since then, with the FIR only being registered recently.
Sameer Wankhede is accused of allegedly demanding Rs 25 crore from Bollywood superstar Shah Rukh Khan for not implicating his son Aryan in the Cordelia cruise 'drug bust' case, an official told the PTI.
Sameer Wankhede had reached the CBI office in Bandra-Kurla Complex (BKC) in Mumbai around 10.15 am, he said.
Talking to media persons while entering the agency office, he just said "Satyamev Jayate" (truth alone triumphs), reported the PTI.
The Indian Revenue Service (IRS) officer was given a lunch break for around 30 minutes at around 2 pm. He returned to the CBI office and joined the investigation. He left for the day at around 4:30 pm, the official said.
The CBI had summoned the former Narcotics Control Bureau (NCB) official for questioning on Thursday in connection with the case, but he did not appear that day.
The central agency booked Wankhede and four others on May 11 for alleged criminal conspiracy and threat of extortion, besides under provisions pertaining to bribery under the Prevention of Corruption Act on a complaint by the NCB.
(with PTI inputs) Will the newly created special police commissioner post help Mumbai with better policing?