Claims Aryan Khan's name was removed at the last minute before filing the charge sheet but the original draft prepared by legal advisors of NCB had his name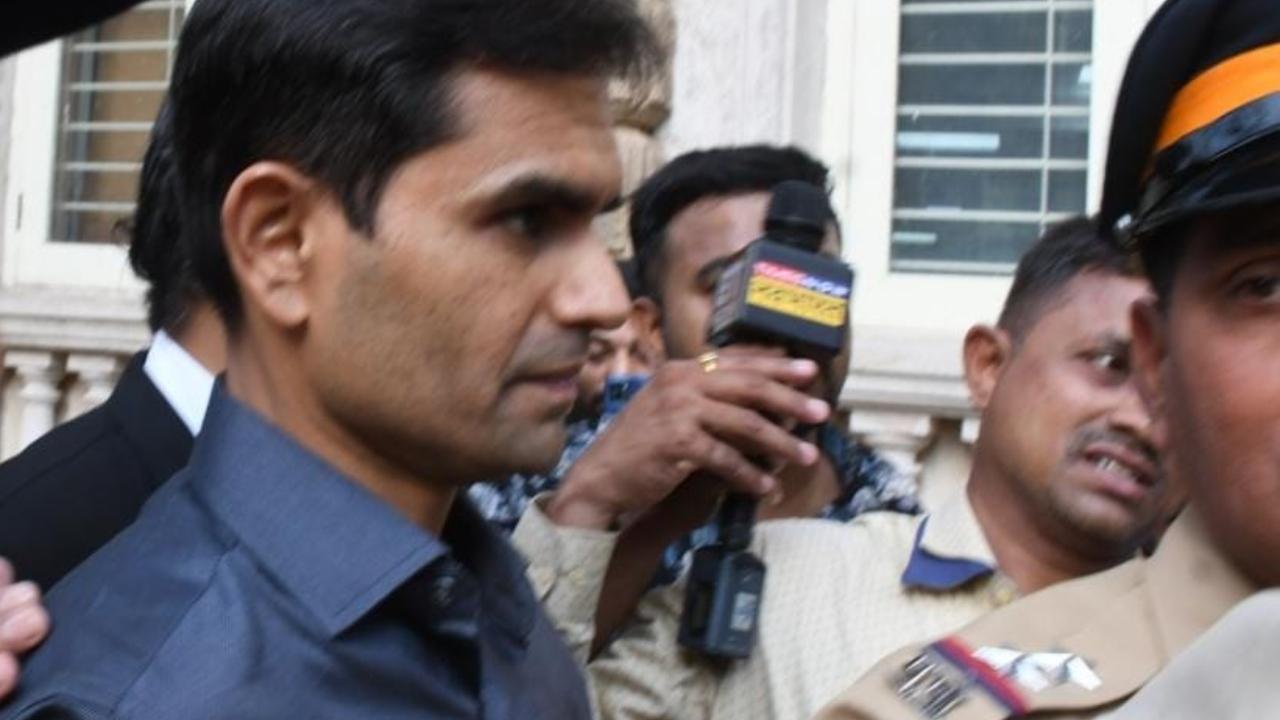 Sameer Wankhede at Bombay High Court on Friday. Pic/Ashish Raje
The Bombay High Court has granted former Narcotics Control Bureau (NCB) Mumbai zonal director Sameer Wankhede interim protection until Monday, and directed him to appear before the CBI on Saturday, for investigation.
Wankhede was present during the court proceedings, and senior advocate Rizwan Merchant represented him, making extensive arguments about the alleged misuse of power. Merchant emphasized that Wankhede, a celebrated IRS officer of the Indian government, has been wrongly implicated in the case. He further contended that the CBI does not have jurisdiction to register the case and referred to Section 17A of the Prevention of Corruption Act, which imposes a time limit of four months for completing the inquiry from the date of registration of the main offense. In the Cordelia case, the offense was registered on October 3, 2021, and more than two years have passed since then, with the FIR only being registered recently.
ADVERTISEMENT
No satisfactory response
The public prosecutor representing the CBI failed to provide a satisfactory response to these arguments. However, he mentioned that the government's approval was received on May 11, and the FIR was registered accordingly, bringing the CBI into the picture. When questioned by the court if this was the official stance of the CBI, the public prosecutor said that he will file a reply.
The court passed order saying, prima facie there is a legal bar under 17A of the PC Act and asked CBI to not to take any coercive action till Monday and asked Wankhede to appear before them on Saturday.
Merchant requested relief from arrest, while the CBI argued granting him relief would hinder the ongoing investigation, particularly considering his alleged lack of cooperation. The CBI pointed out that Wankhede failed to comply with the summons issued for his appearance on May 18. The CBI stated that if he cooperates, they would not arrest him. However, the CBI refused to provide assurance, raising the question of what would happen if he did not cooperate.
Wankhede's big claim
Sameer Wankhede, in his writ petition, has made a huge claim saying Aryan Khan's name was removed at the last minute before filing the charge sheet and the original draft prepared by legal advisors of the NCB had his name.
Wankhede in his petition submitted that whilst the investigation concluded and a draft complaint was prepared by the Department Legal Advisor (DLA) Japan Babu, whereby charges were proposed against Aryan Khan, and various sections were included in it, the said draft complaint never came to be filed on record. In fact, it was replaced with a separate draft complaint prepared from outside, a fact also confirmed by the DLA on a telephone call with the petitioner on June 2, 2022 between 10:48 PM and 10:58 PM. "The petitioner (Wankhede) crave leave to refer and rely upon the recordings of the telephone calls that the Petitioner had with the DLA on 2nd June 2022," the petition reads
Merchant said that Wankhede will cooperate but CBI should probe where the original draft is and why the same is being destroyed and they should also investigate DDG Gyaneshwar Singh who was passing all the order at the time of Aryan Khan's arrest. "I have full faith in the judiciary and the CBI as well that I will get justice," Wankhede said.
Also Read: Aryan Khan case: Sameer Wankhede reveals alleged chats with Shah Rukh Khan in petition before Bombay HC
On October 3, 2021, SRK sent a message to Wankhede, expressing a desire to speak to him, despite acknowledging that it may be officially inappropriate and wrong. The message read, "Sameer sahib, may I speak with you for a minute, please? Regards, Shah Rukh Khan. I know this is officially inappropriate and maybe outright wrong, but once as a father, if I can speak with you, please. Love, SRK."
Wankhede subsequently spoke to SRK over the phone, and SRK sent a message expressing gratitude for the personal insights and thoughts shared during their conversation. "Can't thank you enough for all the thoughts and personal insights you gave me about my own. I will make sure that he turns out to be someone that you and I are both proud of. This incident will prove to be a turning point in his life I promise, in a good way. This country needs honest and hardworking young people to take it forward," SRK said in his message to Wankhede.
"God bless you. I have to come personally whenever you say and give a hug to you. Let me please know whenever it's convenient for you. Really I have always had the highest regard for your uprightness and now it has increased manifolds. Big respect. Love SRK," the message reads further
He further told Wankhede, "please show some kindness my man and I can only plead and beg you as father."
"Dear Shahrukh I wish I could talk to you as friend and explain you about the current situation and not as a zonal director, all the murk and unscrupulous elements are vitiating the entire atmosphere. I wanted to look towards the kids in a reformatory approach and provide an opportunity for best living and national service. But unfortunately my attempt is being maligned by the some dirty perosn and with malafide and vested interests," (SIC) Wankhede told SRK in the message.
"But my son is not part of that please. You also know that. You know his part is minuscule in it. All he needs is reformation and for that he has had his quota and I will also follow suit with what we talked in terms of making him a better person. Please man, I beg you there is nothing from my side that is participant in the vested interests. I went out of my way and without even knowing them called and begged them not to involve my child in their politics. The people here and also the person in the North. I spoke as a father to them and even chided them that they are harming my kid in their selfish interests. Please man, don't make him pay for these assholes and vested people. I beg you man please. It's a larger thing, my son and my family, I swear, play no part in it. I have even refrained from talking to anyone and even told all these foolish people not to speak on my behalf. When we speak I will tell you what I have done in my capacity not to hurt your drive to be upright. I swear man. Please I beg you," SRK responded to Wankhede.
"Exciting news! Mid-day is now on WhatsApp Channels

Subscribe today by clicking the link and stay updated with the latest news!"
Click here! Will the newly created special police commissioner post help Mumbai with better policing?