Crime branch filed chargesheet in the murder case of businessman Kamalkant Shah, his mother allegedly by his wife along with her paramour using arsenic and thallium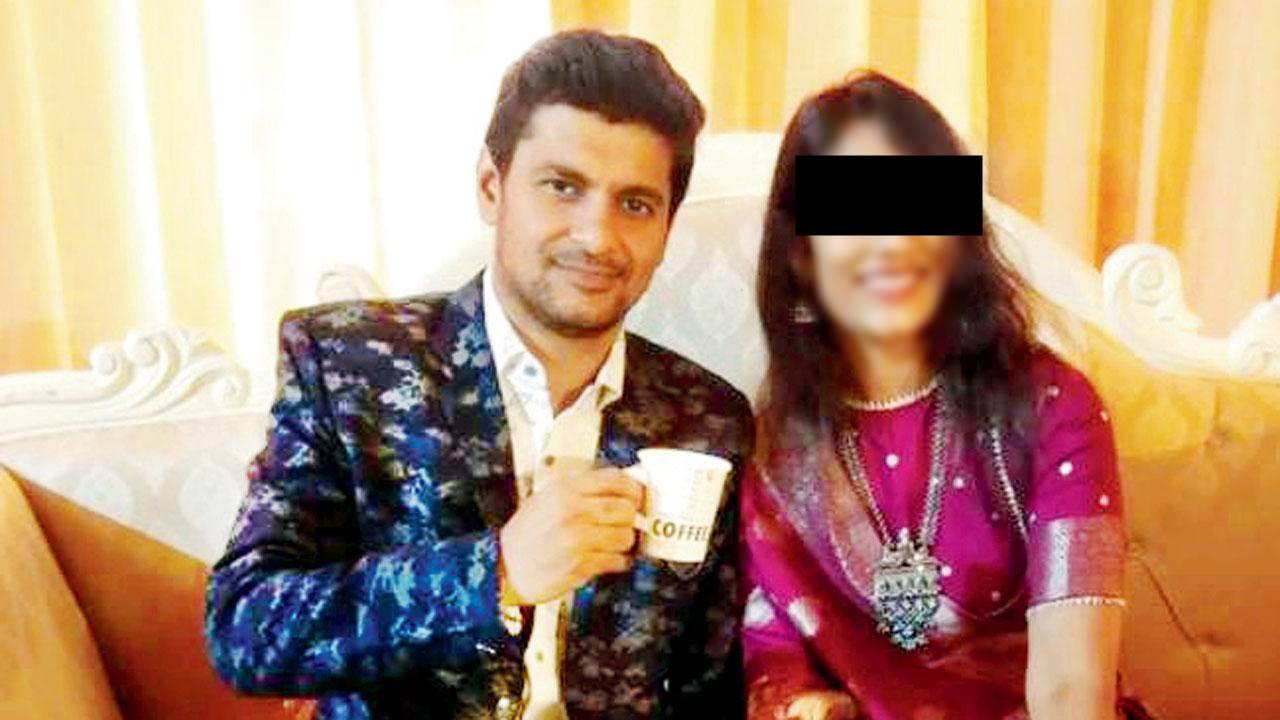 Kamalkant Shah and his wife Kajal, who is accused of killing him
"It is a case of double murder," stated the chargesheet filed on Monday in the deaths of Santacruz businessman Kamalkant Shah and his mother. "His wife Kajal Shah, with the help of her paramour, procured arsenic and thallium, which were used to slowly kill the mother-son duo with the intention of usurping his property," it added.
An officer told Mid-day that "there is enough evidence to prove that both were killed with the help of arsenic and thallium procured from Punjab and Byculla with the help of some dealers."
ADVERTISEMENT
The unit 9 of Mumbai police's crime branch Monday filed the chargesheet of over 2000 pages against Kajal and her paramour Hitesh Jain, containing statements of 75 witnesses.
"Kajal was one of the three directors in Kamalkant's garment company, besides him and his mother. After murdering them both, she got full control of the company. Both Kajal and Jain were procuring poison since June and July," the chargesheet mentioned.
"Kamalkant's mother Sarla Devi was administered arsenic and thallium through food," the charge sheet stated. She was hospitalised for stomach pain and died due to multiple organ failure on August 13, 2022.
The chargesheet further added that "as no one was suspicious of Sarla's death, the accused conspired to eliminate Kamalkant, too, it said. They procured arsenic from a dealer based in Byculla who is known to Jain, and thallium from Punjab."
Also read: Police launch manhunt to trace 'suspect' after NIA share details, say officials
"We have recorded their statements under 164 CrPc. There are witnesses and forensic reports, which confirm that Shah and his mother were killed by slow poisoning," the officer told Mid-day.
The crime branch, however, has no direct evidence in Sarla Devi's murder case, as she was cremated and there was no blood report on metal tests. However, an officer privy to the investigation said: "There are witnesses and evidence that arsenic was procured in August, too, which confirms that the poison was used to eliminate her."
The matter had come to light last year, when Bombay Hospital doctors treating Kamalkant noticed that there was zero growth in his hair, beard and moustache. They recommended metal tests and the reports showed high levels of arsenic and thallium. The doctors informed the police.
Kamalkant died on September 19, and his post-mortem report confirmed that it was a clinically diagnosed case of poison.
"Exciting news! Mid-day is now on WhatsApp Channels

Subscribe today by clicking the link and stay updated with the latest news!"
Click here!