He claims his accomplice fled to Africa; latter's kin claims he died in 2020 during pandemic, police verifying this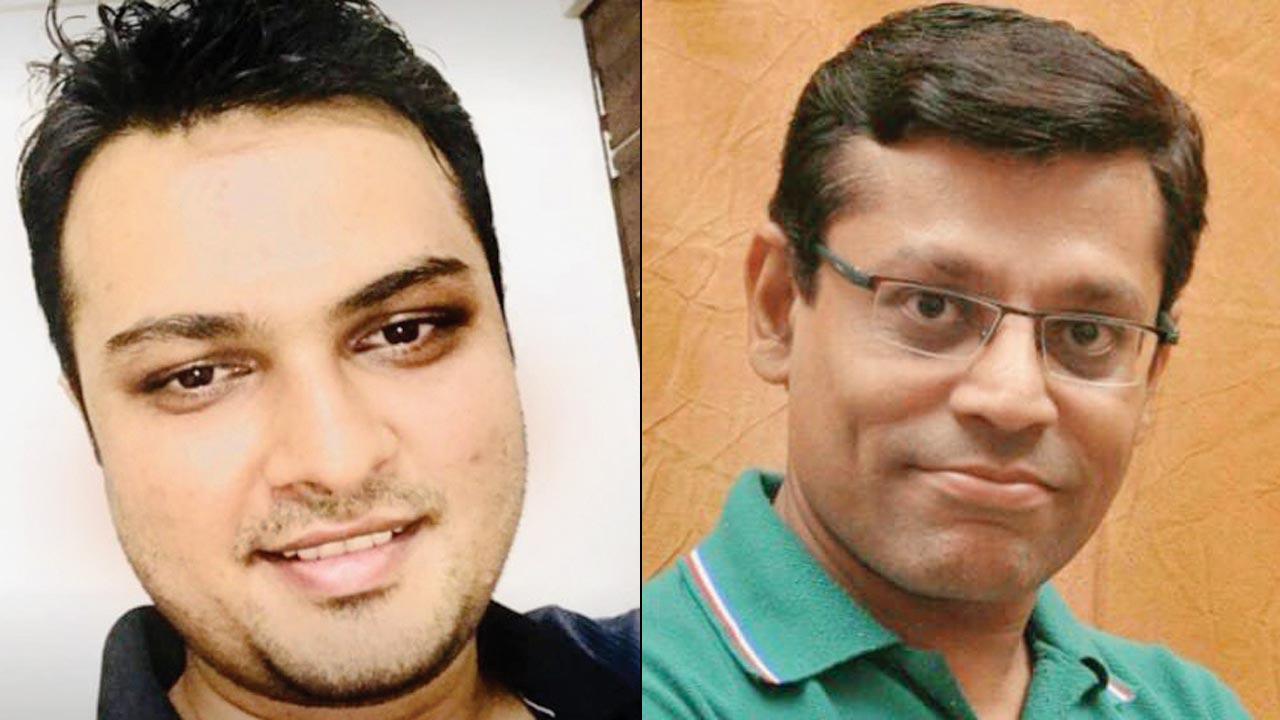 APMC trader Chetan Dand, who was arrested, and his partner, Kelvin Kenia, who his family claims is dead
The Thane Economic Offences Wing (EOW) recently arrested a 42-year-old APMC trader, Chetan Dand, for cheating over 100 investors out of Rs 16 crore through a Ponzi scheme. But while there are 120 complainants, the police suspect nearly 500 people have been cheated and the amount is Rs 56 crore. Interestingly, Dand has claimed his accomplice, Kelvin Kenia, 23, had left for Africa in December 2019 with the money. But Kelvin's family claimed he died during the pandemic in 2020. The police are verifying this.
The EOW has written to the BMC and the immigration department to check the death certificate and passport entries of Kelvin. EOW investigation officer Prashant Sawant said, "We arrested the accused Chetan Dand from his Dombivli residence recently. We are verifying all the details about Kelvin."
ADVERTISEMENT
The police said main accused Dand approached many people in 2015 and told them they would get 60% yearly returns if they invested in his import business of dry dates from Pakistan. He also procured saffron from Kashmir. But then he told investors that due to the Pulwama Terror attack in 2019, his money was stuck in Pakistan. TThe police said the accused told investors that they invest money into the import business of dry dates from Pakistan and saffron from Kashmir and put it into the real estate business where they make a good profit.
Also read: Thane: Three injured as slab of building collapses

Where is Kelvin?
EOW sources said, "We found Kelvin had died on April 13, 2020 during the pandemic, as his family said. But they refused to give more details including where he was buried. His death certificate said Kelvin died in KEM hospital but the cause of death is not given. The BMC had issued a death certificate on June 5, 2020."
Thane EOW DCP Sunil Lokhande said, "Dand and his partner duped around 120 people and took Rs 16 crore from them. We have received more complaints that we are verifying. He offered people to invest into his import business and lured them by ensuring them 60% returns yearly. We are in search of another accused, Kelvin Kenia, who is absconding. We suspect his death and are verifying all details."
'Money is stuck in Pakistan'
Nirmal Shah, a complainant, who gathered the others and approached the police, said, "I invested over Rs 25 lakh in Chetan Dand's scheme. In 2015 I invested Rs 20,000 and he gave me Rs 1,000 every month, under this scheme. Later, I invested Rs 25 lakh and he gave me cheques as security. In February 2019 after the Pulwama attack Dand told me that his investment money was stuck in Pakistan. I later approached the Mumbai ATS and they told me to register an FIR. Along with others who were cheated, I registered a complaint in 2020, but Dand escaped."
There are two FIRs registered against Dand and Kelvin each for duping more than 500 people under the ponzi scheme. One was registered in July 2020 against Dand at Tilak Nagar police station and another was registered against Kelvin at the Kasarvadavli police station. The police said some investors were approached by Dand and some by Kelvin, and some by both. 
Another complainant, Priti Thakkar, a resident of Mulund said, "I invested Rs 22 lakh. Dand told me that he made a huge loss due to the Pulwama attack and his partner Kelvin fled with all money. We are facing financial crisis as I had invested all my savings in his scheme."
Another complainant, Vandana Matne, a resident of Navi Mumbai invested around Rs 62 lakh. Hiralal Raste, a resident of Masjid Bunder invested Rs 25 lakh. While Vijay Tamang, a resident of Virar, invested Rs 2 lakh.
Paresh Lodaya, a resident of Mulund said, "I invested around Rs 7 lakh in the scheme for my daughter's marriage. Now I don't have any savings." 
Rs 56
Amount (in crore) the police suspect investors have been cheated of