Son of 58-year-old says doctor in-charge sat in chair while trainees botched up cataract surgery; Cooper hospital refutes allegation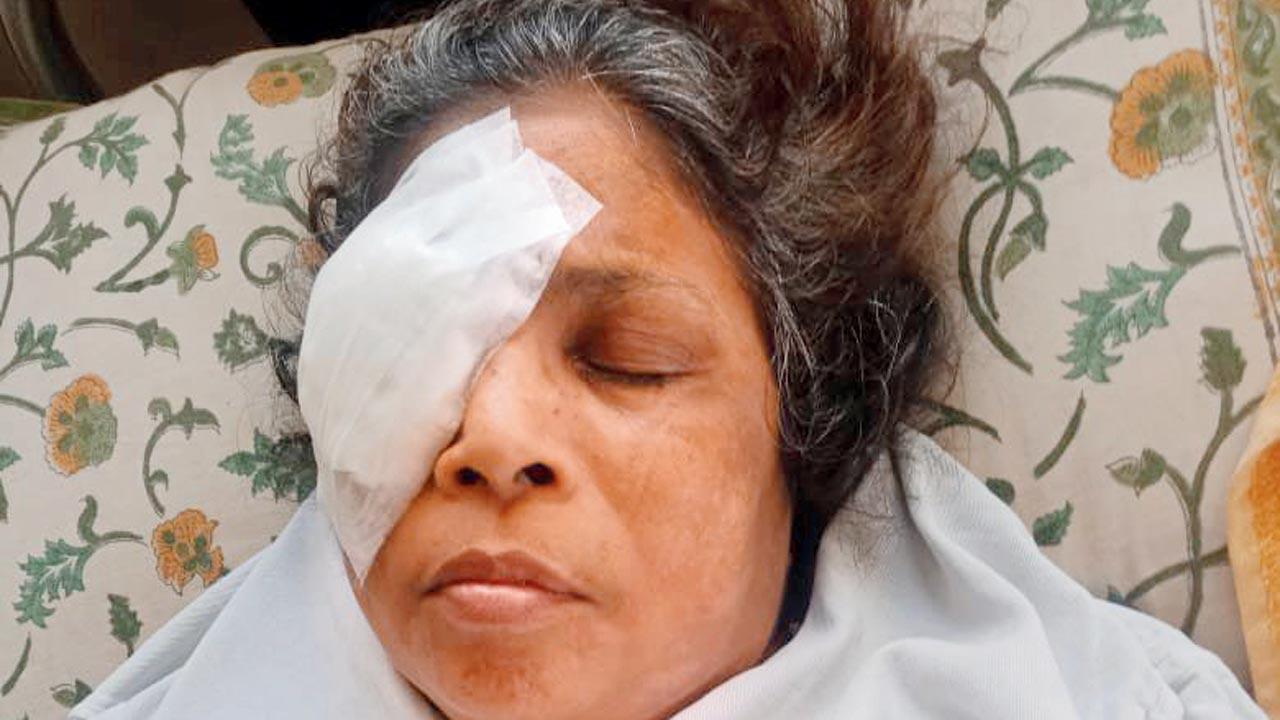 Andheri resident Ramila Purshottam Waghela underwent the cataract surgery on June 1
A patient's family has alleged that trainee doctors at Cooper hospital conducted the cataract surgery, which they botched up, causing loss of vision. The hospital authorities have refuted the allegation. Police have started a probe based on a complaint letter sent to the BMC chief.
Ramila Purshottam Waghela, 58, from Andheri's Sahar Road was admitted to Cooper hospital on May 31 for surgery in the right eye. 
 
"The next day [June 1], trainee doctors conducted the surgery, and she was shifted to the ward. Her dressing was removed the following day, and she could not see. My mother also complained of severe pain in the eye and head, and started vomiting," said her son Mahesh Waghela.
"I asked my mother what happened, and she explained to me that the senior doctor sat on a chair while the two [trainee] doctors operated on her. During the surgery, she suddenly started bleeding from the eye, and that was when the senior doctor was asked to join. She bled for more than an hour. She told me that bleeding stopped after the senior doctor stepped in," he added. Mahesh said he complained to the dean, who told him 'to not worry'. "The doctor operated on her again, but she has not got her eyesight back," he added.  
"One of the doctors from the ophthalmology department told my mother 'why your son is complaining to everyone, you can see from the one eye'. I complained to the dean about this too, after which she said she didn't mean that," alleged Mahesh.
"I went to Juhu police station, but they didn't take my complaint. Then I sent a written complaint to the municipal commissioner. I want an investigation, and the doctors responsible should be punished for negligence. The hospital should treat my mother to get her vision back," he added.
Dean Dr Shailesh Mohite told mid-day, "The allegation that trainee doctors performed the surgery is wrong. The surgery had been done by qualified doctors who followed all the procedures. As they have complained to the municipal commissioner, we have sent a detailed report to him consisting of everything from the admission of the patient to her eye condition and post-operation. We are open to investigation." 
 
Senior Inspector Ajitkumar Dattatraya Vartak of Juhu police station said, "As per the Supreme Court order, we can't file a complaint against the doctor directly. First, we have to conduct a primary inquiry and after that, we will send reports to JJ hospital over which a panel will decide, and as per their conclusion, we will take further action."  
One of the doctors from the Ophthalmology department said, "We are treating the patient and trying our best to get her vision back."
Ramila works as a peon at Bombay Cambridge International School in Chakala, said her son.