The groups have also demanded that Hindu Jan Akrosh Morcha planned and announced by Sakal Hindu Samaj on February 9, 2023 in Baramati, Maharashtra should not be allowed to ensure law and order is maintained at all costs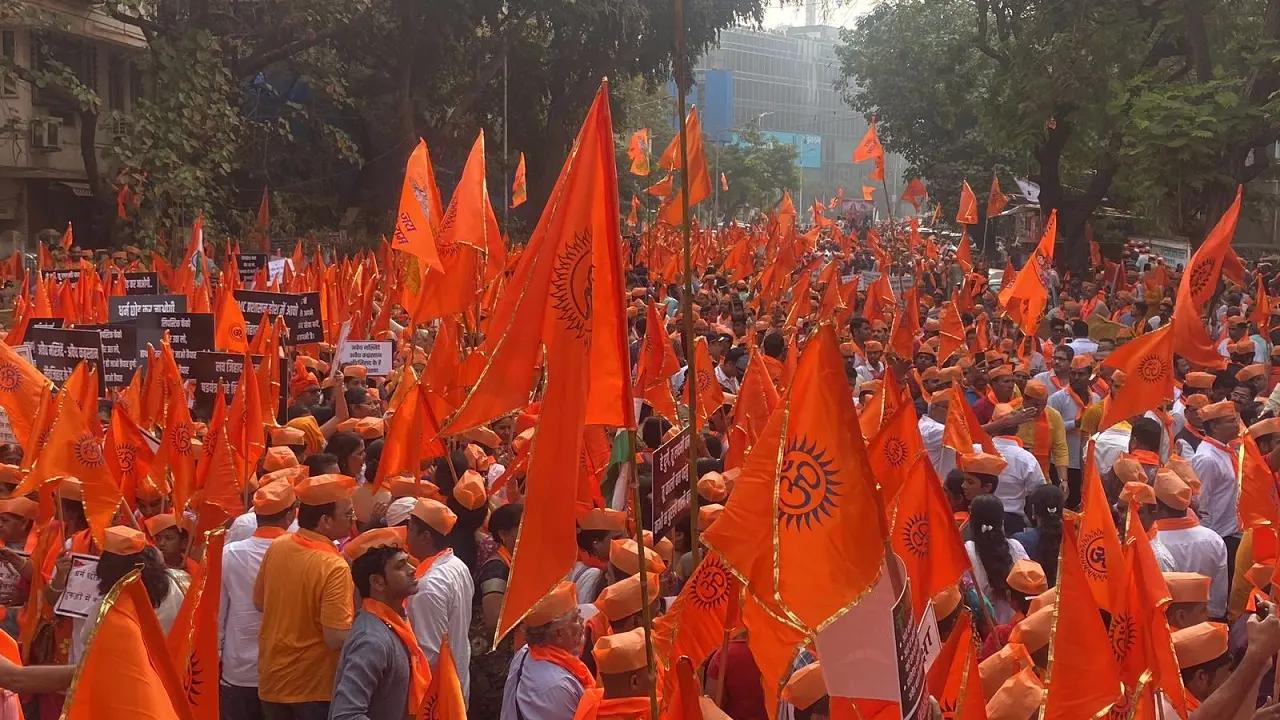 File Photo/Shadab Khan
Twenty seven organisations including human rights and people's groups have written to the Director General of Police, Maharashtra and the Superintendent of Police, Pune Rural Police, Maharashtra asking them to investigate the incident of hate speech at the Hindu Jan Akrosh Morcha rally organized by Sakal Hindu Samaj on January 29 this year in Mumbai and to arrest and prosecute all the perpetrators.
The groups have also demanded that Hindu Jan Akrosh Morcha planned and announced by Sakal Hindu Samaj on February 9, 2023 in Baramati, Maharashtra should not be allowed to ensure law and order is maintained at all costs. The groups have cited the "record of hate-mongering of the Sakal Hindu Samaj organisers at the earlier rallies organized by them including the one on 29th January 2023 and their potential to incite violence and inflame divisive sentiments". 
Also read: Mumbai: First AC double-decker e-bus to hit city roads next week, 200 more in March
The letter signed by all the 27 organisations led by the top Human Rights group "People's Union of Civil Liberties" has asked the police to exercise "your powers to prevent offenders from committing hate speech, including by exercising powers under Section 151 CrPC". 
"That the police and state authorities investigate and prosecute the incidents of communal hate speech made at all the earlier rallies held in Maharashtra under the banner of Hindu Jan Akrosh Morcha and take all measures to ensure that such incidents not occur in the future," the letter said.
The letter states that the citizens and civil society organisations from Mumbai, Maharashtra, are deeply shocked and disturbed at the series of incidents of hate speech against Muslims reported from rallies organized by Sakal Hindu Samaj under the banner Hindu Jan Akrosh Morcha in districts across Maharashtra since November 2022.
"At the rally held on 29th January 2023 in Mumbai, called using divisive narratives like love jihad, land jihad and false theories of population explosion amongst Muslims, extremely inciteful and provocative hate speeches were made to incite the public and further hatred among communities. The rally was organized by Sakal Hindu Samaj, an umbrella organisation of several Hindutva organisations such as Hindu Janajagruti Samiti, Shiv Pratishthan and Sanatan Sanstha. The rally ended with a provocative speech by Goshamahal MLA T Raja Singh also calling for a boycott of Muslim owned businesses and for Hindus to 'slit throats', thereby inciting violence and hate crimes against Muslims.
"A provocative booklet containing misinformation and rumours with anti-Muslim sentiment to influence public opinion on communal lines, was also distributed at the rally. Inspite of such highly provocative and inciteful hate speeches being made, it is appalling and disturbing that no action has been commenced by the Mumbai Police against the perpetrators including all the organisers of the rally, speakers and MLA T Raja Singh till date.
"... As per the hoardings, the morcha is set to begin from Shri Chhatrapati Shivaji Maharaj Udyan in Kasba Baramti at 1 p.m. on 9th February 2023.
"From the conduct of the Sakal Hindu Samaj and its constituent organisations who are behind the organizing of the events/rallies/meetings inter alia under the banner of Hindu Jan Akrosh Morcha, it is apparent that they are trying to inflame communal tensions using hateful and inciteful speeches, false information and rumours, and Islamophobic and communal propaganda. Instead of taking strict action against them and initiating prosecution for their criminal acts, the police and state authorities have been turning a blind eye and granting permissions to the organisations to conduct their events/rallies. No action has been taken as of yet in respect of the Hindu Jan Akrosh Morcha rally held on 29th January 2023.
"We, concerned citizens and civil society organisations in Mumbai had accordingly addressed a joint representation to you on 4th February 2023 to comply with the directions issued by the Supreme Court vide its order dated 3rd February 2023 and to also ensure that both preventive action is taken as well as prosecution is initiated against the perpetrators indulging in hate crimes at the events/rallies including Hindu Jan Akrosh Morcha organized by Sakal Hindu Samaj across Maharashtra. We have not yet received any reply on our letter.
"While we are not aware whether Sakal Hindu Samaj conducted a public meeting in Mumbaion 5th February 2023, it is clear that they are conducting the Hindu Jan Akrosh Morcha tomorrow i.e. on 9th February 2023 at Baramati, Maharashtra (see attached photograph of a large hoarding put up in Kasba, Baramati). It is pertinent that the same be stopped immediately in light of their conduct on repeated occasions of making vitriolic hate speeches and inciting people to communal violence and hate crimes against Muslims.
"India is a secular country, where values of tolerance, dignity, equality, fraternity and justice are deeply enshrined in the Indian Constitution. While right to free speech and expression, association and assembly are fundamental freedoms guaranteed under the Constitution, the crime of hate speech and inciting communal violence cannot be perpetrated under the guise of exercising these freedoms.
"As concerned and vigil citizen groups who believe strongly in constitutional values and who work towards upholding civil liberties and democratic rights, we cannot be silent spectators to these attempts being made to communalize the state of Maharashtra and sow seeds of hate and violence through the inciteful propaganda being made at these rallies and events. The state of Maharashtra has a long history of syncretism and secularism, where different communities have coexisted harmoniously. Earlier attempts to communalize the state and spark violence like the 1992 Bombay riots have had disastrous consequences on the people and this cannot be allowed to take place again.
"As those responsible for maintaining law and order in city, it is your responsibility to ensure that the hate speech is prevented and the perpetrators are punished, instead of granting them impunity and a free hand.
"We accordingly call upon you to strictly implement the directions passed by the Supreme Court in the order dated 3rd February 2023 in letter and spirit, and to in any case take strict action against the increasing incidents of hate speech against Muslims in Maharashtra."