The struggling actors received texts sent by people claiming to be employees of production house headed by Shah Rukh Khan, in which they were called for auditions and were asked to pay Rs 3,000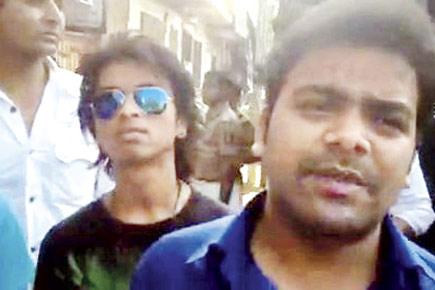 More than 300 junior artists and struggling actors gathered at Versova police station yesterday, alleging that they had been cheated by people who had identified themselves as employees of production house Red Chillies, which is headed by Shah Rukh and Gauri Khan.

Duped actors assembled outside Versova police station yesterday
ADVERTISEMENT
The complainants told the police that they had received text messages, saying that Red Chillies was conducting an audition for a forthcoming film at a bungalow in MHADA Colony, Andheri (West). Several people turned up for the auditions. On reaching the spot, they were asked to pay Rs 3,000 each, for an artist card that they would be doled out before the audition.
Rahul, one of the complainants, said, "We received the messages on our phones inviting us to audition for Shah Rukh Khan's production house for a project. We were asked to pay Rs 3,000 as fees to appear for the audition."
Another complainant said, "There were around 100 people in queue, who paid the fees. Girls were called inside, while we were asked to wait outside. When we realised that it was being run by some frauds, we caught three of the organisers and handed them over to Versova police, but they were released later."
One of the aspirants, who is associated with a TV channel, suspected foulplay and called up the Red Chillies office. When they replied in the negative, he alerted the others. Some of the organisers managed to flee in the chaos.
Red Chillies says
It has been brought to our attention that someone has used the name of Red Chillies in the most unauthorised manner. We are glad that a police investigation is underway and will await the outcome to be able to protect our interests. - Inputs by Bharati Dubey
>> An aspirant called up Red Chillies office, and found out that there was no audition
>> The actors nabbed 3 organisers, who were later released by cops
>> Several other organisers escaped in the chaos