Hoardings announce re-opening of sale for residences in Trump Tower on June 4; developer refutes claim of cashing in on Donald Trump's popularity in the United States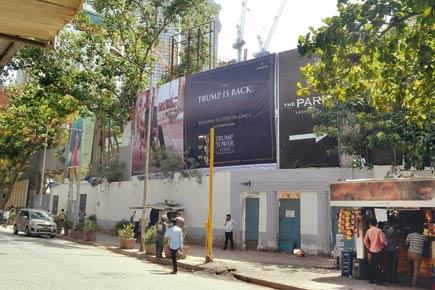 Make hay while Donald Trump's sun shines — perhaps this was the thinking behind the Lodha developers' recent announcement of the re-opening of sales for the ultra-luxurious residences in Trump Tower, Worli. The announcement comes in the wake of Donald Trump's insurmountable lead as the Republican candidate for contesting the US Presidential poll. The project is a joint venture between Lodha and the Trump organisation.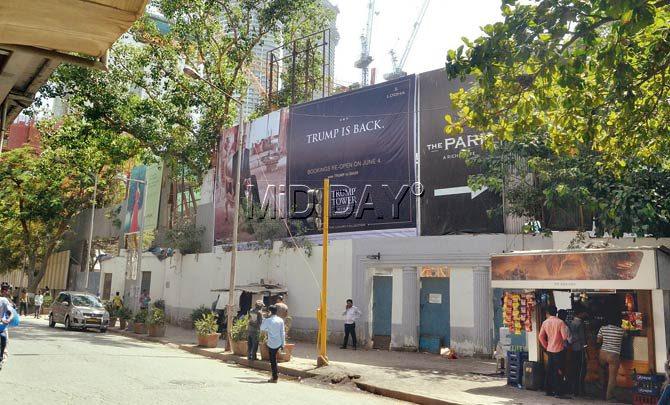 One of the posters installed by Lodha developers along the under-construction Trump Tower in Worli. Pic/Datta Kumbhar
Posters installed by the developer along the project to attract prospective buyers read: 'Trump is back'. With the smallest housing unit — 3 BHK — priced over R9 crore, bookings for the designer homes will start from June 4. Lodha's website quotes Trump saying, "This project will be a jewel in the crown of Trump Projects." The website also states that every house owner shall enjoy access to a private jet and a 7-acre private park.
'Zero truth'
Refuting the claims that the developer was trying to cash in on Trump's popularity in the US to turn around the lukewarm response the Worli project had received during the previous sale, a Lodha spokesperson said, "Our current campaign for Trump Tower is in alignment with the group's business calendar for the current financial year, and not related to Donald Trump's nomination in any way. An iconic real estate brand such as Trump demands a unique approach in everything we do: right from planning to selling. Since the inception of our partnership with Trump in 2013, we have made conscious and careful choices in our go-to-market strategy, including offering limited inventory during a particular sale window." The spokesperson added that the last inventory was offered in 2014, where the group successfully sold over 50 per cent of the residences, and the rest will be available for sale in June.
"Despite limited sales window, the enthusiasm and trust in Trump brand is well reflected with premiums as high as 30 per cent generated over other projects in the vicinity," the spokesperson said.