State to map the exact boundaries of encroached land; this database will help the Slum Rehabilitation Authority (SRA) clear the encroached open spaces of slums and rehabilitate eligible dwellers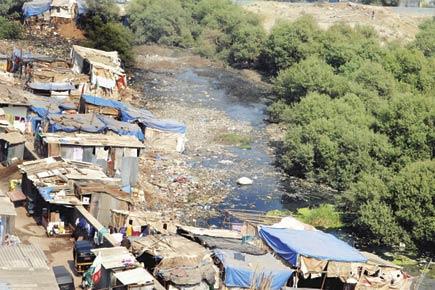 The state government will use technology to counter-check slumlords and the land mafia, who are involved in increasing the expanse of slum clusters in Mumbai and Thane. The authorities will know in a few months the exact boundaries of slums in the twin cities through a topographical mapping of encroached government and private land.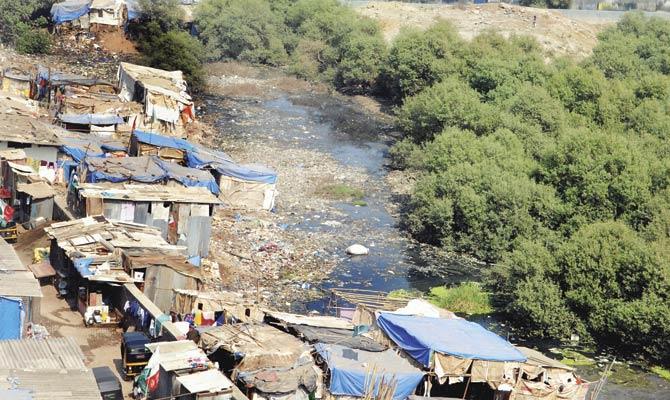 Slums encroach upon a mangrove patch in BKC. File pic
The geographical information (GIS) database will help the Slum Rehabilitation Authority (SRA) clear the encroached open spaces of slums and rehabilitate eligible dwellers. However, the GIS survey will not identify slum dwellers for eligibility.
A separate door-to-door GIS enabled biometric survey for identification of beneficiaries will be carried out in the next phase, said a senior official in Mantralaya. Three-dimensional mapping will show topography together with natural and artificial features such as water bodies, buildings and roads.
The boundaries marked in the survey will be final and structures that may appear beyond the limit after the survey will be treated as illegal and demolished immediately.
CM's diktat
This technology is being used by the SRA after CM Devendra Fadnavis had asked it to do so on August 13. Fadnavis had asked private landowners who had slums on their land to submit rehabilitation proposals in three months, failing which their land would be acquired by the government.
Government and semi-government institutions were asked to submit their respective rehabilitation schemes in six months so that the SRA could appoint developers through a bidding process. Fadnavis had asked SRA to release Rs 500 crore for the Shivshahi Punarvasan Prakalpa Limited, a government subsidiary which works in slum rehabilitation.
"The GIS survey will allow SRA to calculate slum cluster area accurately and help it in making micro planning very effective. With this we can expedite rehabilitation which was stalled in the past decade because of several reasons," said the Mantralaya officer. SRA has appointed M/s Stesalit Limited as official surveyor.
The company has worked for central agencies such as Survey of India, India Meteorological Department, Defence Terrain Research Laboratory and several state entities. Every slum structure existing prior to January 1, 1995, is treated as a protected structure.
As per SRA's official estimate, more than 55 per cent of Mumbai's population stays in slums. First of its kind in the country, a scheme to rehabilitate slum dwellers was initiated by the BJP-Sena's first government way back in 1998. It had a target of rehabilitating 8 lakh slum families in five years.
The subsequent period saw only around one lakh families getting tenements under the scheme, which witnessed an unholy nexus between builders, bureaucrats, politicians, and slumlords, who, at times were controlled by the underworld.
Under the slum rehab scheme, the developer who gets rights to build new building offers eligible dwellers homes free of cost. In return, the builder receives additional construction rights (in the form of FSI) to erect luxury towers and sell them in the open market.