Shiv Sena leader Uddhav Thackeray today joined the chorus against AAP, calling it the "item girl" of politics, and taunted its Chief Minister Arvind Kejriwal, saying even Rakhi Sawant can govern better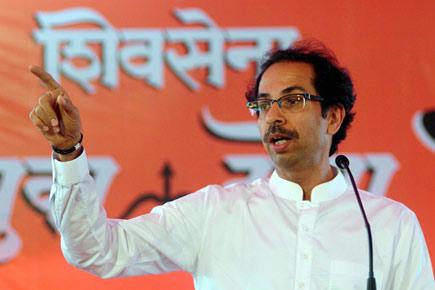 Mumbai: Thackeray's attack against Delhi's ruling Aam Aadmi Party(AAP) over its street protest in the national capital echoed the comments of bestselling author Chetan Bhagat who had this week lashed out at the new political outfit.
He also backed Union Home Minister Sushilkumar Shinde's "mad chief minister" jibe against Kejriwal, saying it reflected "people's sentiment".
"A lot of mad people and clowns became part of the country's politics, starting with Raj Narain....the antics of Lalu Prasad Yadav and many others. They came and went. Now a new wave has come and a mad man called Arvind Kejriwal is leading it," Uddhav said in a stinging editorial in party mouthpiece 'Saamana'.

Shiv Sena leader Uddhav Thackeray. File pic- Bipin Kokate
Maintaining that AAP came to power in Delhi "accidentally", he said," They should not take power for granted. Kejriwal has no right to say what he feels like to anybody. By staging dharna he held the people of Delhi to ransom for two days."
"Antics of AAP and its leaders, including Kejriwal, have shamed every politician," he said. Referring to Bhagat's comments on AAP, Uddhav said, "He till recently supported AAP, but is now embarrassed because of their antics."
"AAP is an item girl of country's politics. Even Rakhi Sawant can govern better than AAP. Those who criticised Sawant should now honour her. Kejriwal and his AAP have become the most infamous item girls," Uddhav said.
Reacting to Uddhav's comment, Sawant, a Bollywood item girl, said, "Thanks to Uddhavji for giving me this compliment." Sawant further said she felt bad about her name being "dragged into everything."
Bhagat, an ardent supporter of AAP, had slammed it for the dharna in Delhi, saying the party did that as it wanted instant attention. "They are in a hurry to come to Lok Sabha polls. They want instant attention and like in Bollywood when an actress can't make it, she becomes an item girl. They have become the item girls of Indian politics and item girls do not go very far," Bhagat had said.
Uddhav said with his antics, Kejriwal wanted to spread chaos in the country and suspected involvement of disruptive forces in the agitation.
Shinde had on Wednesday called Kejriwal a "Veda Mukhyamantri" (mad Chief Minister), while recalling his own days in the police force. While referring to Shinde's comment, Uddhav said, "he reflected the sentiment of the people."