First phase of mammoth Worli crematorium revamp completed after challenging two years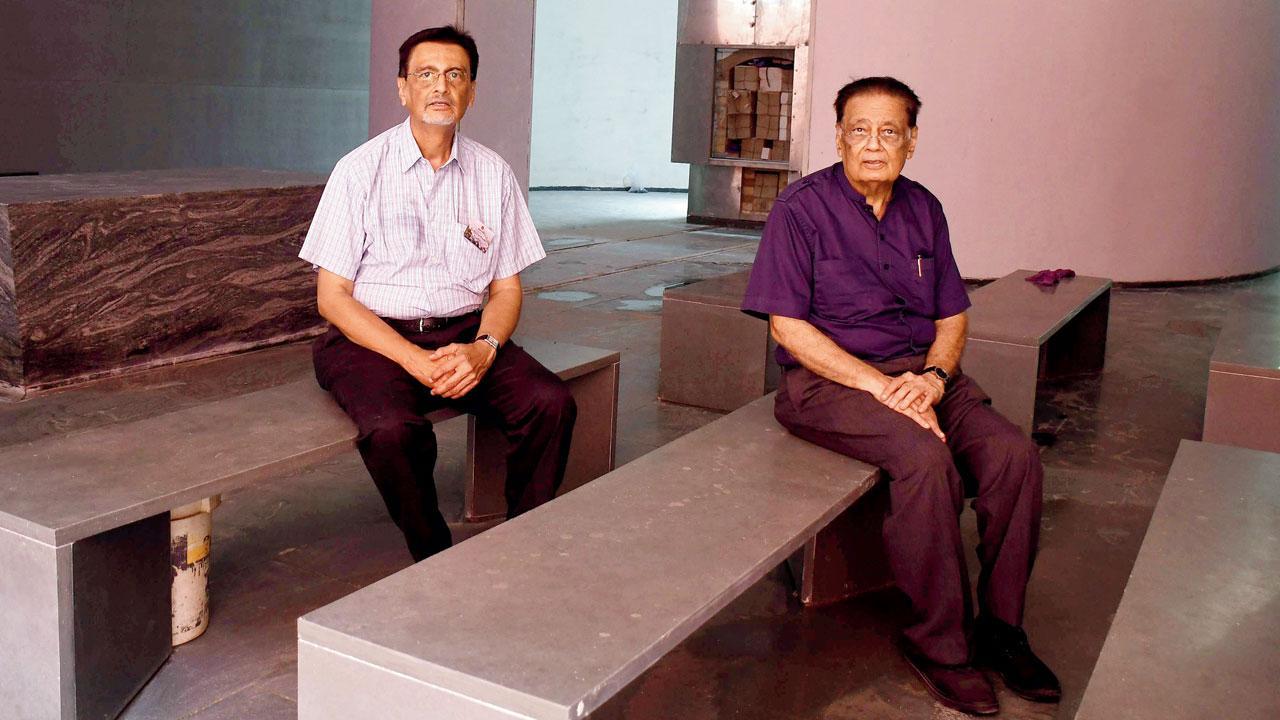 Dr Ramnik and Dr Bharat Parekh at The Mata Ramabai Ambedkar crematorium in Worli on Thursday. Pics/Ashish Raje
It is mission partly accomplished for brothers Dr Ramnik and Dr Bharat Parekh, who announced the completion of Phase I of the 'Antim Prasthan' project on Thursday morning. The project, which started "as a dream in 2017" for the brothers, was to redevelop Worli crematorium, or the Mata Ramabai Ambedkar Crematorium which is located on E. Moses Road, opposite the Four Seasons Hotel. The redevelopment is being done under the umbrella of the Hiralal Parekh Parivar Charity Trust. The construction of the Rs 40 crore project began in August 2020. The redevelopment is in two phases.
Of the four cremation pavilions which are ready to offer wood pyres, one gas pyre and one hybrid (wood and gas) pyre are complete in this first phase. "We will open the wood pyre pavilions in June.  For the other two, we await gas supply unavailable yet, despite our best efforts. Phase II is a mirror image of Phase I, the prime difference will be that Phase II will house an administrative building. There are four more pyres and their pavilions in the second phase. The land required for Phase II is partly occupied by Mumbai Metro Rail work and if they do not vacate and hand over the land to the trust in time, phase II completion will be delayed," said the Parekhs.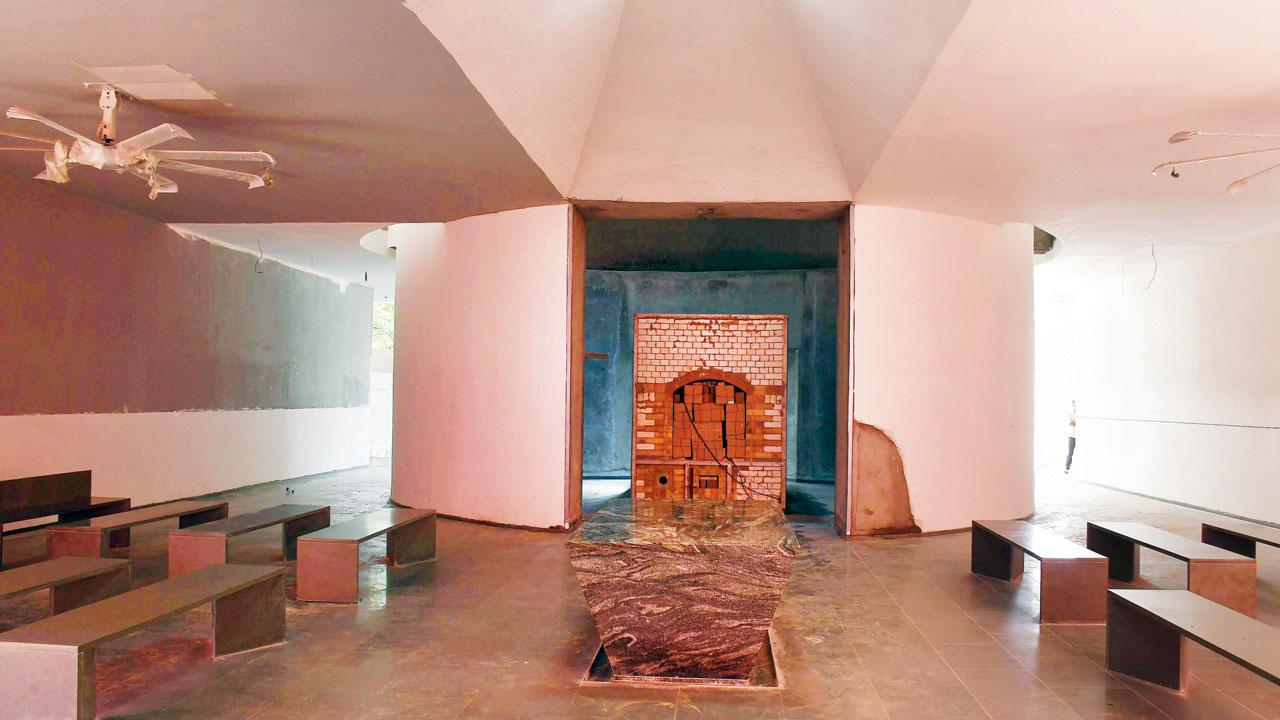 A lesson learnt in Phase I, was that, "labour shortages are not just for conventional reasons like workmen falling ill, leaving for vacations never to return or others. When it is about a crematorium, it is also about superstition. The labourers used to simply run away from the crematorium as there is that mentality that one should be brought to this place only when dead," said the doctors, adding that COVID and restrictions in travel also taught them that they need to prepare for all eventualities. "The crematorium has a facility for live CCTV coverage of the last rites and cremations which can be beamed live for overseas relatives, if loved ones cannot travel to India."
Supporters Shreekant Adhiya and Dr Dinesh Daftary stressed that this goes beyond aesthetics. "It changes the prism through which we look at death. We must treat death as part of the entire human experience. Like dignity is cherished in life, so it must be in death as well," they stated. The names of benefactors, well-wishers and supporters are engraved on plaques and displayed on 'Grand Wall of Gratitude' in the precinct.
The most eye-catching perhaps was work on for a  number of gardens and courtyards being created within these 80,000 sq foot (approximately 2 acres) premises. "The overall ambience has to be one in which the relatives, friends of the dead feel a sense of peace, surrounded by beauty and grace, in here," said the doctors. They added, "We also have a huge brushed steel chimney that costs Rs 30 lakh and a modern pollution control system to manage pollution levels. In fact, a local resident was so enthused seeing work on the chimney, she gave us a substantial donation because of our nod to the green action. 
We have at least 80 per cent of funds for Phase II from donations. There has been a rousing response from corporates from their CSR kitty for the project." Often those making that journey to say a final goodbye, are even more pained because of the indifferent facilities and surroundings at most crematoria across the city. "This project hopes to create a paradigm shift in the way we say our final goodbyes," end the upbeat duo.
Rs 40cr
The cost of the project