I-N-D-I-A alliance partners, led by Mumbai Congress President Varsha Gaikwad, marched from Dhobi Talao to Mahatma Gandhi Memorial, despite police trying to stop the morcha on its way, the Congress party claimed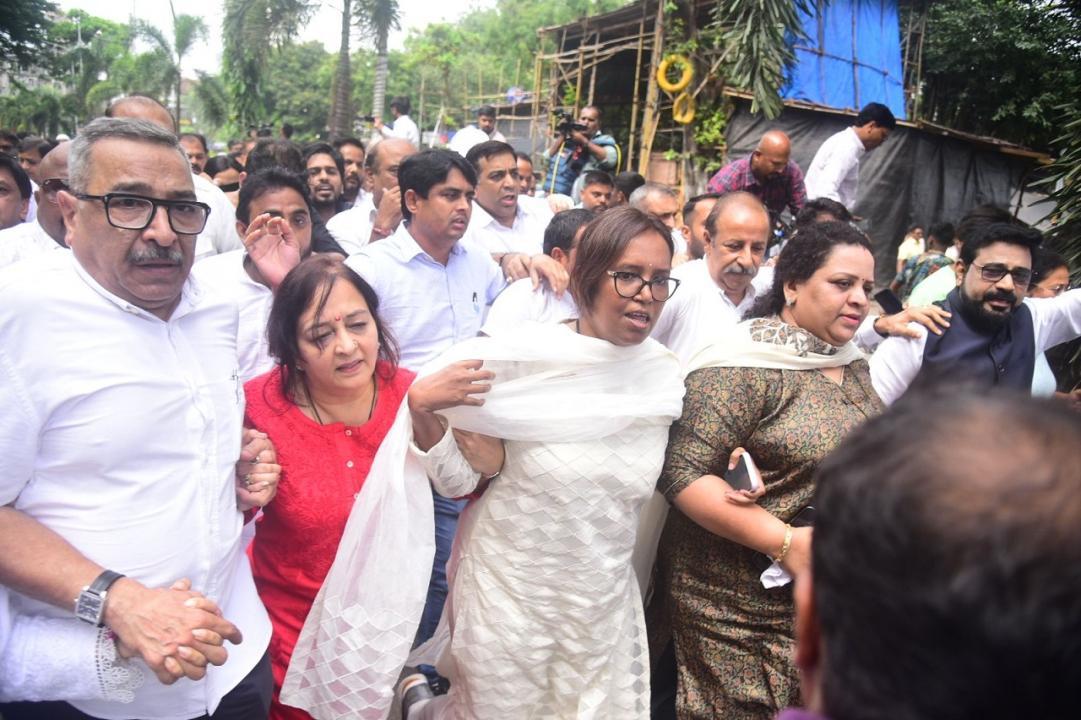 Pic/Shadab Khan
Listen to this article
Aggression from police was a way of government oppression: Varsha Gaikwad after I-N-D-I-A bloc protest march in Mumbai
x
Mumbai Congress President Varsha Gaikwad on Monday said that the resilient I-N-D-I-A alliance completed the protest march despite police aggression.
Varsha Gaikwad said aggression from police was a way of government oppression. "It is unfortunate if permission was not granted for a silent morcha, that too for Mahatma Gandhi. Earlier, those participating in Gandhiji's yatra were detained by Britishers, we had a similar experience today. Everybody knows under whose order police went on an aggressive mode," she said. 
ADVERTISEMENT
"They tried to stop us. But we persisted. We did not protest, we carried on silently. A befitting answer had to be given to the oppressive government. Ultimately, Bappu won again," Gaikwad added. 
I-N-D-I-A alliance partners, led by Mumbai Congress President Varsha Gaikwad, marched from Dhobi Talao to Mahatma Gandhi Memorial, despite police trying to stop the morcha on its way. Notably, permission for the march was sought beforehand, the Congress party claimed.
The march was conducted on the occasion of Mahatma Gandhi and Lal Bahadur Shastri Jayanti to oppose the Bharatiya Janata Party's (BJP) divisive politics. 
The Congress party also claimed that police detained more than 100 workers of Aam Aadmi Party (AAP), Congress, and Nationalist Congress Party (NCP) before the march began. "Police barricaded the march every now and then but resilient leaders ensured workers' spirit was not dampened. Leaders squatted on the floor and started chanting against the BJP-ruled Central government," the party claimed. 
Besides Varsha Gaikwad, senior Congress leaders such as Sanjay Nirupam, Aslam Sheikh, Ashok Jadhav, Charan Singh Sapra, and Sachin Sawant were present. Among other parties, Arvind Sawant, Workers from Mumbai Congress, Abu Asim Azmi, Arvind Sawant, Anil Desai, Sachin Ahir, Preeti Sharma Menon, and Rakhi Jadhav among other notable leaders were also present during the march.
The Opposition I-N-D-I-A bloc on Saturday had announced a march in Mumbai, on the occasion of Gandhi Jayanti as well as Lal Bahadur Shastri Jayanti, to protest against the BJP's "divide and rule policy" and "divisive politics".
"Hatred is being spread all over the country. How will this be eradicated? Through Mahatma Gandhi and his ideals and ideology. The march will be a silent and non-violent one to ensure that his way of life will not be forgotten. Many NGOs will also remain present at the march. We appeal to people to join in large numbers," said Mumbai Congress president Varsha Gaikwad at a press conference of the Opposition bloc on Saturday.
"Be it any kind of division—caste, race or unrest among communities, everything is a product of the BJP and RSS's divisive and malicious politics. During international visits, PM Modi goes to Mahatma Gandhi's statues to pay respect, but his assassins are respected back here in India," she added.
"Exciting news! Mid-day is now on WhatsApp Channels

Subscribe today by clicking the link and stay updated with the latest news!"
Click here!